Harvest Snaps Launches New Flavors in Bigger Bags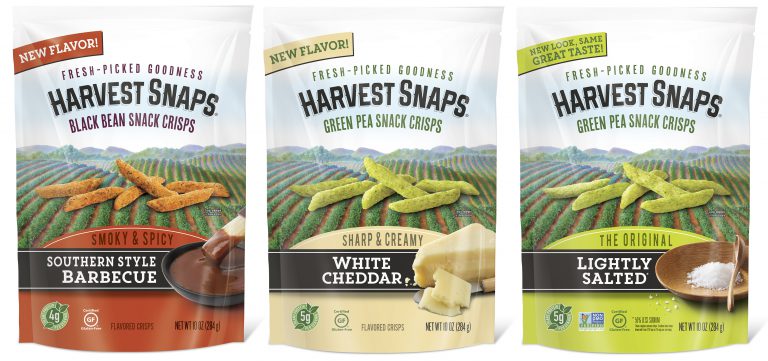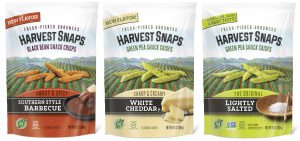 FAIRFIELD, Calif.– Calbee North America, in support of its popular Harvest Snaps brand, is introducing New Bigger Bag resealable pouches and two new product SKUs. Southern Style BBQ Black Bean Snack Crisps and White Cheddar Green Pea Snack Crisps will join the Original Lightly Salted Green Pea Snack Crisps in updated 10-ounce packaging. Made with farm-direct vegetables as the first ingredient, each flavor features the same deliciously baked (never fried!) crunch and irresistible taste consumers have come to love– just more of it!
With 30-60 percent less fat than regular potato chips and only 130 calories per 22 crisps, these veggie-first snacks are made with high-quality ingredients and completely free of artificial flavors, colors, cholesterol, and the common allergens soy, nuts, wheat and eggs.
Here's how Harvest Snaps' better-for-you, New Bigger Bag recipes break down:
Southern Style BBQ (New): Bursting with a perfect balance of naturally smoky flavors and just the right amount of red pepper heat, these smoky and spicy black bean snack crisps offer an impressive 4g of plant protein, 50mg of calcium, and 240mg of potassium per serving.
White Cheddar (New): Sharp and creamy cheddar flavors "pop" in every crunchy bite of these green pea snack crisps. Each deliciously cheesy serving provides 5g of plant-protein, 4g of fiber (a good source), 70mg of calcium, and 250mg of potassium.
Lightly Salted (The Original!): The naturally good taste and powerful nutrition of green peas are the shining stars of these truly tasty, crunchy snack crisps. Dairy free and low in sodium, each serving offers 5g of plant protein, 5g of fiber (a good source), 60mg of calcium, and 240mg of potassium.
As noted by Paul Laubscher, Director of Marketing with Calbee North America, "Harvest Snaps has found a natural home in the produce department with our 3 ounce and 3.3 ounce products. In addition, we have listened to consumers who consistently request a larger bag format, especially with a resealable zipper. In response to our consumers' desires to crunch more deliciously crisp Harvest Snaps, we're excited to deliver this larger 10 ounce bag format, while also providing new flavor-forward product offerings like Southern Style BBQ and White Cheddar. We want people to know that better-for-you snacking should always taste this good!"
Harvest Snaps' New Bigger Bag with resealable zipper is available to retailers across the country and currently rolling into stores. Visit www.harvestsnaps.com and follow @harvestsnaps on social media for more information.
About Calbee North America
Since expanding from Japan in 1970, the Calbee North America team has been passionate about making delicious snacks and using quality ingredients that bring a smile to your day. Their mantra is to "Harvest the Power of Nature," and this is demonstrated in the company's popular and nationally distributed line of Harvest Snaps Snack Crisps, which feature green peas, black beans or red lentils as the product's first ingredient. Visit https://calbeena.com/ for more information.
Like what you're reading?
Subscribe to BevNET+NOSH Today
Subscribe today and get access to the leading industry resources in the food &amp beverage industries. News, trends, industry data, expert analysis and much more.
Access all of these benefits:
Unlimited access to all content on BevNET.com and NOSH.com
Exclusive access to hundreds of educational videos
Watch subscriber-only live programs such as Office Hours