Fody Food Co. Launches Gut-Friendly Salad Dressing Line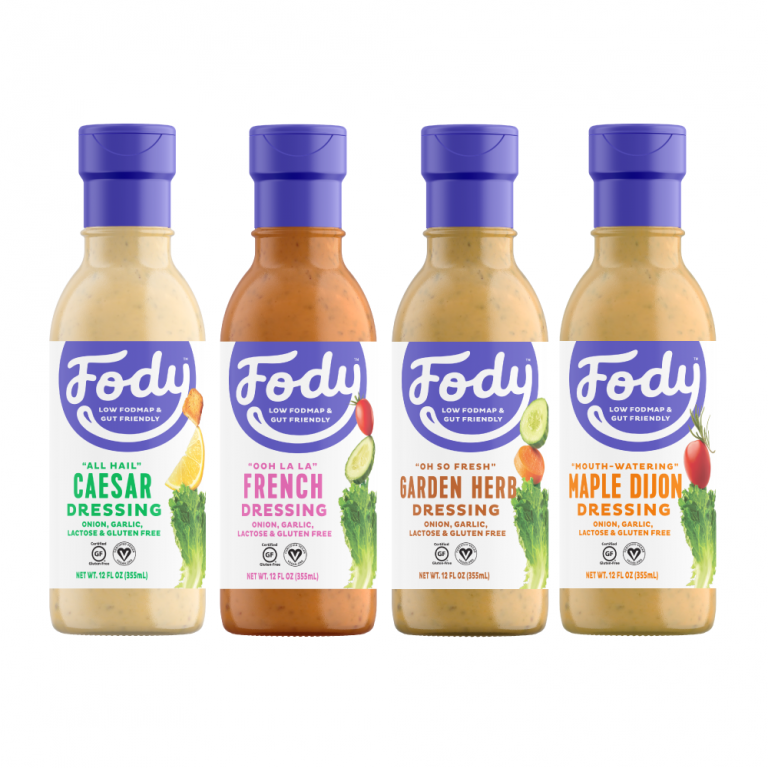 MONTREAL — Fody Food Co. is committed to bringing joy to eating for those suffering with IBS and other digestive discomforts with its world of delicious, gut-friendly, low FODMAP foods. The brand brought its bold new look as well as a new line of tasty salad dressings to Expo East 2018 on September 13-15. Fody CEO and founder Steven J. Singer is a trailblazer in the special diet category (having previously founded Glutino) and will be available on-site at booth #238 to discuss Fody and the company's work to help people improve their digestive health.
The new, robust line of salad dressings includes Caesar,French, Garden Herb, and Maple Dijon (8 oz., $5.99 SRP). Each flavor features high-quality, thoughtfully sourced ingredients such as extra virgin olive oil, expeller-pressed sunflower oil,Himalayan pink sea salt and raw organic cane sugar. Fody will also showcase new packaging that outlines the common irritants each item is free from, providing seamless, no-stress label-reading for a simpler purchasing experience.
"Salad dressing is one of the things people with IBS miss the most when following the low FODMAP diet and there aren't many trusted options out there," said Singer. "Fody's new line isa tasty solution that anyone can enjoy, not just those with IBS."
Fody takes the stress and guess work out of what foods to avoid for those with IBS or other dietary restrictions.
Fody's product portfolio includes packaged foods typically unacceptable on the low FODMAP diet – including salsas, snack bars, trail mixes, sauces, condiments, and seasonings. Each product is Monash University certified, the highest level of low FODMAP certification for food products, and are also gluten-free and non-GMO.
Fody products can be found on shelf at HyVee and Wegman's and are available nationally atfodyfoods.com. Follow Fody's blog and social media channels (@FodyFoods) for easy, lowFODMAP lifestyle tips and recipes.
About Fody Food Co.
Fody Food Co. is committed to bringing back the joy in eating for the more than 45 million people suffering with IBS and other digestive discomforts. Fody is a one-stop shop for delicious, low FODMAP, gut-friendly products in a variety of categories including salsas, snack bars, trail mixes, sauces, condiments, dressings and seasonings. To purchase products and for tips and recipes for living a low FODMAP lifestyle, visit fodyfoods.com.