Enjoy Life Foods to Launch Soft-Baked Breakfast Ovals at Expo East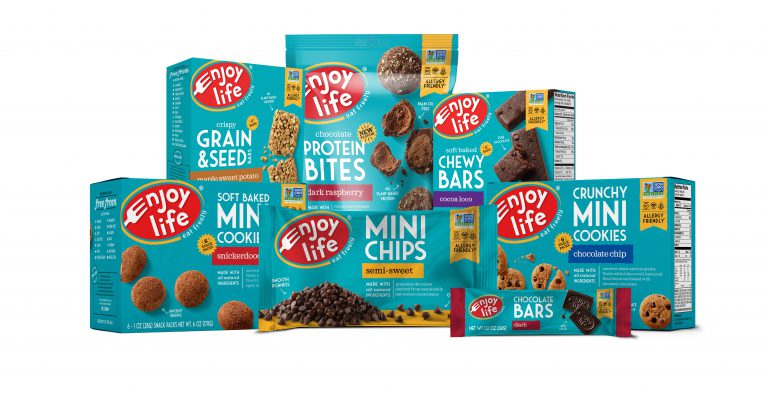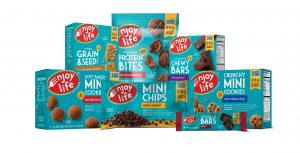 CHICAGO — Enjoy Life Foods, the #1 brand in the Free-From food industry, is unveiling the new shape of breakfast with its latest innovation to hit shelves, Breakfast Ovals, debuting at Natural Products Expo East. An on-the-go oval designed to deliver simplicity during hectic mornings, Breakfast Ovals are a delicious allergy friendly morning snack loaded with more than 20 grams of whole grains per serving and 12 percent of the recommended daily value of fiber. Soft-baked with all-natural fruit and bursting with flavor, this cookie-inspired breakfast innovation offers the taste consumers crave with the wholesome whole grains and nutritious ingredients they need to start their day. Show attendees are invited to visit the Enjoy Life booth #1039 morning or afternoon to fuel up on two of the four new flavors, including Maple Fig and Berry Medley.
"Part of what makes Enjoy Life a pioneer in the allergy friendly category is our commitment to push the boundaries of modern eating," said Joel Warady, General Manager and Chief Sales & Marketing Officer at Enjoy Life Foods. "With our new Breakfast Ovals, for example, we used four types of purity protocol gluten-free oats, including steel cut oats, rolled oats, oat flakes and oat flour, to create a unique breakfast biscuit free-from all common allergens that's deliciously moist, wholesome and most-importantly, convenient."
Purity protocol is currently the strictest guideline for growing and processing gluten-free oats with conformance requirements covering crop rotation, seed purity, traceability, storage and more. Furthermore, Enjoy Life requires its oat ingredients be tested for gluten down to <5 parts per million (ppm), which is less than gluten-free standards for the Federal Food and Drug Administration (FDA) and Gluten-Free Certification Organization (GFCO), totaling <20ppm and <10ppm, respectively.
Available online in November, and on shelf in January, Breakfast Ovals will retail for $5.59 for a five-pack box. Like all Enjoy Life products, each box touts a bright teal color – the hue of food allergy awareness – to help shoppers easily spot Enjoy Life's safe foods on shelf. The portable breakfast line is available in classic breakfast flavor combinations, including:
Apple Cinnamon – A timeless pairing of sweet and spice, Apple Cinnamon Ovals offer a satisfying start to any day with an on-the-go morning meal that's as trust-worthy as it is tasty.
Chocolate Chip Banana – A yummy blend of fan-favorite Enjoy Life chocolate chips, bananas, and gluten-free whole grains, these wholesome Breakfast Ovals aren't monkeying around!
Maple Fig – This seasonal-inspired combination of sweet maple syrup and juicy figs is rich in fiber and packed with cinnamon, nutmeg and clove spices—all the warming flavors of fall offered in one year-round bite!
Berry Medley – Loaded with blueberries, raspberries and cranberries, these ovals are bursting with the flavor of bright luscious berries picked at the peak of ripeness.
Like all Enjoy Life products, Breakfast Ovals are free-from 14 allergens, including wheat, peanuts, tree nuts, dairy, casein, soy, egg, sesame, sulfites, lupin, mustard, fish, shellfish and crustaceans. In addition, Breakfast Ovals are Non-GMO Project Verified, Certified Gluten Free, palm oil free, Kosher and Certified Vegan. The brand's full portfolio of products is available in natural and conventional retailers nationwide, as well as online. To learn more about Enjoy Life's innovative portfolio, please visit www.EnjoyLifeFoods.com.
About Enjoy Life Foods
Enjoy Life Foods is the leading brand in the growing Free-From category, featuring a robust portfolio of Certified Gluten Free and Non-GMO Project Verified products that are free-from 14 allergens – wheat, peanuts, tree nuts, dairy, casein, soy, egg, sesame, sulfites, lupin, mustard, fish, shellfish, and crustaceans.Founded with the goal to create great-tasting, allergy friendly foods, the Enjoy Life line includes cookies, snack bars, chocolate bars, baking chocolate, baking mixes, seed and fruit mixes, protein bites and lentil chips, all available in natural and conventional grocers and mass retailers throughout the United States and Canada. Enjoy Life's mission and brand promise is to deliver safe, better-for-you products free-from food allergens, but not free-from taste so everyone can Enjoy Life and Eat Freely! To learn more about Enjoy Life, visit www.EnjoyLifeFoods.com, 'Like' us on Facebook, or follow us on Twitter, Instagram, Pinterest or Snapchat.