BeReal Doughs Announces Three New Flavors of Gluten-Free Edible Cookie Dough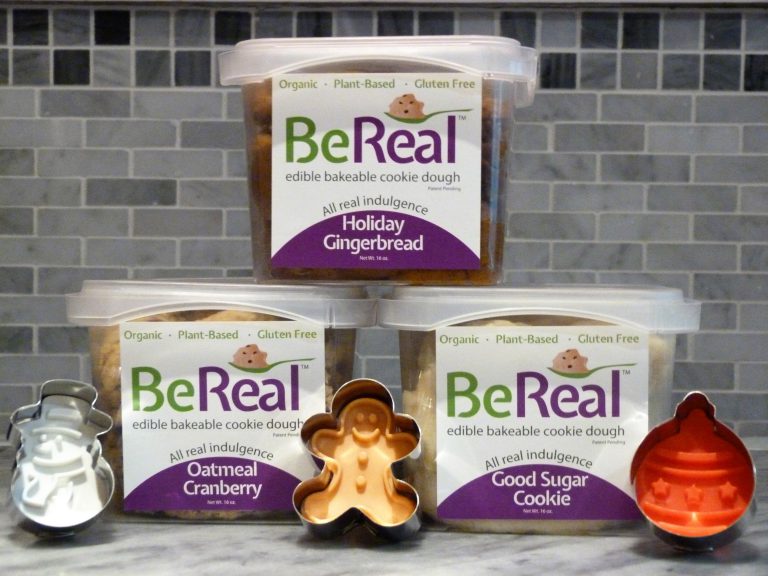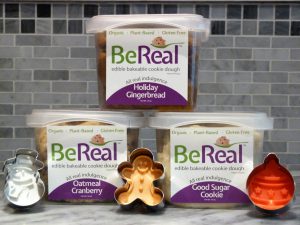 YARMOUTH PORT, Mass.— BeReal Doughs announced their biggest launch with three delicious new flavors of gluten-free and plant-based cookie dough, literally doubling their
product line overnight.
"The best part is that no one can tell the cookies are gluten-free," says Mary Galvin, avid baker and nurse practitioner. "The taste is just as good as my old recipes."
Mary insisted that indulgent cookies could be safe and healthy, so she personally created these recipes using only high-quality organic and non-GMO ingredients. The doughs are vegan-friendly and taste great either way — raw or baked into warm cookies.
After months of baking and perfecting, her new festive gingerbread, satisfying oatmeal cranberry and scrumptious sugar cookie doughs are now available in the same healthy patent-pending formulation that started it all.
Holiday Gingerbread
Warm and soft, lightly spiced, this unique gingerbread dough is a sweet reminder of a classic. It can be shaped thin or baked thicker for a more cakey feel.
Good Sugar Cookie
This light and sweet sugar cookie dough holds its form so bakers won't end up with blobby snowmen. It can be rolled out directly from the package and it will always be soft because it's safe to store at room temperature.
Oatmeal Cranberry
With the perfect chewy oat texture (still gluten-free), this wholesome and satisfying oatmeal cookie features Cape Cod cranberries for a pop of tartness.
BeReal is proud to be able to share Mary's products with everyone. These holiday favorites are safe for celiac disease patients, as well as individuals with food allergies to soy, egg, dairy, nuts or gluten. Plus they are shelf-stable and easy to ship, making a surprising and safe gift idea.
Every batch of dough is lovingly handmade to order in Cape Cod, Massachusetts. The original flavors — Signature Chocolate Chunk, Cacao Fudge Chip, Cape Cod Cranberry Chocolate Chunk (seasonal) — are also completely gluten-free and vegan-friendly.
Plant-based diets are quickly growing in popularity as a healthier way of living. Emphasizing fruits, vegetables, plant-based protein sources and minimally processed ingredients, these lifestyle choices make a lighter impact on the planet and on people's health, reducing cardiovascular damage and other diseases.
After several illnesses, Mary was also diagnosed with a gluten allergy. "I refuse to give up cookies," she says. "There's no reason a great-tasting cookie has to be unhealthy. I knew I could make doughs that were delicious and smart at the same time."
Celiac disease, an autoimmune disease that damages the small intestine when gluten is ingested, affects roughly three million Americans and research suggests that the prevalence in children may be increasing. The community needs safe options that still taste good. BeReal Doughs hit the sweet spot — they are gluten-free and kids love them.
The reaction from children who taste the cookies is Mary's favorite part. "They aren't sure what to expect, then they take a bite and smile and look up at their parents like 'hey … this is really good!' That's what makes it all worthwhile."
Cookies always make people happy. BeReal Doughs is excited to share these new flavors with everyone at this celebratory time of year. The products are ideally suited both to bake and serve at holiday functions or to give as gifts.
Raw or baked? It's up to the lucky person with the dough.
About BeReal Doughs
Avid baker and nurse practitioner Mary Galvin is on a lifelong mission to create the most delicious, organic, gluten-free and plant-based pre-made doughs and cookies. Having suffered many illnesses since 1999, she decided it was necessary to heal herself through diet and nutrition. Determined not to give up the baked goods she loved and shared with her family and friends, Mary set out to develop healthy versions of her
favorite recipes to share with the public.
BeReal doughs and cookies are handmade in Cape Cod, Massachusetts, with the highest-quality certified-organic, non-GMO and fair-trade ingredients available including coconut oil and flaxseed meal, providing homemade goodness, whether baked or enjoyed raw. The shelf-stable doughs can be stored without refrigeration for 60 days, making them easy to take anywhere, ship anywhere and, most importantly, enjoy anywhere. Eat it raw and bake it.
Mary's unique formulations are patent pending. Flavors include Signature Chocolate Chunk, Cacao Fudge Chip, Cape Cod Cranberry Chocolate Chunk (seasonal), Holiday Gingerbread, Good Sugar Cookie and Oatmeal Cranberry.