Beekeeper's Naturals Launches B.Chill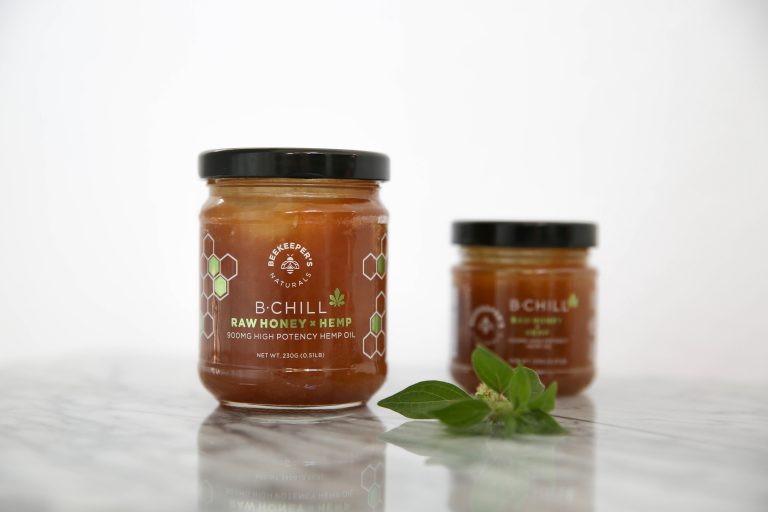 LOS ANGELES — Beekeeper's Naturals, purveyors of naturally sourced and obsessively tested superfoods from the hive, launches B.Chill – Raw Honey x Hemp, a first to market product featuring 100% pure, sustainably sourced raw enzymatic honey, 100% organic high potency Hemp oil, and MCT oil.
"By creating synergy between honey, CBD Hemp oil and MCT oil, we have built a radical product that can address anxiety and sleep in a family friendly, 100% natural, sustainably sourced product," said Carly Stein, founder of Beekeeper's Naturals. "As a beekeeper led and honeybee focused organization, we are always researching ways to provide effective natural solutions that help fight illness, allergies, and poor nutrition through bee products, and this product amplifies the mission of our brand and business by adding another revolutionary hive-based product to our stable."
Beekeeper's Naturals B.Chill is a synergistic blend of three ingredients – honey, hemp oil, and MCT oil – to create a masterful blend for a calming wellness boost and an upgrade to your nightly ritual. Honey contains relaxing, sleep-inducing amino acids tryptophan, which encourages the body to boost production of calming hormones like serotonin and melatonin. Taking a spoonful of honey before bed also supports good sleep by stabilizing liver glycogen levels, which is what the brain uses to power itself at night. The high potency hemp oil works with the body's natural endocannabinoid system to promote internal balance and calm the sympathetic nervous systems. Brain-fueling MCT oil improves bioavailability and absorption of CBD.
Beekeeper's Naturals B.Chill Raw Honey X Hemp is a high potency product that is made with organic hemp grown in the USA, containing 28mg of hemp oil per teaspoon. It is non-psychoactive with 0% THC. Formulated through a unique emulsion process, a standardized dose of 28 milligrams of high-potency hemp oil guaranteed in every teaspoon.
B.Chill is available in 230g ($84.99) and 125g ($49.99) jars, and 5g single-serving, travel-friendly honey sticks ($4.50).
About Beekeeper's Naturals
Founded in 2015, Beekeeper's Naturals is a maker of naturally sourced and obsessively tested superfoods from the hive. Offerings range from 100% raw honey and bee pollen to hi-octane, health booster complexes B.LXR and Bee Powered. Utilizing modern methods and sustainable practices, Carly Stein, founder, has developed an innovative product line that sustains health while optimizing performance. Beekeeper's Naturals products are always all natural, non-GMO and pesticide-free. Available at select natural food retailers throughout the US and Canada.