Arnold, Brownberry and Oroweat Bread Debut New Organics Line Nationwide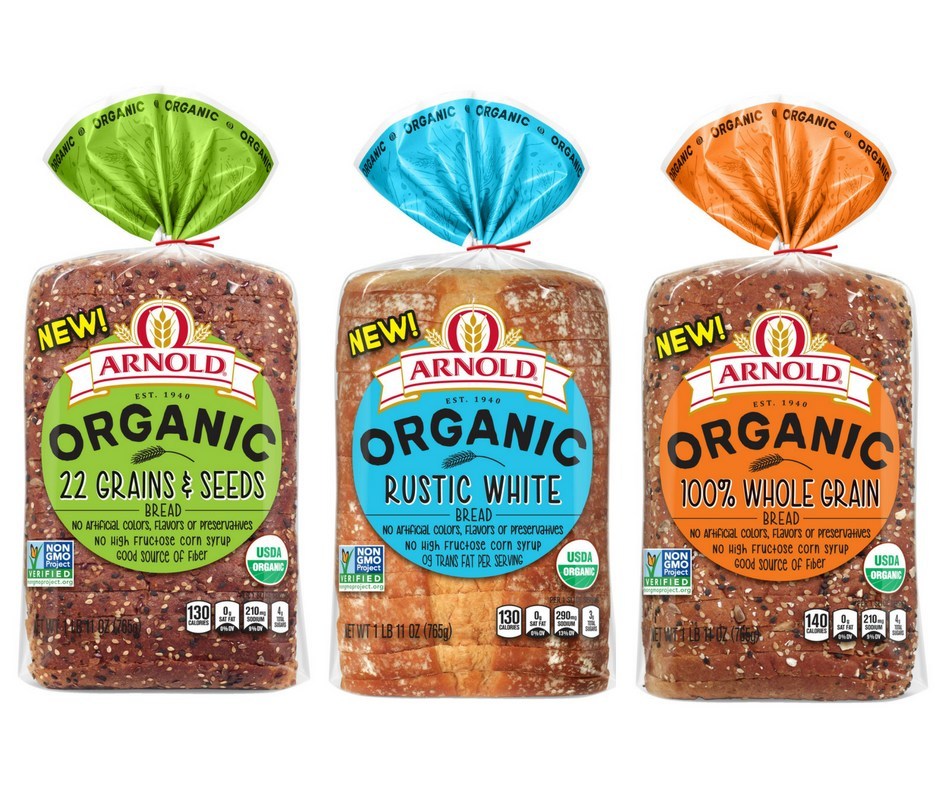 HORSHAM, Pa. — Arnold, Brownberry and Oroweat Bread, makers of nutritious and delicious premium bread, announced today the national launch of its organic bread line. According to the Organic Trade Association's 2017 Organic Industry Survey, organic bread ranks as the sixth largest organic category, and with consumer demand for more organic options at an all-time high, Arnold, Brownberry and Oroweat Organics Bread will offer consumers a better-for-you option to align with their evolving lifestyle and nutritional needs that doesn't sacrifice quality or taste.
Made with simple ingredients, each new variety is USDA certified organic and Non-GMO Project Verified with no artificial preservatives, colors or flavors, no high fructose corn syrup and 0g of trans fat. Arnold, Brownberry and Oroweat Organics Bread's homegrown flavor and clean ingredients make every variety a nutritious decision for consumers, serving as a delicious base for tasty toast toppers at breakfast or their favorite sandwich at lunch. The line's three wholesome varieties are available nationwide in 27-oz packages and each offer a distinct taste and texture, including:
Organic 22 Grains & Seeds Bread: Each crunchy loaf contains a unique blend of grains and seeds such as flaxseed, chia and ancient grains for a rich texture in every bite
Organic 100% Whole Grain Bread: Made with a combination of whole grains that provide key nutrients, a good source of fiber and hearty flavor
Organic Rustic White Bread: This simple recipe features a touch of sea salt to deliver thick, fluffy slices and deliciously real flavor
"We heard consumers' demand for more organic options in the bread aisle and we are thrilled to be able to offer these quality products to our fans who value premium ingredients and the nutritional content of their bread," said Marlene Sidhu, Marketing Director of Arnold, Brownberry and Oroweat Bread. "We wanted to create a bread with simple, easy-to-pronounce ingredients without sacrificing great taste. We can't wait to see how our consumers will enjoy this exciting new member of our Arnold, Brownberry and Oroweat family of products in their favorite recipes."
The brand is also introducing additional varieties in select regions across the country based on consumer preferences, including Oroweat Organic Quinoa & Wheat; Oroweat Organic Smooth Wheat; Oroweat Organic Thin Sliced 22 Grains & Seeds; Oroweat Organic Thin Sliced 100% Whole Grain; Oroweat Organic Thin Sliced Nutty Wheat Berry.
Arnold, Brownberry and Oroweat Organics Bread is now available at major retailers across the U.S. for the suggested average retail price $5.49. Arnold, Brownberry and Oroweat sells premium bread selections in the U.S., including sliced bread, Sandwich Thins Rolls, Pocket Thins Flatbread, and stuffing. For a full list of products and where to buy them, please visit www.arnoldbread.com, www.brownberry.com or www.oroweat.com.
About Bimbo Bakeries USA
Bimbo Bakeries USA (BBU) is a leader in the baking industry, known for its category leading brands, innovative products, freshness and quality. Our team of 20,000 U.S. associates operates more than 50 manufacturing locations in the United States. Over 11,000 distribution routes deliver our leading brands such as Arnold, Bimbo, Boboli, Brownberry, Entenmann's, Freihofer's, Heiner's, Marinela, Mrs Baird's, Nature's Harvest, Oroweat, Sara Lee, Stroehmann, Thomas', and Tia Rosa. BBU is owned by Mexico's Grupo Bimbo, S.A.B de C.V., the world's largest baking company with operations in 22 countries.