André's Confiserie Suisse to Debut New Packaging at Fancy Food Show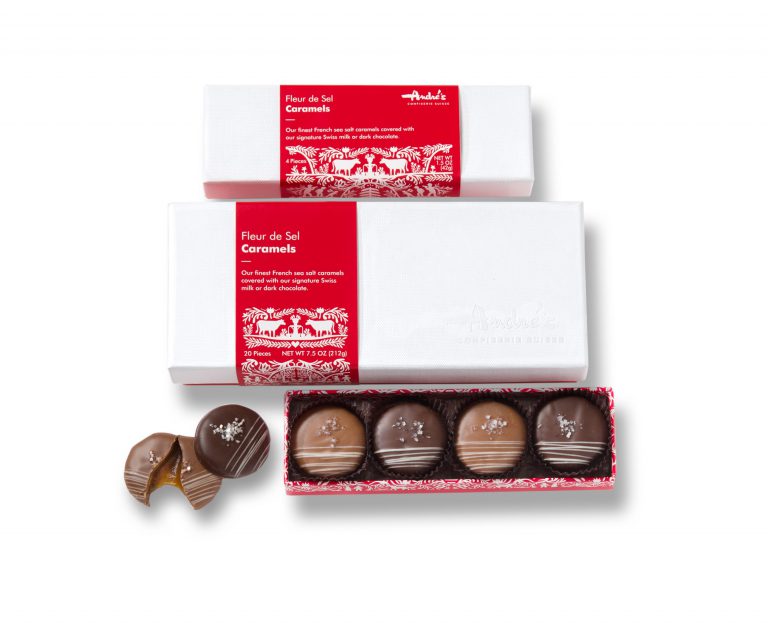 KANSAS CITY, Mo. — André's Confiserie Suisse, a family-owned chocolatier built upon three generations of Swiss confiseurs, will debut its newly designed packaging with a selection of wholesale products at this year's Summer Fancy Food Show in New York City June 30 – July 2.
The full rebrand of packaging is the first in its 63 years of business and reflects its rich Swiss heritage. Using the colors of the Swiss flag and elaborate scherenschnitte detail, the new packaging embodies the Swiss tradition and history that surrounds the Bollier family and their craft.
The Bollier family will introduce Summer Fancy Food Show attendees to a selection of Swiss favorites offered for wholesale, including:
Chocolate Covered Almonds
Fresh nonpareil almonds roasted to a golden brown, delicately caramelized and coated with André's signature Swiss chocolate. Available in Milk Chocolate, DarkChocolate or boxes with Mixed Milk and Dark Chocolate.
Fleur de Sel Caramels
André's finest French sea salt caramels covered with signature Swiss milk and dark chocolate. Caramels are made by hand from pure cane sugar.
Orange Peels
A signature product with fresh oranges that are peeled, blanched, delicately candied, then coated in André's signature Swiss dark chocolate.
Master Konditor-Confiseur, André Bollier, and his wife Elsbeth first opened André's in 1955. The couple emigrated from Switzerland to Kansas City to open a traditional Swiss Confiserie as the first of its kind in the Midwest, producing only the highest quality confections in the Swiss tradition. René Bollier, grandson of André, is honored to take the business into its third generation. Like his father and grandfather before him, René trained in Switzerland where he immersed himself in the art of Swiss techniques and classic recipes. While honoring that tradition, René is known for bringing his personal passion, ingenuity and pride to create distinctive chocolate experiences that can only be found at André's.
"Since the beginning, our family has had a passion for creating luxury chocolate candies. My grandfather, father, and myself have strived to create the very best products using only the highest quality ingredients. This passion is one of the main reasons whyAndré's has been a successful family business for three generations." said Rene Bollier, owner of André's Confiserie Suisse. "We're very excited to debut our new packaging that features a traditional Swiss scherenschnitte design.Like the detailed art of scherenschnitte, we strive to bring the same precision and beauty to chocolate making."
Summer Fancy Food Show attendees areinvited to visit booth #4110 to sample André's premier hand-crafted chocolatesalongside René Bollier.
For more information, visit www.andreschocolates.com.
About André's
André's Confiserie Suisseis one of America's premier chocolatiers built upon three generations of Swissconfiseurs. The multifaceted family-owned business has been a staple in Kansas City since 1955. André's Confiserie Suisse is located at 5018 Main Street,Kansas City, MO 64112. Follow André's on Facebook at
facebook.com/andreschocolates,on Twitter @AndresSwiss and on Instagram at @andresswiss. Visit André's online at https://www.andreschocolates.com/.