Tea Forte Launches New SIPSCRIPTIONS Tea
CONCORD, Mass.– Tea Forte, identified around the world as the exceptional tea experience, is introducing SIPSCRIPTIONS, a collection of organic, functional mind and body balancing teas for optimal health. Handcrafted in small batches to ensure each blend's unique and beneficial properties, SIPSCRIPTIONS tea enters the market to answer the growing demand from health-conscious consumers for naturally functional beverages that deliver health and wellness.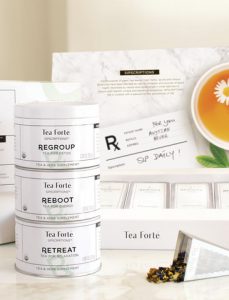 "With water being the healthiest beverage in the world, and tea being the second most consumed beverage globally, we are proud to present the daily wellness of SIPSCRIPTIONS tea," says Tea Forte Chief Creative Compass, Stuart Avery Gold. "These curated craftings of tea leaves, fresh herbs and choice bio-active botanicals, are blended for amplified health. Whether looking for an energy lift, a pure and natural detox, help winding down, a boost to your immune system, or a steep to keep you fit and fab, SIPSCRIPTIONS teas are born in a garden, not in a lab, to deliver nature's all-natural prescription for a daily regimen of good health and wellness."
"Consumers have always embraced our tea-forward innovation," added company CEO Michael Gebrael. "Now with the speed of daily life becoming ever more hectic, SIPSCRIPTIONS teas are not just for those already engaged with tea, but taps into a new generation of healthy, active consumers; millennials who are drinking tea the way their parents drink coffee, with more and more opting for tea as a way to further embrace a lifestyle of good health and daily well-being."
The SIPSCRIPTIONS Collection is available in Tea Forte's signature Pyramid Infusers, Loose Tea Canisters and Single Steeps ® – perfect measure single serve loose tea pouches and includes:
RESIST Tea for Wellness
REGROUP Tea for Detox
REBOOT Tea For Energy
RESULTS Tea for Fitness
RETREAT Tea For Relaxation
About Tea Forte
Tea Forte is the award winning global luxury Tea Company with offerings enjoyed in over 35 countries where it is presented at leading hotels, restaurants, prestige resorts and high-end retailers. Renowned for its variety and unparalleled quality of hand-crafted teas, design-driven accessories, exquisite packaging and luxuriant approach, this definitive cup of tea is offered on the world's finest tables. With complex and varied blends, Tea Forte pleases the palate through its collections of loose leaf teas and elegant, handcrafted pyramid shaped infuser. Tea Forte is selected as the exclusive House Purveyor of premium teas for the James Beard Foundation. To learn more, please visit www.teaforte.com. Like us on Facebook at: https://www.facebook.com/teafortefans.