Sprout Foods Debuts Plant-Based Organic Baby and Toddler Purees and Snacks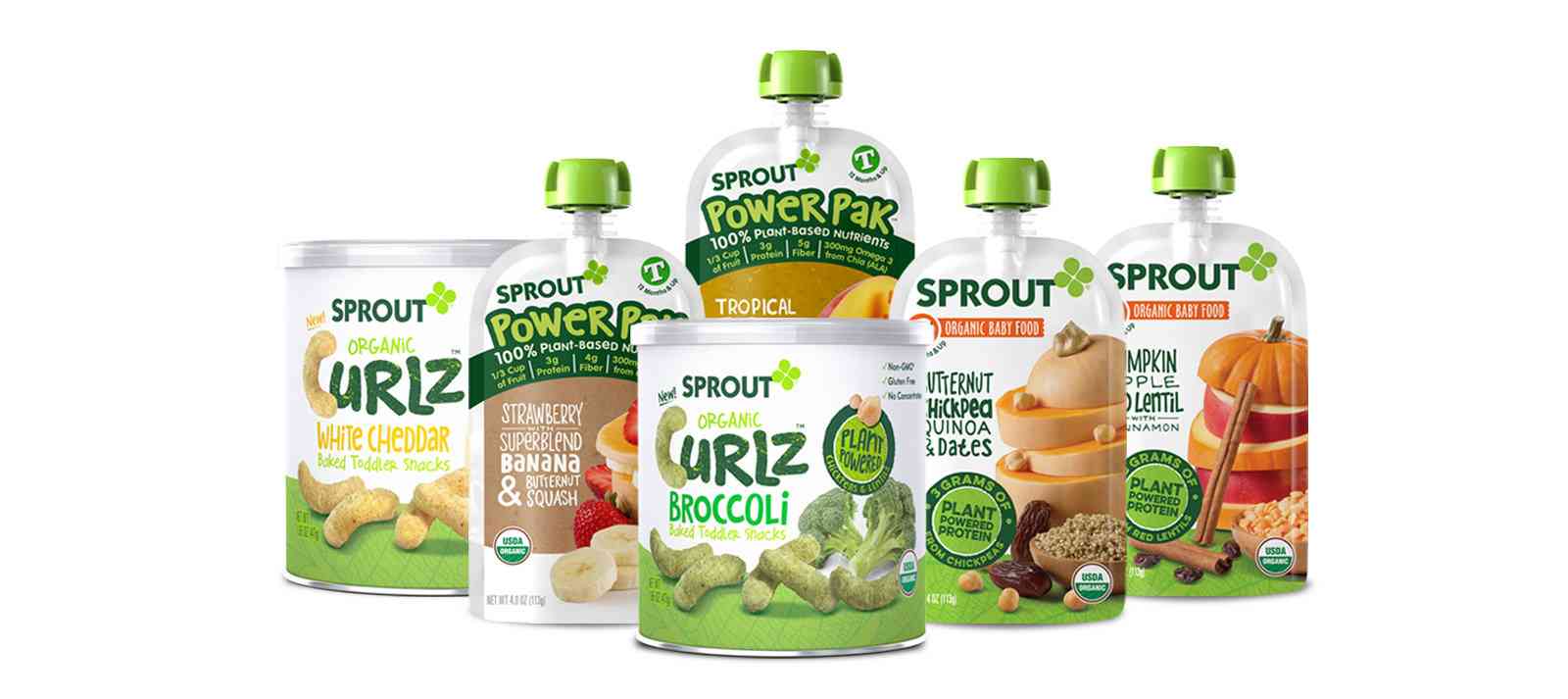 ANAHEIM, Calif.– Sprout Foods announced the launch of its line of plant-based food products at Natural Products Expo West, including the category's first plant-based protein baby food purees and plant-powered toddler snack. The launch at Booth #5506 is part of Sprout's investment in the fast-growing plant-based food trend and the company's ongoing focus on innovation.
Sprout Foods is leading the plant-powered movement in the baby and toddler category. Touted by Mintel as one of the top trends that will impact the global food and drink market in 2017, plant-based food and plant-based protein reflect a growing consumer preference for diets based on natural and simple ingredients. Add to that the health benefits of a plant-based diet –increased life expectancy, prevention of obesity, diabetes and heart disease, and reduced exposure to pro-inflammatory fats, antibiotics, and growth hormones used in the raising of animals – and plant-based food has become an increasingly attractive choice for families.
"Nearly 1/3 of babies aged 9 to 24 months do not eat vegetables on a given day, but plant-based food has the potential to change that," said Rick Klauser, CEO at Sprout Foods. "As concerns about health and sustainability drive more consumers to seek plant-based diets, we recognized an opportunity to apply this trend to organic infant and all family nutrition. Millennials want to provide their growing babies and toddlers with nutrient-dense food, while also introducing them to a variety of flavors and textures early on. Sprout's plant-based baby food purees and toddler snacks were designed just for them. Plant-powered is an area we will continue to innovate and expand on this year in order to provide families with the best in organic nutrition."
Sprout's new plant-powered products include:
Sprout® Stage 3 Plant-based Protein Baby Food Purees – The first line of plant-based protein baby food in the category, these Stage 3 (8 months and up) purees are a delicious protein alternative to meat and dairy-based products, and offer 3 grams of protein and 2 grams of fiber from organic chickpeas, lentils, and beans. Available in 3 delicious varieties (Butternut Chickpea Quinoa & Dates, Pumpkin Apple Red Lentil with Cinnamon, and Sweet Pea Carrot Corn & White Bean) in 4 ounce pouches with twist-off, re-sealable caps.
Sprout® Power Pak™ – The first organic toddler puree in clear pouch packaging. Made from 100% plant-based nutrients, Sprout® Power Pak™ purees contain no chemical fortification. Sprout's proprietary Superblend (coconut milk, navy beans, chia, dates) provides essential nutrients for toddlers, including 3 grams of protein, 3 grams of fiber, a full serving of fruit, and omega 3 from chia. Available in 4 delicious varieties (Kiwi Banana & Spinach, Tropical Fusion, Apple Apricot & Strawberry, and Strawberry Banana & Butternut Squash) in 4 ounce pouches with twist-off, re-sealable caps.
Sprout® Organic Curlz™ – The first plant-powered toddler snack made from organic chickpeas and lentils. Curlz are gluten-free, non-GMO, and offer a perfect curly, crunchy texture for toddlers learning to pick up and self-feed. Unlike some baby food brands that use artificial flavors and preservatives, Sprout® Organic Curlz™ use organic rosemary to maintain freshness, and contain no added or artificial flavors, preservatives, concentrates, or sugars. Available in 1.48 ounce canisters in Broccoli, White Cheddar, and Sweet Potato & Cinnamon varieties.
Consumer demand for more transparency in the food space has been increasing in recent years. As brands are just beginning to respond to this demand, with efforts such as GMO labeling and honest ingredient lists on packaging, Sprout® has been ahead of this trend since the company was founded in 2008. With a commitment to transparency, Sprout® will be the first organic baby food brand to have a 100% clear pouch portfolio in 2017, and the only baby food company to pledge the names of their varieties match the primary ingredients in the recipe. Sprout's products use the cleanest ingredients made from whole, organic foods – no preservatives, fillers, or thickeners, and never anything artificial – and are designed to begin exposing babies and toddlers to a wide range of flavors that encourage a love of healthy foods from the start.
About Sprout Foods, Inc.
Sprout Foods provides premium organic foods for babies, toddlers and their families that encourage happy and healthy eating. Founded in 2008, Sprout® was the first company to introduce baby food in a pouch, triggering the explosion of the organic baby food pouch segment in the U.S. Sprout® uses only unadulterated non-GMO ingredients, with whole foods from the source, and unique cooking methods to create tasty, nutritious combinations that appeal to all ages. Sprout® believes that a meal is more than nourishment: it's a chance to inspire and grow together. That's why the company is committed to developing an early love of healthy, whole ORGANIC foods. For more information, visit http://www.sproutorganicfoods.com.