Rule Breaker Snacks Introduces Shelf-Stable Format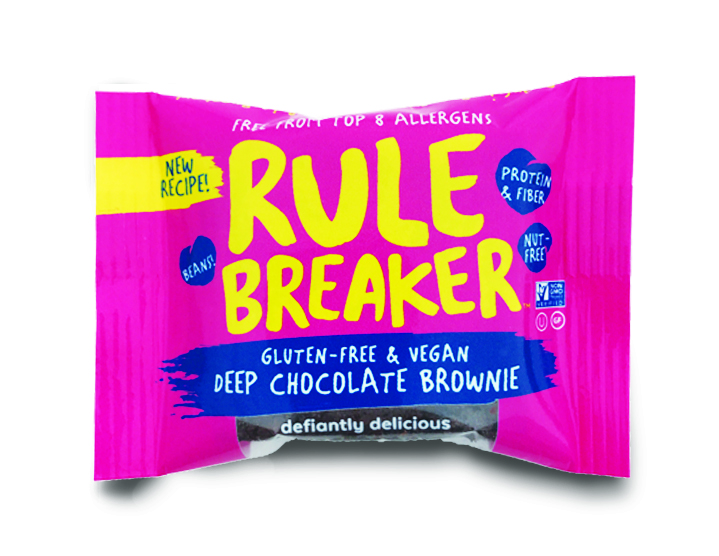 New York, NY – Rule Breaker Snacks® is pleased to announce that their innovative, bean-based brownies and blondies are now shelf stable. Rule Breaker Snacks products harness the power of beans along with oats and other wholesome ingredients to create truly delicious, indulgent and guilt-free goodies.
Chickpeas (garbanzo beans) are the first ingredient in Rule Breaker Deep Chocolate Brownies and Chocolate Chunk Blondies yet they offer a rich delicious flavor and texture. Previously a frozen product, the new shelf stable Rule Breaker brownies and blondies will make it easier for retailers to keep on the shelf and for consumers to keep on hand.
"We are thrilled to now offer our delicious and nutritious blondies and brownies in a shelf-stable format," says Nancy Kalish, founder of Rule Breaker Snacks. "This innovation means more flexibility for retailers and ultimately more opportunity for consumers to try our delicious products!"
Perfect for anyone looking for a treat they feel better about eating, Rule Breaker snacks are packed with protein and fiber, are low in sugar and have just 230 calories each. They are also gluten-free, kosher, vegan, nut-free and free from the top eight allergens. Rule Breaker Snacks are available in two flavors, Deep Chocolate Brownies and Chocolate Chunk Blondies. Winner of a prestigious NEXTY award for Best New Sweet or Dessert in 2016, Rule Breaker Snacks are available online as well as in retail locations across the country.
For more information about Rule Breaker Snacks, please visit rulebreakersnacks.com. To stay up to date on other news and information from Rule Breaker Snacks like the company's Facebook page, and follow Rule Breaker Snacks on Twitter and Instagram.
About Rule Breaker Snacks
Rule Breaker Snacks® are defiantly delicious brownies and blondies based on beans (yes, beans!). Packed with protein and fiber and low in sugar, Rule Breaker Snacks are gluten-free, 100% plant-based, non-GMO and free from the top 8 allergens. They are available online and at select retail locations. For more information, visit rulebreakersnacks.com.###