Rise Bar Disrupts Shelf With New Package Design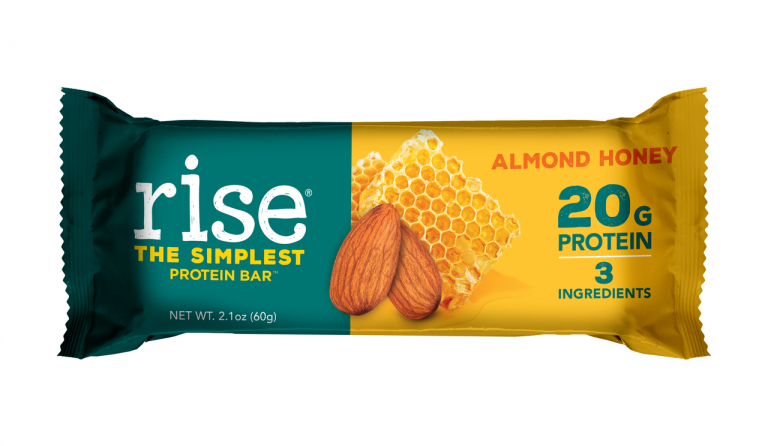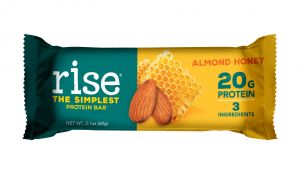 Irvine, California– Rise Bar, a pioneer in the clean label movement and an innovator in the multi-billion-dollar nutrition bar industry, will unveil a new package design at the 2017 Natural Products Expo West from March 10-12, 2017 in Anaheim, California.
Unlike conventional protein bars, Rise protein bars are made with the simplest, premium "kitchen approved" ingredients for maximum nutrition. Packed with 15 to 20 grams of pure protein isolates and never compromising on taste, Rise has redefined healthy protein bars in 5 ingredients or less.
The new packaging emphasizes the company's commitment to simple ingredients and real food nutrition by showcasing delicious food imagery and highlighting the number of ingredients and protein content on the front of each bar. To enhance shopability, Rise Bar uses color to clearly identify dairy and plant based bars – yellow for whey, dairy-based protein bars and blue for pea, plant-based protein bars.
The new design is being released in conjunction with updated packaging material enhanced with three layers and a seal 3 times stronger for extended freshness.
"Packaging is our most visible and valuable asset," said Peter Spenuzza, Founder & CEO at Rise Bar. "As a pioneer in the clean label movement, we wanted our packaging to reflect the simplicity of our ingredient choices, the delicious taste of real food nutrition while enhancing the retail shopping experience. The bright colors make it easier for our customers to identify Rise Bar on the shelf and distinguish between plant and dairy based bars. The new call outs highlight our ingredients and protein values at a glance."
Rise Bar currently offers 5 whey protein bars and 3 pea protein bars. All are gluten free, soy free, peanut free, non-GMO, and made without sugar alcohols or anything artificial. The 3 plant-based bars are also non-GMO Project Verified.
Rise Bar will unveil their innovative new packaging at booth #5528 at Expo West. New packaging will be available in stores in May. For more information on the brand and its products, please visit risebar.com
About Rise Bar
Rise Bar is a California based company focused on revolutionizing the nutrition bar industry by producing the simplest protein bars in the market using 5 ingredients or less while delivering a high protein boost. Founded with the goal of helping people achieve their goals by delivering simple ingredients and high quality nutrition, each Rise Bar is carefully crafted at Rise Bar's facility in California. All Rise Bars are made with real food, are gluten-free, soy-free, peanut-free, preservative-free, non-GMO and never contain artificial ingredients or sweeteners.