Nature's Path Expands Beloved Love Crunch Granola into New Category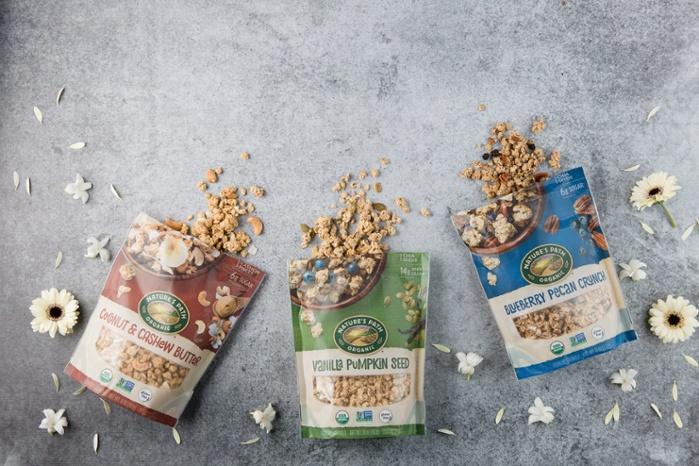 Richmond, BC, Canada– Nature's Path, the largest organic cereal brand in North America, is sharing the love by expanding its popular Love Crunch product line into the cereal category with the introduction of its new Love Crunch cereals. Love Crunch is part of the Nature's Path family of organic products that meet the demands of consumers seeking healthier, better-for-you products, made by a company committed to helping consumers eat well and do good by giving back.
Featuring indulgent and extraordinary flavors, Love Crunch cereal is made with simple, premium, organic, and non-GMO ingredients. Love Crunch cereal combines chocolate cereal flakes, crunchy granola clusters, Fair Trade Italian dark chocolate chunks, and delicious inclusions of either succulent raspberries and strawberries, creamy peanut butter, or sweet coconut flakes. The marriage of cereal flakes and granola provides the perfect combination of flavor and texture that can be enjoyed during breakfast, as an afternoon snack, or as a better-for-you dessert.
"Nature's Path Love Crunch granola has been a fan-favorite for quite some time, so the expansion to the cereal category is natural and one that we know will satisfy cravings for a decadent and delicious, organic indulgence," said Arjan Stephens, executive vice president, Nature's Path Foods and co-creator of the Love Crunch brand with his wife, Rhimjhim. "We are grateful that as conventional cereal sales falter, we continue to see solid growth. Made with simple, premium, organic ingredients, every bite of Love Crunch cereal nourishes your body and soul."
Delicious, decadent and always organic, Love Crunch cereal is available in three delightful flavors: Dark Chocolate and Red Berry, Dark Chocolate Peanut Butter, and Dark Chocolate Macaroon, and is available at select retailers nationwide and online starting at $3.99.
Love Crunch cereal is the latest addition to the growing Love Crunch product line. Earlier this year, the company introduced Love Crunch bars, so consumers can indulge in their much-loved granola while on-the-go, and two new flavors of pouched granola. Love Crunch pouched granola is available in seven flavors: Chocolate Cinnamon & Cashew, Double Chocolate Chunk, Dark Chocolate and Red Berry, Dark Chocolate Peanut Butter, Dark Chocolate Macaroon, Aloha Blend and Apple Crumble.
Love Crunch products are not only delicious, but socially and environmentally responsible as well. For every bag or box purchased, Nature's Path donates the equivalent in cash and organic food to food banks, up to $1 million a year, via the company's Bite4Bite program. Through Bite4Bite, Nature's Path has donated over $12.29 Million worth of food to local food banks.
About Nature's Path
Nature's Path Organic Foods, is a privately held, family-owned company, producing USDA Certified Organic and Non-GMO Project Verified breakfast and snack foods sold in grocery and natural food stores in over 50 countries around the world. Committed to the triple bottom line— socially responsible, environmentally sustainable and financially viable, Nature's Path works diligently to support communities and champion the cause of people and planet. Brands include Nature's Path®, Love Crunch®, Qi'a®, Que Pasa®, Flax Plus®, and EnviroKidz®. Founded in 1985, Nature's Path is headquartered in Richmond, British Columbia and employs hundreds of valued team members at its four facilities in Canada and the United States. Visit http://www.naturespath.com or follow on Twitter @NaturesPath.