Lotus Foods Launches New Organic Pad Thai Rice Noodles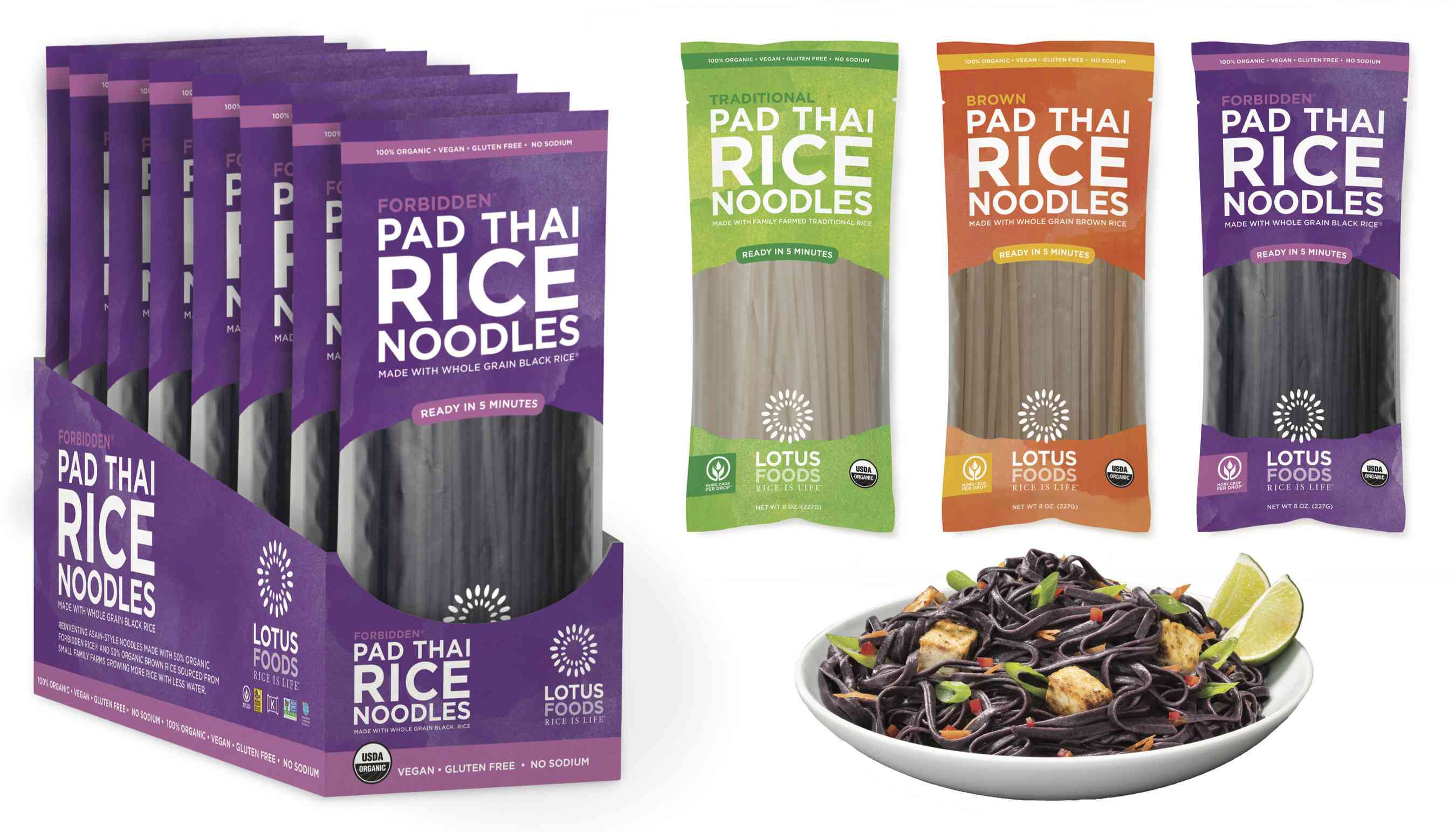 RICHMOND, Calif.– Lotus Foods, the leading heirloom rice company focusing on sustainable rice production, is excited to introduce new Organic Pad Thai Rice Noodles. This will be the first pad Thai noodle to be made with organic, heirloom and whole grain black and brown rice, giving this classic Asian-style noodle a boost in flavor and nutrition.
According to a CNN survey, Pad Thai is ranked fifth on a list of World's 50 most delicious foods readers' poll. "Apparently, pad Thai was popularized by Thailand's Prime Minister in the 1940s and 50s, as a way to improve the country's rice-based economy, farmers' well-being and national health," notes Caryl Levine, Lotus Foods Co-Founder/Co-CEO. "It's fascinating as this mirrors our commitment to elevate the status of rice-farming families in our supply chains and enhance the healthfulness of rice-based products."
According to the journal Gastronomica, rice with chili paste, leaves and salt was the traditional staple diet at the time, but wheat noodles were very popular. By adding bean sprouts, onions, peanuts, eggs, and meats to noodles made from rice, the dish could improve the Thai diet and help Thai farmers. To popularize the new noodle dish, the government supplied people with a basic recipe for pad Thai, then encouraged vendors to make use of wheeled noodle carts to sell the dish on Bangkok's streets.
Lotus Food has reinvented these popular Asian specialty noodles using healthier organic heirloom and whole grain rice rather than commodity-grade white rice. Varieties include: Traditional, black Forbidden Rice® and Brown Rice. While perfect for making a more nutritious and authentic restaurant-style pad Thai, they can be used in a broad range of dishes including other Asian stir fries, noodle soups, salads or as a gluten-free pasta substitute. Ready in only 5 minutes, they are a healthful solution to quick, easy and gluten-free meals. The noodles will be available in June 2017 at Whole Foods Market and other natural food stores nationwide, as well as online at amazon.com and lotusfoods.com.
Lotus Foods sources organic rice from family farms that practice water-saving More Crop Per Drop™ methods, which also reduce methane emissions and women's workload. "Our goal is to transition all of the rice we source to these methods," says Levine. "Meanwhile the organic premiums boost all farm families' standard of living."
About Lotus Foods
Since 1995, Lotus Foods has partnered in fair trade with small family farmers around the world who are growing rice more sustainably and preserving rice biodiversity. Lotus Foods' product line is unique in delivering consumers healthier rice and value-added products that respect their multiple concerns for the highest standard of taste together with social and environmental impact. Lotus Foods is a certified B Corporation.