Lotus Foods Introduces 'Better-for-You' Rice Delights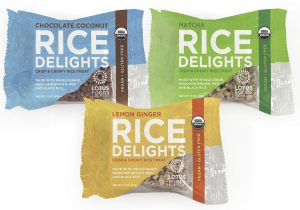 RICHMOND, Calif.– Lotus Foods is pleased to introduce Organic Rice Delights, a better-for-you version of beloved marshmallow rice treats. These delightfully crisp and chewy rice treats are made with organic brown, red and black rice sourced from small family farms using climate-friendly methods that yield more rice with less water and less work for women.
"The Rice Delights are part of Lotus Foods' continued reinvention of popular favorites with healthier ingredients, innovative flavors, and focus on sustainability," says Caryl Levine, Lotus Foods Co-Founder/Co-CEO. "We had such success with our Rice Ramen and Arare Rice Crackers. We want to continue to give consumers options for healthier, more responsible snacking."
Lotus Foods Rice Delights are vegan and gluten-free, and sweetened with organic coconut nectar. They are an excellent source of fiber with 6 grams per serving, and very low in sodium. The three "delightful" flavors include: Lemon Ginger, Chocolate Coconut, and Matcha Mint. Launching in June 2017, Rice Delights will be available with a SRP of $1.99 at Whole Foods Market, Amazon.com and lotusfoods.com.
The organic rice used in the Rice Delights is sourced from farmers using More Crop Per Drop™ ecological practices like the System of Rice Intensification, which regenerates soils and biodiversity, reduces water used to irrigate rice, cuts greenhouse gas emissions and lightens women's workloads. Lotus Foods organic premiums boost farm families' standard of living. You too can Do The Rice Thing!
Since 1995, Lotus Foods has partnered in fair trade with small family farmers around the world who are growing rice more sustainably and preserving rice biodiversity. Lotus Foods' product line is unique in delivering consumers healthier rice and value-added products that respect their multiple concerns for the highest standards of taste together with social and environmental impact. Lotus Foods is a certified B Corporation.