Kayco Introduces Kosher Ready-To-Bake Frozen Crusts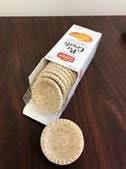 NEW YORK – The Seder table is set. The matzo ball soup is simmering. And the guests are dreaming of…pie?
Kayco, the nation's leading source for certified kosher and kosher for Passover products, asks, Why not? With the first-ever pre-made, frozen Kosher for Passover Pie and Tart Crust, menus for the next eight days just got a whole lot more exciting! (See enclosed recipes from Joy of Kosher's Jamie Geller).
Kayco has "rolled out" this exciting new pastry product from Gefen, one of the most trusted brands in kosher foods, just in time for Passover 2017. Certified OU-P and gluten-free, these crusts are now available in two sizes, 9" for pies and 3" for tarts, in the frozen kosher aisle.
"When you come right down to it, food is a big part of the joy of Passover," says Charles Herzog, VP of New Business Development at Kayco. "But it takes a tremendous amount of preparation and mindful eating. We work all year long to develop products that make life more convenient and more creative during Passover. After all, less time in the kitchen means more time for consumers to enjoy Passover with family and friends."
But that's only the beginning. Kayco's new product releases for 2017 include a variety of trend-setting newcomers like vacuum-packed, ready-to-eat Beets, the latest craze for consumers seeking all-natural, harvest-fresh organics that pack a nutritious punch. Gefen is riding the coconut wave, too, with Coconut Chips in three tantalizing varieties for healthy snacking, garnishes, and more. Haddar's crisp crostini toasts in three flavors make great snacks, appetizers and salad toppers. S'chug and Pesto, condiments that were once off-limits for Passover, are now available for the first time ever. And the Mediterranean theme keeps going in the frozen veggie aisle with Blanchard & Blanchard's two new entries, Baby Okra and Artichoke Bottoms.
Crepes? Pancakes? Fusilli? Gefen's fresh, homestyle potato gnocchi and gluten free fusilli pasta are new, kosher for Passover surprises along with pancake and waffle mix, as well as perfect crepe batter in ready to pour bottles. Easy to use and delicious, they'll have you wondering, "are you sure it's Passover?"
As for traditional fare with a twist, Kayco offers a wealth of new choices. Passover standbys like Matzo have joined the gluten-free bandwagon with two new flavors from Yehuda. Shattering macaroon stereotypes, Rebecca & Rose introduce their Sea Salt-Drizzled Chocolate Macaroons. Gefen's Almond Butter takes a bow next to their popular Cashew Butter, and their must-have pantry staple, Tuna, is now available packed in Extra-Light Olive Oil.
Now, cooks can create new delicacies that are sure to become part of their repertory for Passover and year-round. Kayco's new kosher for Passover selections makes it easy to unleash the culinary imagination without sacrificing flavor. Change up the Seder table with a surprising Charoset Pie (pareve). Consider a dairy meal featuring savory deep-dish pizza tarts or delicious quiches, and classic pies for dessert.
These Kosher for Passover items are available at supermarkets, specialty and kosher stores including Whole Foods, nationwide. For additional information about all Kayco products visit www.kayco.com.