Hummus Pods Expands National Distribution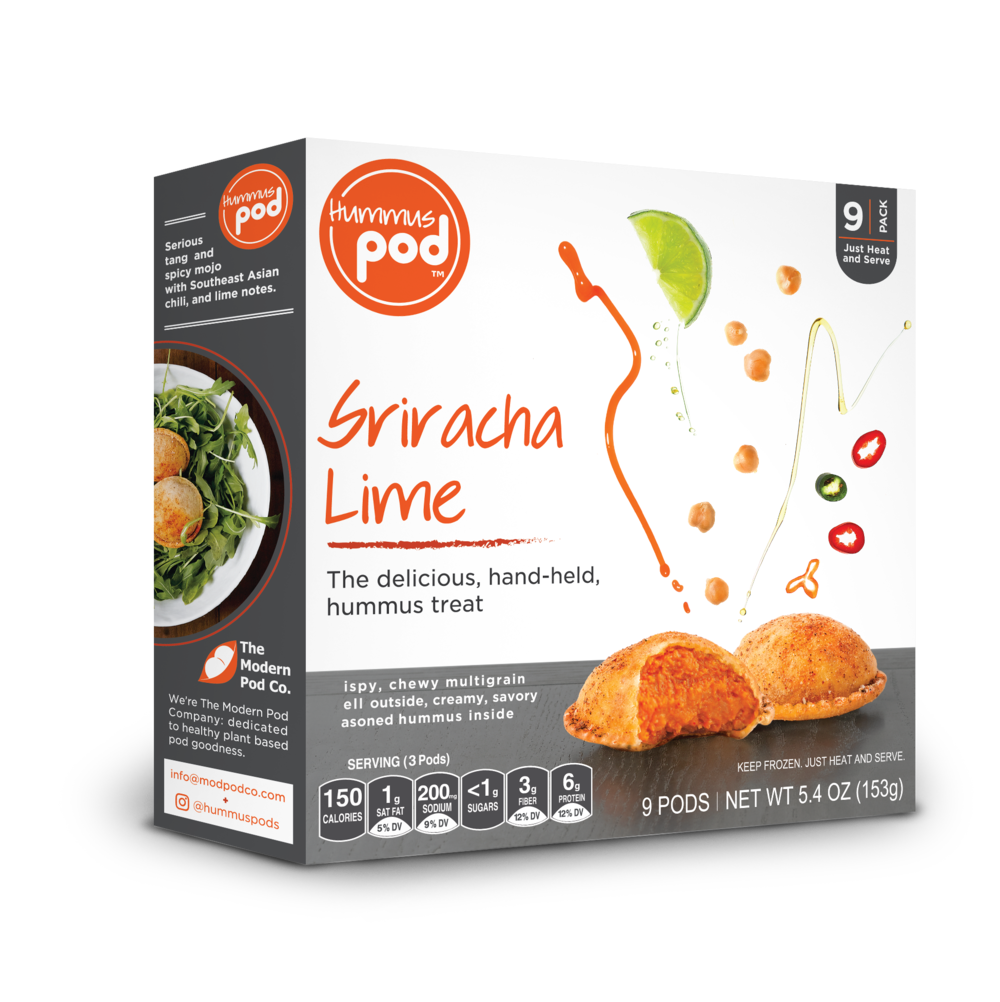 Providence, RI– The Modern Pod Company announces that Hummus Pods® — a daring new hummus "snacketizer" — is now available in even more natural and conventional stores, coast to coast.
Building on a powerful initial launch in Kroger (Kroger, Ralph's, King Sooper), the Hummus Pod® brand has expanded dramatically, securing a steady stream of new accounts that are driving plant-based innovation in the frozen aisle. New retail accounts include Safeway, Ahold (Stop & Shop, Giant Food, Giant), and Wegman's. The Modern Pod Company is also pleased to announce Pod distribution (of all 3 popular SKUs) in Shop-Rite, King's, Balducci's, and scores of enlightened Independents, via both UNFI and Kehe. Hummus Pods are now available in well over 1,200 stores nationally.
Hummus Pods are creamy, savory hummus encased in a crispy, chewy multigrain shell. They are portable, delicious, and better for you: made with natural, real food ingredients, Pods are vegan, plant-based goodness. A single serving of 3 pods is just 150 calories – and packs a tremendous flavor punch. They're pre-baked and fresh frozen, and a good source of fiber (3g/serving) and protein (6g/serving).
Hummus Pods™ are currently available in three bold flavors: Zesty Lemon, Smoky Chipotle, and Sriracha Lime. Each features creamy hummus made from American chickpeas, extra virgin olive oil, and exotic spices, encased in a wholesome, multigrain crust. Hummus Pods retail for approximately $6.99.
"Our Hummus Pods are meeting consumer demand for great tasting, hand-held, plant-based goodness," says VP of Sales Stephanie Gladstone. "Hummus is widely popular and growing, but consumers really crave innovation: new forms and bold, new flavors. Pods are "hummus a whole new way!""
About The Modern Pod Company
The Modern Pod Company is a bold, design-driven enterprise based in Providence, RI, founded in 2016. The company is a team of culinary inventors dedicated to creating innovative, healthy, plant-based pod goodness. The Company is the first spin-out from The Food Innovation Nexus (The FIX), a product and venture creation firm closely aligned with Johnson & Wales University.