Gluten-Free Cracker Brands Crunchmaster and Harvest Stone Debut New Branding and Products
LOVES PARK, Ill.– At the 2017 Natural Products Expo West, TH Foods, Inc., maker of premium gluten-free cracker and snack brands Crunchmaster and Harvest Stone will be showcasing new branding and product innovations at Booth #3875.
TH Foods understands the importance of continuous innovation in the emerging gluten-free market. Improvements in the quality and selection of gluten-free foods available in mainstream channels are a main factor contributing to sales growth, according to market analysis by Packaged Facts. The global gluten-free market is predicted to see substantial growth, reaching a market value of $5.3 billion by 2022, according to Allied Market Research.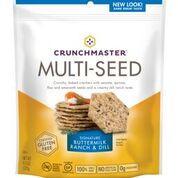 Crunchmaster crackers and crisps are already known for their appealing taste, having recently won the American Masters of Taste Gold Medal in the category of gluten-free cracker.
New brand and product innovations from CRUNCHMASTER include:
Crunchmaster Logo and Packaging Updated for First Time in a Decade
In an effort to strengthen the brand and refresh the look, Crunchmaster is introducing a new logo and packaging. The new logo blends in some of the equities of the brand – the six-sided shape of the cracker along with symbolism for its grains. The packaging was made to look clean and contemporary while bringing forth the taste appeal of the product. A new website and advertising campaign will begin rolling out later this year.
NEW FLAVORS: New Crunchmaster Flavors Add Variety to Best-Selling Lines
Crunchmaster will add three flavors to its best-selling Multi-Seed and Multi-Grain lines. They are: Multi-Seed Artisan Cheesy Garlic Bread, Multi-Seed Signature Buttermilk Ranch and Dill, and Multi-Grain Applewood Smoked BBQ.
SEASONAL SKU: Seasonal Cracker Rides the Wave of Pumpkin's Popularity
Just in time for fall, Crunchmaster is unveiling its newest product that taps into the public's obsession with all things pumpkin. Crunchmaster's 2017 seasonal product is a Pumpkin Harvest cracker in Savory Pumpkin. This flavor cracker combines real pumpkin and autumn spices with the goodness of whole grains and flax seeds.
New brand and product innovations from HARVEST STONE include: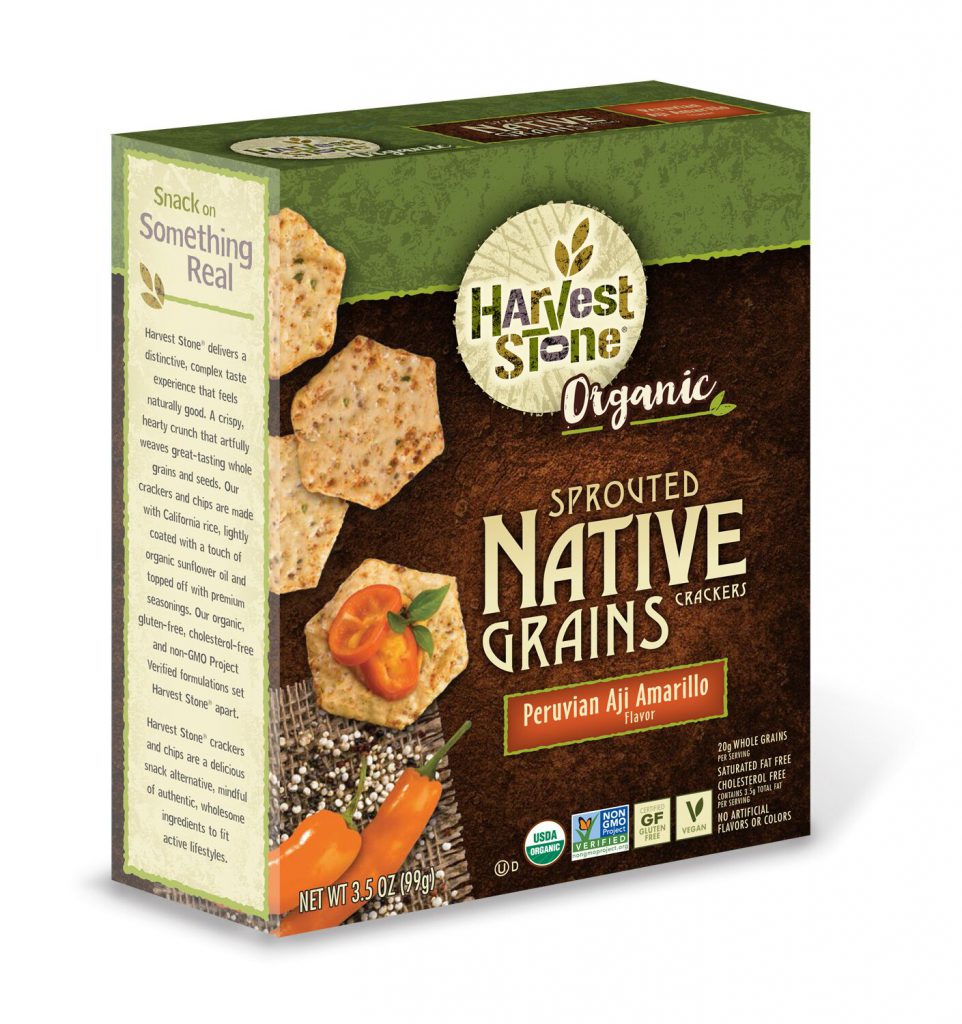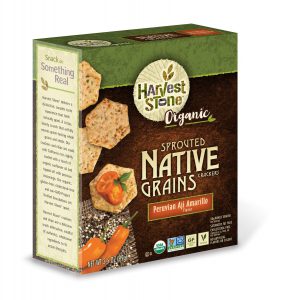 New Website and Campaign for Harvest Stone Designed for Discriminating Tastes
Harvest Stone is unveiling a new advertising campaign called "Life. Well Accompanied." The campaign taps into the discriminating tastes of consumers to highlight Harvest Stone's thoughtfully sourced grains, product certifications such as organic and gluten-free and non-GMO, and chef inspired flavors. To coordinate with the launch of the campaign, the Harvest Stone website is getting a facelift. The site will complement the look of the campaign, provide product info, and tell the brand story. A more robust recipe section is being added, including topping ideas such as fresh fig, prosciutto and Manchego cheese.
NEW PRODUCT LINES: Organic Sprouted Hummus and Organic Native Grains Crackers
Harvest Stone will add Organic Sprouted Hummus and Organic Native Grains varieties to its line which already includes Brown Rice, Sesame & Flax crackers and Brown Rice & Chickpea Crackers. The new products include: Organic Sprouted Hummus in Roasted Garlic, Organic Sprouted Hummus in Taste of Za'atar, Organic Native Grains in Simply Olive Oil and Salt, and Organic Native Grains in Peruvian Aji Amarillo.
About TH Foods, Inc.
Crunchmaster and Harvest Stone are registered trademarks of TH Foods, Inc. Headquartered in Loves Park, Ill., TH Foods, Inc. is a leading manufacturer in the natural snack food industry. TH Foods, Inc. strives to bring innovative, authentic, "Better for You" balanced nutrition, rice-based crackers and snacks to North America. For more information, visit www.crunchmaster.com or www.harveststone.com.