Gelato Fiasco Releases 4 New Pint Flavors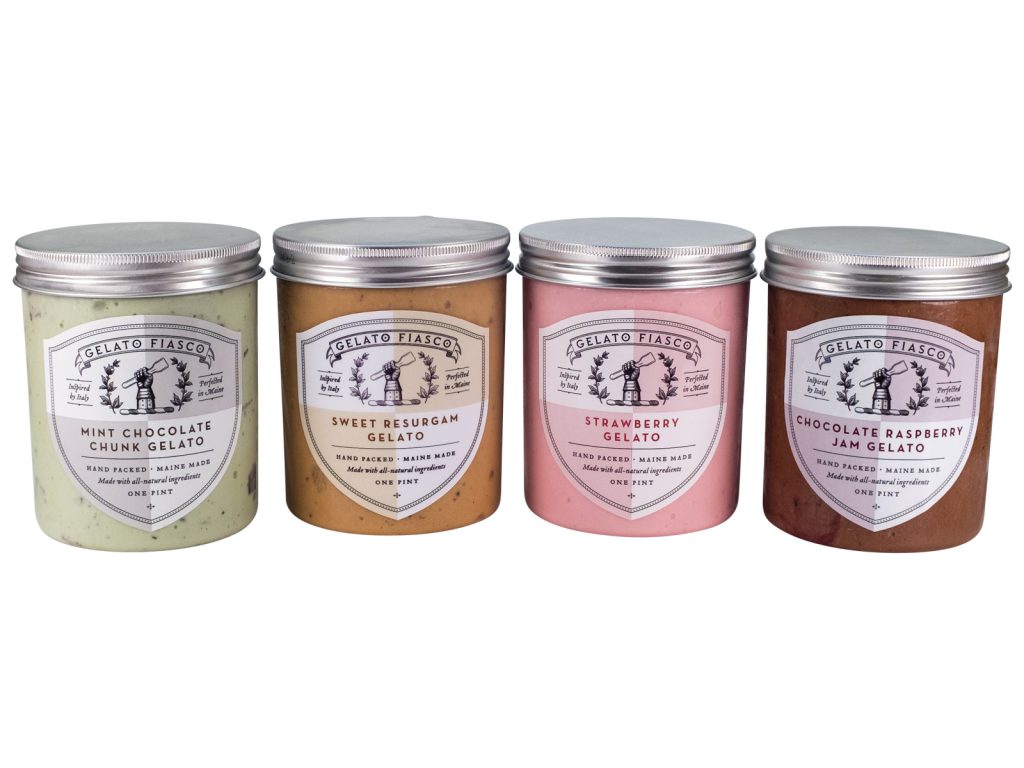 BRUNSWICK, Maine — Gelato Fiasco has announced the release of four new flavors as part of its 2017 Pint Collection.The new flavors are:- Mint Chocolate Chunk Gelato: Gelato Fiasco's take on the classic ice cream stand favorite, but far more dense, perfectly nuanced, and without any artificial colors or flavors.
– Strawberry Gelato: Simple and smooth, strawberries are combined with a touch of lemon juice and fresh cream base for a silky and fruity gelato.
– Chocolate Raspberry Jam Gelato: What does a Maine black bear like better than a jar of housemade raspberry freezer jam? That jam swirled in a creamy chocolate gelato and studded with chocolate bar chunks, of course.
– Sweet Resurgam Gelato: Named for the motto of Portland, Maine, which means, "I shall rise again," this is a burnt sugar almond gelato with swirls of salted caramel and chocolate chips. The flavor has long been beloved by customers at Gelato Fiasco's store in Portland. Now folks from away can experience it, too.
"These flavors continue Gelato Fiasco's tradition of adding a twist to classic, time-honored flavors, and doing it all with using all-natural ingredients and some of the best milk in the world," said co-founder Joshua Davis. "When considering new flavors, my ultimate question is always, 'Is this undeniably delicious?' I can say without hesitation that these four pass the test."
All of Gelato Fiasco's gelato pints are made with milk from Maine family dairy farms, natural cane sugar, and no artificial flavors, colors, or corn syrup. Gelato Fiasco produces its own gelato at its Flavor Foundry in Brunswick, Maine, and does not outsource its production to a co-packer.Davis and co-founder Bruno Tropeano chose the flavors from about a dozen new concepts created by Gelato Fiasco's team. Each flavor underwent several recipe revisions and was taste-tested at the company's scoop shops in Brunswick and Portland, Maine.Development of Mint Chocolate Chunk Gelato, which customers have been requesting for years, presented an interesting challenge: The mint chocolate chip ice cream that folks remember from childhood has a delightful green hue. Typically that could mean loading the dessert with artificial colors. Gelato Fiasco found an alternative in spirulina, a sea plant. Just a dusting makes this gelato naturally green.
Grocery availability will vary by market and grocers' choices. Gelato Fiasco pints are available at some 5,000 stores in 47 U.S. states. Grocers include Publix, Kroger, Meijer, The Fresh Market, Stop 'n' Shop, Giant, Whole Foods Market, Hannaford, and many independent locations.The rest of Gelato Fiasco's official 2017 lineup includes Maine Wild Blueberry Crisp Gelato; Mascarpone Pistachio Caramel Gelato; Torched Marshmallow S'More Gelato; Ripe Mango Sorbetto; Dark Chocolate Caramel Sea Salt Gelato; Caramel Sea Salt Gelato; Peanut Butter Stracciatella Gelato; Madagascar Vanilla Bean Gelato; and Espresso Chip Gelato.Ripe Mango Sorbetto was named the 2016 sofi Gold Award Winner in the frozen dessert category by the Specialty Food Association.
ABOUT GELATO FIASCO
Gelato Fiasco is one of America's leading independently owned producers of gelato. Gelato Fiasco makes all of its grocery store pints at its Flavor Foundry in Brunswick, Maine, with Maine family farms, natural cane sugar, and genuine fruits, nuts, cocoas, chocolates, or confections. Pints are sold at more than 5,000 grocery stores across the United States The company also operates year-round scoop shops in Brunswick and Portland, Maine, and its flavors have been featured in Bon Appetit, Food & Wine, the Wall Street Journal, and O: The Oprah Magazine. It was founded in 2007 by Joshua Davis and Bruno Tropeano.