Fruit Bliss Adds Tomatoes and Golden Berries to Line of Dried Fruits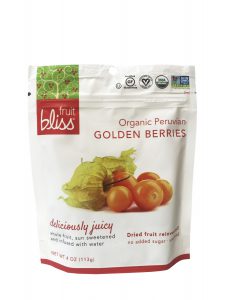 BROOKLYN, NY, 2017 – Fruit Bliss is proud to announce the expansion of its line of #deliciouslyjuicy dried fruits to include rehydrated tomatoes and golden berries.
"After the success of our dates, figs, plums, and apricots, we are thrilled to add tomatoes and golden berries to our offerings," said Susan Leone, founder and owner of Fruit Bliss. "Our products are great for snacking and use in a wide array of recipes, from smoothies to baked goods, and now in pizza, pasta, sandwiches, and salads."
Fruit Bliss' tomatoes are grown in Turkey while the golden berries come from Peru. These fruits are picked at the height of ripeness and sun-dried. They undergo a rehydrating process that leaves them juicier and naturally sweeter than traditional dried fruit.
Like all of Fruit Bliss' products, the tomatoes and golden berries are just fruit (yes, tomatoes are a fruit!) and water – no added sugar or GMOs. They will be available in 5 oz. (Tomatoes) and 4 oz. pouches (Golden Berries) at natural food retailers and supermarkets around the country.
"Compared with other dried fruits, ours are juicy and naturally sweet, with no sulfites or other chemicals," said Leone, a Brooklyn mom who decided to start Fruit Bliss to fill the gap in 100% healthy snacks on the supermarket shelves. "Fruit Bliss is literally dried fruit reinvented and a truly healthy snack or addition to many dishes."
ABOUT FRUIT BLISS
Established in 2011, Fruit Bliss' pouches and snack-size minis are sold nationally and can be found in Whole Foods Market, Safeway, Sprouts, King's, Rosauers, Jimbo's Naturally, Kowalski's Markets and many other regional natural food stores. Fruit Bliss is the first company to bring rehydrated organic dried fruits, a common snack and cooking ingredient throughout Europe, to the United States. Find us online at www.fruitbliss.com.