Fruigees Organic Fruit Snacks Launches 4 packs
Los Angeles, CA – Fruigees Inc., the innovative fruit snack brand that is offering an all-ages alternative to the applesauce and baby food that saturate the flexible pouch category, has launched new 4-packs of their three existing flavors; Nothing Beets Cherry, Kalefornia Grape, and 24 Carrot Orange.
Fruigees' fruit and veggie snacks in squeeze packs were previously sold as individual pouches but these new multipacks offer customers greater convenience by being able to pick up multiple pouches at a time with the added bonus of lower prices per pouch. Retailers too have come to prefer Fruigees' 4-pack option thanks to the increased velocity and higher ring at the register.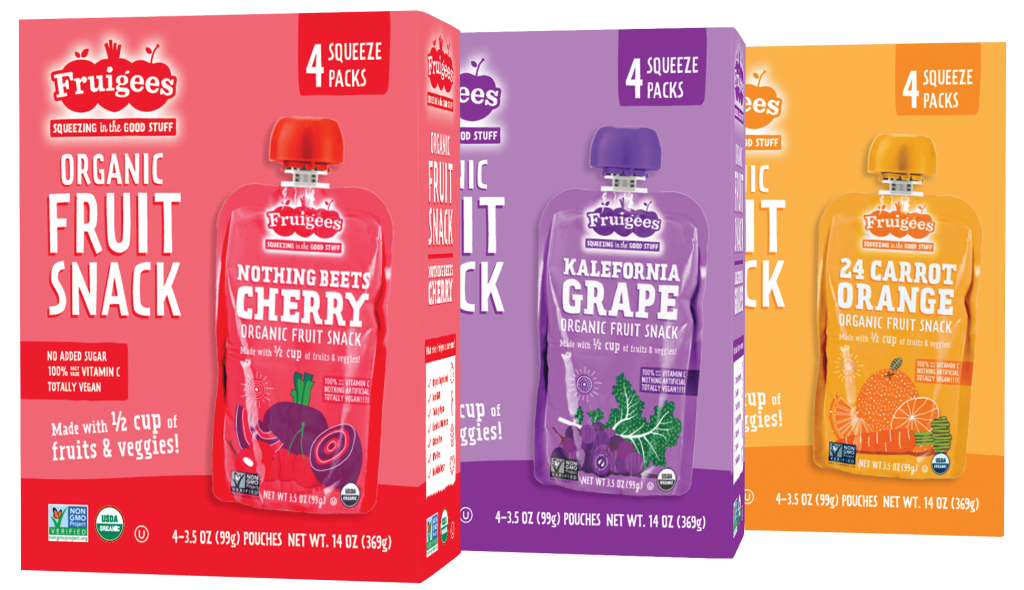 "Our new 4-packs are another opportunity to help Fruigees achieve our goal of making healthy, convenient snacks more accessible to more people," said David Czinn, CEO and Co-Founder of Fruigees. "When we tested our multipacks in Meijer, we knew we would see a positive outcome, but they really exceeded our expectation and gave us the confidence to roll out these 4-packs on a large scale." No doubt Meijer felt the same as they recently committed to tripling Fruigees' distribution within their chain.
Other retailers to adopt this new format from Fruigees include Whole Foods, Wegman's, Cub Foods, QFC, Safeway, and Albertson's, resulting in 3,800+ points of distribution across the country.
Fruigees COO and Co-Founder, Josh Kahn, added, "We're really honored that customers have shown such strong support for Fruigees and we're excited to have more retailers transition to the 4-packs as well as develop new, innovative items within the pouch category."
About Fruigees
Fruigees is the organic fruit and veggie snack in a squeeze pack that offers a delicious, all-ages alternative to the applesauce and purees that saturate the pouch category. With a unique recipe of organic fruit and veggie juices, Fruigees has bright, vibrant flavors and a smooth consistency that, much like a Jell-O or pudding, is perfect for both kids and adults. Launched in 2014 by two cousins in Los Angeles, David Czinn and Josh Kahn, Fruigees is one of Nielsen's fastest growing pouch brands and was recently named as one of the top companies demonstrating significant impact, innovation, growth and leadership by Entrepreneur Magazine.