Fourth & Heart Teams Up With LesserEvil to Launch Ghee-Flavored Organic Popcorn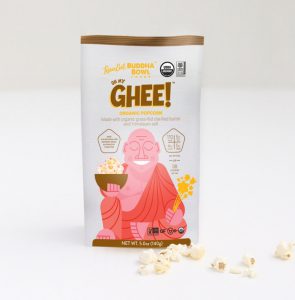 Los Angeles, CA– Artisanal gourmet ghee brand Fourth & Heart, has partnered with innovative snack company LesserEvil to craft the first to market ghee popcorn snack. The new product Oh My Ghee, is a delicious organic, butter flavored popcorn that will showcase Fourth & Heart's premium grass fed ghee for sensational flavor.
Light, crunchy, buttery, popcorn is the epitome of the perfect nosh. Many varieties are drenched in salt and artificial butters that are loaded with chemicals, transforming this otherwise delicious treat into a diet disaster. However, the new Oh My Ghee popcorn snack by LesserEvil is a tasty and healthy option. Oh My Ghee brings together a pure and simple ingredient line-up of organic popcorn, Himalayan Pink Salt and savory Fourth & Heart original recipe ghee to boost the flavor factor and pump up the nutritional profile. Fourth & Heart sources it exceptional ghee from grass fed, pasture-raised cows in New Zealand making it a nutritional powerhouse. Loaded with vitamin A, D, E, K and butyric acid, Fourth & Heart's ghee turns the popcorn morsels into a nourishing snack. LesserEvil takes care in heating the ghee at a low temperature while applying it to the popcorn, ensuring consumers receive the full health benefits of ghee. Oh My Ghee popcorn is a great source of fiber as well as Kosher, USDA Organic and Non GMO project certified. Oh My Ghee is the latest addition to LesserEvil's popular Buddah Bowl line.
"We are ecstatic to collaborate with LesserEvil as their ghee of choice for the launch of Oh My Ghee popcorn," states Fourth & Heart founder and CEO Raquel Gunsagar. "Fourth & Heart's ethos and dedication to bringing only the highest quality food goods to consumers, perfectly align with those of LesserEvil. It brings us great joy to see our ghee help reinvent the classic popcorn snack as brought to life by Oh My Ghee."
"We are committed to quality and innovation," says Charles Coristine, CEO of LesserEvil Healthy Brands. "We searched out the best ghee on the planet and found a new friend and partner in Fourth & Heart right here in the United States. They are another family owned company with a commitment to amazing products."
Oh My Ghee Popcorn will be available in all Wegmans locations as of February 1st, 2017. Each 5.0oz bag will retail for $3.99. Oh My Ghee will launch nationwide through UNFI and other select distributors in March 2017. For more information on Fourth & Heart or LesserEvil please visit their websites at fourthandheart.com and lesserevil.com.
About Fourth & Heart
Fourth & Heart (formerly Tava Life), is an artisanal food brand based in Los Angeles, CA who has set out on a mission to modernize ancient pantry food staples and have started with a line of grass-fed flavored pure spreadable butters known as "ghee." Since their launch in 2015 they've grown to occupy the shelves of over 6,000 stores and have become the country's go-to ghee. For more information on Fourth & Heart and to review all their offerings, please visit fourthandheart.com.
About LesserEvil Healthy Brands
LesserEvil Healthy Brands, LLC is devoted to producing unique, healthy and flavorful foods with real nutritional value. They produce their snack line themselves, which supports the local communities while controlling food safety and quality. LesserEvil also believes in sourcing ethical and organic ingredients (whenever possible) and supports farmers here in the United States. Life is an endless journey; take good food along for the trip.