Coconut Cloud Releases New On-The-Go Line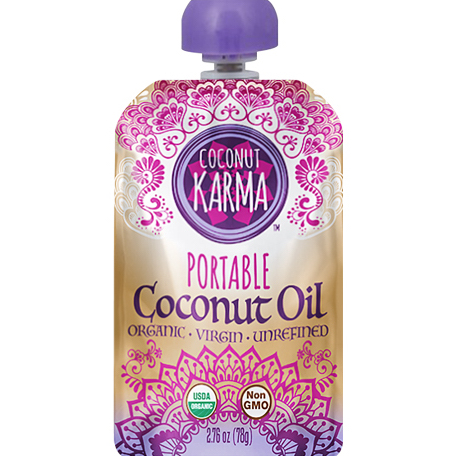 DENVER, Colorado– Denver, Colorado-based company, Tundalaya has recently launched the latest addition to their ultra-convenient, ultra-smart beauty and wellness product line. This latest product is Coconut Karma Portable Coconut Oil; featuring the wholesome goodness of cold-pressed, virgin coconut oil in a most convenient and most unconventional form – making it perfect for today's on-the go consumer.
"We noticed that the busy mom, worldly wanderer, and corporate traveler were all often finding themselves in places and situations where the healthy habits of home weren't easily accessible. We were certainly finding ourselves in this position all the time! In hotel rooms on business trips, we would all pull out our makeshift baggies and smooshed plastic containers of coconut oil and think, there has to be a better way to do this!" says Coconut Karma's founder and CEO, Kerry Carlson.
Coconut Karma Portable Coconut Oil is THE solution. The handy, travel-size pack comes TSA approved, meaning it can be stored in carry-on luggage without issue. But here's the cherry on top; the handy screw top makes it easy to open, use, and re-seal. So consumers can use a little or use a lot.
Coconut Karma took an everyday, familiar essential; coconut oil, and developed an alternative delivery method to allow consumers to continue their smart habits; like daily oil pulling, coconut oil coffee drinking, and hair and skin moisturizing, even when they were miles away from home.
About Coconut Karma
Coconut Karma launched in April 2017 and is the blossoming health and wellness sister brand to Coconut Cloud. Coconut Karma is on a mission to create natural, ayurvedic-inspired products that are clean and convenient; all inspired by the superfood power of coconuts. For more information on Coconut Karma and to review all their current and upcoming product offerings, please visit coconutkarma.net.