Buddha Brands Co. Launches Hungry Buddha Probiotic Coconut Chips
Montreal, QC– Buddha Brands Company announces the launch of their latest snack innovation: Hungry Buddha Probiotic Coconut Chips!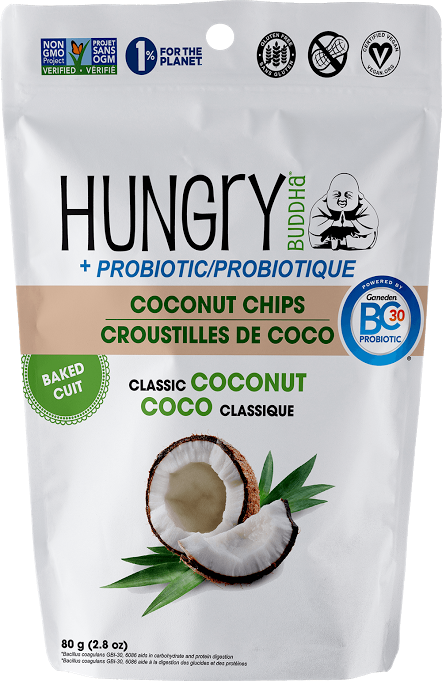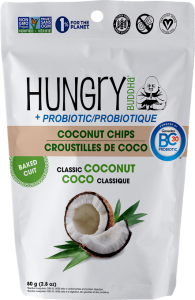 This newest addition to the Hungry Buddha snack line takes the popular brand of coconut chips and further enhances its health benefits with the inclusion of GanedenBC30 Probiotic. Digestive wellness remains top of mind for health-conscious consumers, with probiotic products gaining popularity as healthy support to one's balanced diet. Sales of probiotic products are set rise 40% globally by 2020, making gut health the next major trend in the health and wellness domain (Euromonitor International, 2016).
Hungry Buddha Probiotic Coconut Chips are the only coconut chips on the market to include probiotics, making it a new pillar in the realm of healthy, functional and fortified snacking. Making its official worldwide debut at the 2017 Natural Products Expo West, Hungry Buddha Probiotic Coconut Chips will be packaged in an 80g resealable bag and available in Classic Coconut and Cheeky Chocolate, made with organic cocoa. Daily consumption of at least 1 billion CFU GanedenBC30 Probiotic, which is Bacillus coagulans GBI-30,6086, aids in carbohydrate and protein digestion. One serving of Hungry Buddha contains 1 billion CFU GanedenBC30.
Hungry Buddha Coconut Chips are certified Non-GMO and certified Vegan, gluten-free and contribute to the support of sustainable causes. As a member of 1% For The Planet, Buddha Brands Company donates 1% of all annual sales to environmental and charitable groups like Charity : Water, Oceana and The Whole Kids Foundation.
About Buddha Brands Company
Coconut, as a recognized superfood, remains the proud pillar of the Buddha Brands Co. product lineup. We have carefully sourced the finest coconuts from Thailand in order to produce our family of products under the Buddha Brands Co. umbrella: Thirsty Buddha and Hungry Buddha. Buddha Brands Co. aims to inspire a balanced lifestyle to all life enthusiasts who are always ready to explore, enjoy and experience all things new and exciting. They believe, as we do, that a truly balanced lifestyle starts from within.