Baron Chocolatier Debuts 2017 Holiday-Inspired Flavors
VERNON HILLS, IL.– Premium chocolate manufacturer, Baron Chocolatier, Inc., introduced its holiday line of signature truffles and sticks at Efficient Collaborative Retail Marketing's (ECRM) Candy Planning: Christmas & Halloween Efficient Planning Sessions (EPPS) held Feb. 19-22 in Las Vegas.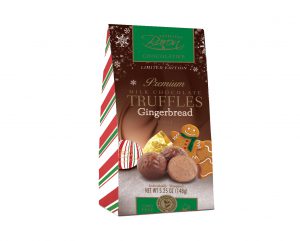 The new Christmas-inspired truffle flavors include Milk Chocolate Gingerbread, available in milk chocolate, contains gingerbread crème filling and gingerbread flavored pieces and Candy Cane Crunch, available in milk or dark chocolate, contains peppermint crème filling with candy cane pieces. The truffles are packaged 15 count, individually wrapped. SRP between $2.99 and $3.99.
Baron Chocolatier's holiday sticks varieties will be available in Dark Chocolate Peppermint and Milk Chocolate Gingerbread, packaged in eight individually-wrapped sticks. SRP between $2.99 and $3.99.
"Gingerbread and peppermint are classic Christmas flavors that both perfectly compliment our premium chocolate," said Tomasz Kotas, Baron Chocolatier, Inc., President and CEO. "They were very well-received at ECRM's event and we look forward to bringing Baron Chocolatier's holiday collection to the marketplace and to consumers this year."
The limited-edition flavors will be available for shipping starting on Sept. 1, 2017.
Baron Chocolatier's offers a variety of milk and dark chocolate bars, truffles and other sweet treats all made with all natural ingredients, including coloring from natural sources, real fruit juice, GMO-free, zero trans fats and certified Kosher and Halal. There are many flavor combinations to choose ranging from milk or dark chocolate with sea salt pieces, orange and almonds, raspberry pieces and toffee crunch to seasonal products such as truffle Easter eggs, strawberry cheesecake and mango passion truffles, sticks and more.
About Baron Chocolatier
Baron Chocolatier, Inc. is a privately-owned, second generation company with a proud confectionary heritage in the craft of the finest chocolatiers. Our premium chocolate is made with only the finest all natural ingredients and receives GMO-Free and Kosher certification while produced in state-of-the-art manufacturing facilities across Poland. Please find our products proudly available in the leading national retailers, grocery chains, limited assortment and specialty retailers throughout the United States, Canada and Mexico. For more information, please visit, www.baronchocolatier.com