Back to Nature Launches New Lineup of Natural Cookies and Crackers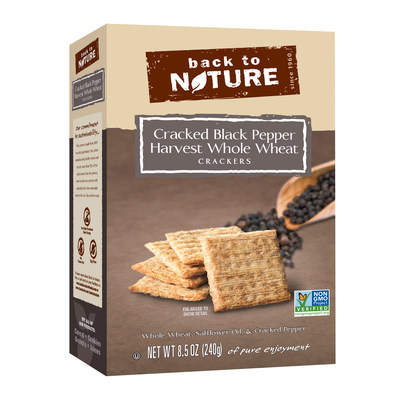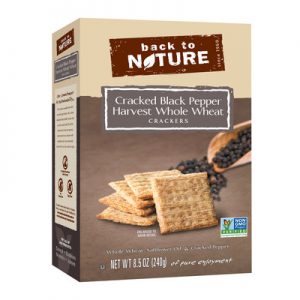 NAPLES, Fla.– Back to Nature Foods Company today announced that it is kicking off the new year with an expansion of its top-selling product categories – cookies and crackers, reinforcing its position as the biscuit category leader in the natural channel. The brand is also introducing a new granola cluster variety. The new product lineup that will begin hitting store shelves in February includes:
Cracked Black Pepper Harvest Whole Wheat Crackers: These richly-textured crackers are made with 100% whole grain and seasoned with cracked black pepper.
Kale and Sea Salt Crackers: These crunchy crackers are made with flavorful ingredients, including kale and seasoned with a hint of caramelized onion flavor and sprinkled with sea salt.
Chocolate and Peanut Butter Creme Cookies: These cookies feature creamy peanut butter sandwiched between two rich, dark chocolate-flavored cookie wafers.
Chocolate Chunk Thin Cookies: A thin twist on Back to Nature's Chocolate Chunk Cookie that is packed with chocolate chunks.
White Chunk Macadamia Thin Cookies: These thin cookies combine sweet and salty tastes with white chocolate chunks and macadamia nuts.
Peanut Butter Granola Clusters: Peanut butter flavor with crispy crunchy peanuts added to classic whole grain oats granola.
The new lineup of cookies and crackers is in response to popular food trends such as kale as a better-for-you ingredient and consumers taking more interest in finding "thinner" options to their favorite snacks when shopping in the snack aisle. The lineup also celebrates classic flavor combinations such as chocolate and peanut butter.
"Over the past year, Back to Nature has experienced double digit growth in the natural channel and is well-positioned to continue on this trajectory in the new year," said Vincent Fantegrossi, President and Chief Executive Officer, Back to Nature Foods Company. "As the leader in the biscuit category in the natural channel, we're excited to kick off the new year with the expansion of our cookies and crackers lineup and are committed to providing our customers with high-quality, innovative products that they can enjoy."
To find a store near you that sells Back to Nature products, please visit: http://www.backtonaturefoods.com/where-to-buy/.
About Back to Nature
Since 1960, Back to Nature's mission has been to provide everyday foods that are simply delicious, simply good. The Back to Nature brand is committed to creating delicious and flavorful recipes using ingredients inspired by nature by carefully selecting ingredients to create great-tasting, affordable products that everyone can enjoy. Back to Nature products represent a wide range of categories, including cookies, crackers, nuts and trail mixes, granola, juices, soups, and cereals. For more information, please visit www.backtonaturefoods.com.