Angie's BOOMCHICKAPOP Introduces New Flavors
MINNEAPOLIS, Minn.– If snack time isn't already your favorite time of the day, it will be now. Angie's BOOMCHICKAPOP, makers of one of the nation's largest brands of better-for-you popcorn, are introducing five new flavors to its BOOM-ing lineup of gluten-free popcorn and kettle corn. The five new flavors include: Real Butter, Cheddar Cheese, Caramel, Dark Chocolaty Drizzled Sea Salt Kettle Corn and Milk Chocolaty Peanut Butter Flavored Kettle Corn. Fans can view and sample the new flavors at Booth #4875 at the 2017 National Products Expo West in Anaheim, Calif. March 10-12, 2017.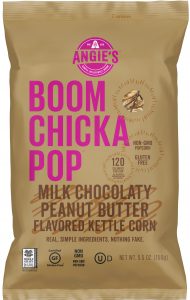 "Our team is constantly innovating new flavors for very person and every occasion," said Angie Bastian, Co-Founder of Angie's BOOMCHICKAPOP. "Packing a punch with bold combinations and real, simple ingredients is our innovation team's mission, and we definitely brought the BOOM to this line-up of new flavors."
More about Angie's BOOMCHICKAPOP 2017 new flavors:
Real Butter: With only four simple ingredients and 60 calories per cup, Angie's BOOMCHICKAPOP Real Butter Popcorn is a timeless classic that will be sure to knock your socks off. Perfect for an on-the-go snack or family movie night.
Cheddar Cheese: A deliciously cheesy snack made with real cheddar at only 70 calories per cup and zero trans fats, Angie's BOOMCHICKAPOP Cheddar Cheese Popcorn will make you say "nom nom now" Cheese lovers rejoice!
Caramel: Real, simple ingredients never tasted so sweet. With no high-fructose syrup, this snack is gluten-free, made with non-GMO popcorn and zero trans-fat, delivering energy-packed, irresistible whole grain delight.
Dark Chocolaty Drizzled Sea Salt: Fans asked and Angie's BOOMCHICAKPOP delivered with year-round Dark Chocolaty Drizzled Sea Salt Kettle Corn. This sweet and salty, gluten free chocolaty masterpiece is 120 calories per cup and made with non-gmo popcorn.
Milk Chocolaty Peanut Butter: Delicious, guilt-free combination of ingredients come together in Angie's BOOMCHICKAPOP Milk Chocolaty Peanut Butter Flavored Kettle Corn. Sure to be a fan favorite, this flavorful, gluten-free snack is 120 calories per cup and made with non-gmo popcorn.
Made with real, simple ingredients–nothing fake, and big flavor, Angie's BOOMCHICKAPOP's five new flavors are a complimentary addition to classic flavors: Sea Salt, Light Kettle Corn, Sweet & Salty and White Cheddar. Angie's BOOMCHICKAPOP's classic and new flavors are available for purchase in stores and online at boomchickapop.com.
About Angie's BOOMCHICKAPOP
Husband and wife entrepreneurs Dan and Angie Bastian founded a family-run, outdoor vendor operation in 2001 in Mankato, Minn., selling their sweet & salty kettle corn. Angie's quickly increased in sales and popularity, moving the operation from outdoor festivals and events to a production facility with expanded distribution. Now headquartered in Minneapolis, Minn. with facilities in Mankato, Minn. and Reno, Nev., Angie's BOOMCHICKAPOP makes a variety of non-GMO and gluten-free kettle corn and popcorn. Angie's BOOMCHICKAPOP is proudly sold in natural food, grocery, club and mass retail outlets nationwide. To learn more about Angie's BOOMCHICKAPOP, visit boomchickapop.com or visit the Angie's BOOMCHICKAPOP Facebook, Twitter and Instagram pages.