Vera Roasting Company Expands Production of CoffVee
PORTSMOUTH, NH : Vera Roasting Company, Inc., the only producer of coffee infused with resveratrol, today announced expanded production capabilities for CoffVee, a master-roasted coffee, making it the fastest-growing specialty coffee in its class. CoffVee gives consumers the opportunity to enjoy the heart-healthy benefits of a glass red wine in every cup of their morning or daytime brew. Vera Roasting Company's patent-pending technology allows bio-absorption of a similar amount of the strong antioxidant found in each glass of red wine in each cup of CoffVee, a first for the coffee industry. To keep up with the rapidly increasing demand for the company's twist on the most consumed beverage in the world, Vera Roasting Company, after launching their first products only sixty days ago, has increased its production capabilities from 1400 pounds per week to 20,000 pounds per week, or a staggering 1330%.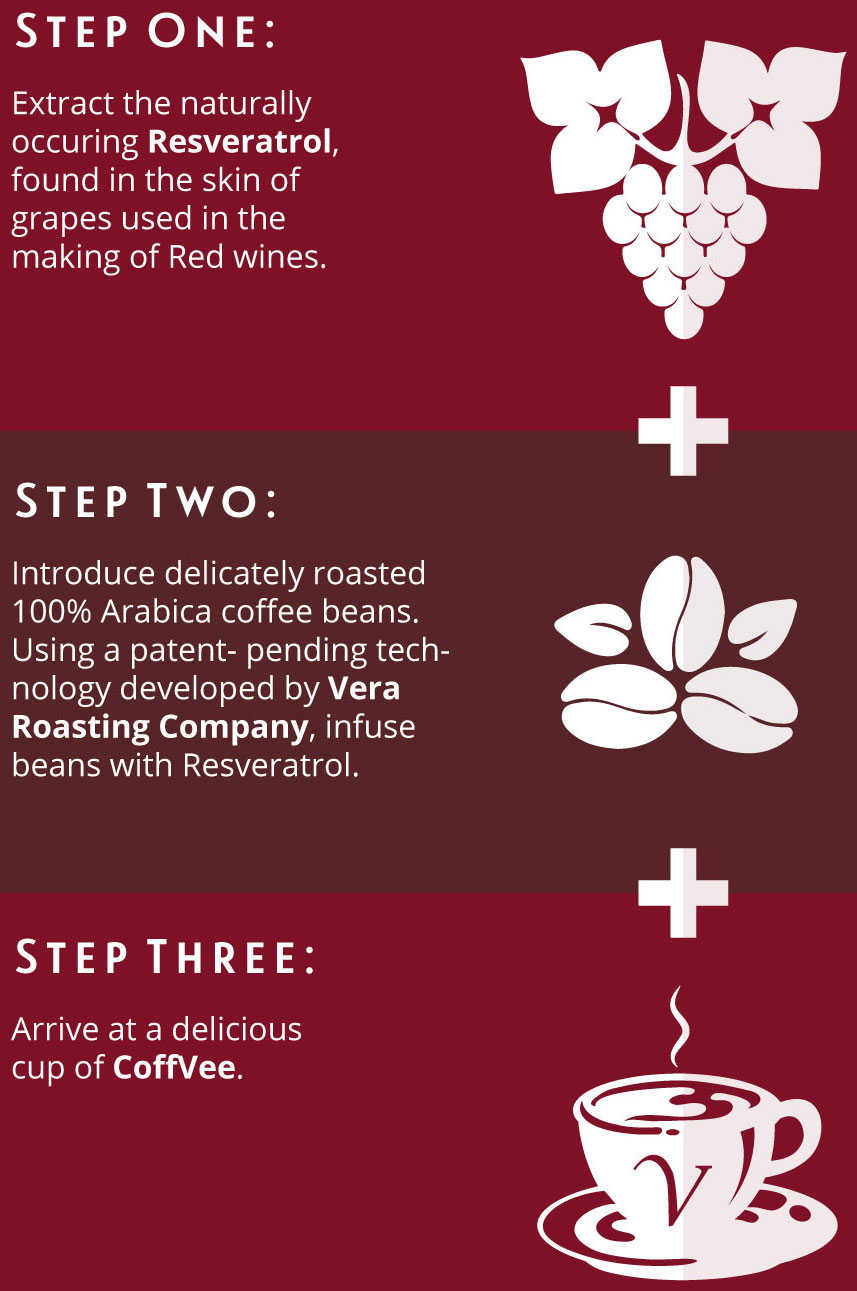 "The initial response by consumers for our heart-healthy coffee sent an overwhelming message that consumers love their coffee, but also care about doing things to improve their overall heart health," said Glen Miller, founder and Chief Technical Officer of Vera Roasting Company. "In addition to experiencing strong sales results, we have received interest from customers, partners, and retailers worldwide, which has fueled our recent expansion. We are thrilled to see that our customers share our passion for coffee and heart health, and will continue to invest to ensure we can fulfill the strong demand."
The heart-healthy benefits of red wine, with the same naturally occurring resveratrol, are well known. Modest consumption of red wine has long been tied to improved heart health. The reduced risk of coronary heart disease amongst the French population, despite a diet rich in saturated fats, is widely attributed to their consumption of red wine. According to numerous studies, resveratrol, a tasteless, all-natural antioxidant found in the skin of red grapes, is responsible for the heart-healthy qualities of red wine. Recent studies also suggest that resveratrol may even help the body fight diabetes, depression, Alzheimer's, and cancer.
"Obviously I like the idea that I'm recognizing the medicinal qualities normally expected from red wine consumption, but when I found that I preferred the taste and aroma to my old standard brew, moving my household to CoffVee was a no-brainer!" –Marsha Vento, retiree in Boynton Beach Florida
About Vera Roasting Company, Inc.: Vera Roasting Company is passionate about crafting a premium brew that will make their consumers' taste buds and hearts happy. CoffVee is delicately roasted, 100% Arabica beans infused with resveratrol, the all-natural antioxidant found in red wines. For more information on CoffVee and the Vera Roasting Company, please visit http://www.VeraRoasting.com.