UnReal Launches Limited Edition UNREAL LOVE with Whole Foods Market
BOSTON, Feb. 1, 2016 /PRNewswire/ — UnReal announced today that it has partnered exclusively with the North Atlantic and Northeast regions of Whole Foods Market® (NASDAQ: WFM) to offer two of its all-natural chocolate candies in limited edition tins and bags for Valentine's Day. Available in stores, and online through UnReal, the limited edition tins and bags feature unique artwork designed by world-renowned illustrator Steve Simpson and are fun for all types of Valentines – friends, family, co-workers, and lovers, alike.
"The reason for giving Valentine's Day chocolates is to celebrate those we love in a sweet way. The chocolates we give reflect our own values, so more of us want to give something that tastes delicious, but is not made with unhealthy ingredients or mass-produced. UnReal shows our real love by giving chocolates that taste unreal and are made without artificial ingredients, preservatives, GMO's, or excess sugar," said UnReal's 18-year-old founder, Nicky Bronner.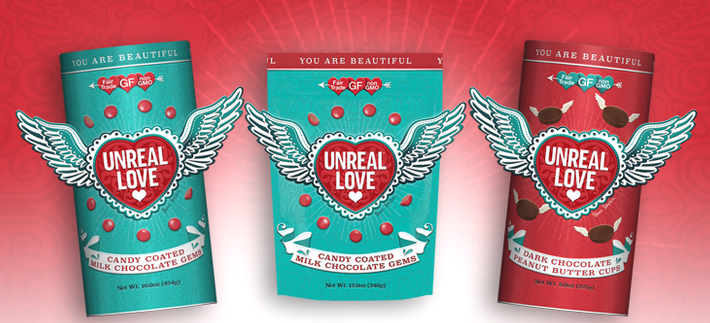 UnReal is re-inventing America's favorite candy using sustainably sourced, fair trade, non-GMO ingredients, and less sugar than their traditional counterparts. This Valentine's Day, the company created two limited edition UNREAL LOVE tins. One features 16 ounces of red candy coated milk chocolate gems, made with organic cacao and dairy, without any artificial ingredients, and naturally colored with beetroot juice. The second tin features 16 rich, dark chocolate peanut butter cups. The price of each limited edition, UNREAL LOVE tin is $9.99. UnReal is also offering an 8-ounce bag of its red candy coated milk chocolate gems for $4.99. Both tins and the bags are available at all Whole Foods Markets in NY, NJ, CT, MA, NH, RI and ME.
Whole Foods Market stores in MA, NH, RI, and ME are also offering a special price to customers when purchasing a double dozen roses plus a tin of UNREAL LOVE, for only $30. Whole Foods Market stores in NY, NJ, and CT will be offering a free bag of candy coated milk chocolate gems with any e-store order placed by Friday, February 12th, including any of the floral offerings.
"UnReal has once again outdone themselves this holiday, creating an exciting and unique gift option for Valentine's Day," said Kimberley Rose, Vice President of Purchasing for Whole Foods Market's North Atlantic region. "Between the beautiful, limited edition packaging and the delicious, high quality chocolates, what's not to love? Pairing it with our double dozen roses is about as easy and fail-proof as Valentine's gift giving can get!"
To learn more about UnReal's chocolate candies, visit http://www.getunreal.com.
ABOUT UNREAL: UnReal is the food company founded by two teenage brothers on a mission to unjunk our world. UnReal is starting with reinventing America's favorite candy, using the best tasting, 100% real, non-GMO, organic, fair trade ingredients, with less sugar and fun new twists, without sacrificing any of the candy experience people crave. UnReal's chocolate candies are available in twin packs, bags, and party cans, at 1,000+ stores nationwide, including select Whole Foods, Super Target, and Kroger stores, and online at getunreal.com. UnReal is based in Boston, Mass. To stay up to date with the latest news from UnReal, like UnReal on Facebook (http://www.facebook.com/unreal), follow UnReal on Twitter (www.twitter.com/getunreal), or follow UnReal on Instagram (http://www.instagram.com/unreal.candy)