Seattle Chocolate Company Debuts New CoffeeFlour-Infused Bar
SEATTLE, /PRNewswire/ — Seattle Chocolate Company is set to debut a new superfood chocolate bar infused with CoffeeFlour®, the new nutrient-dense super-ingredient made from dried coffee cherry pulp, to the jcoco American couture chocolate line: jcoco arabica cherry espresso in dark chocolate. The inclusion of CoffeeFlour® enhances the new jcoco chocolate bar with a berry-forward flavor balanced with jcoco's signature dark chocolate, and marks another delicious first for the company as the only chocolate confectioner in the world to be incorporating this superfood newcomer. The bars will be available via jcocochocolate.com starting on January 12, 2016, and soon thereafter at select retailers nationwide.
"CoffeeFlour® shares our commitment to responsible sourcing and producing flavorful foods," said Jean Thompson, Seattle Chocolate Company owner and CEO. "Our new chocolate is not only sourced with a commitment to the greater good, including the economic betterment of farmers, and protection and preservation of our environment, but is nutritiously beneficial for all – made with dark chocolate rich in vitamins and minerals, and the power punch of the new global impact food, CoffeeFlour®."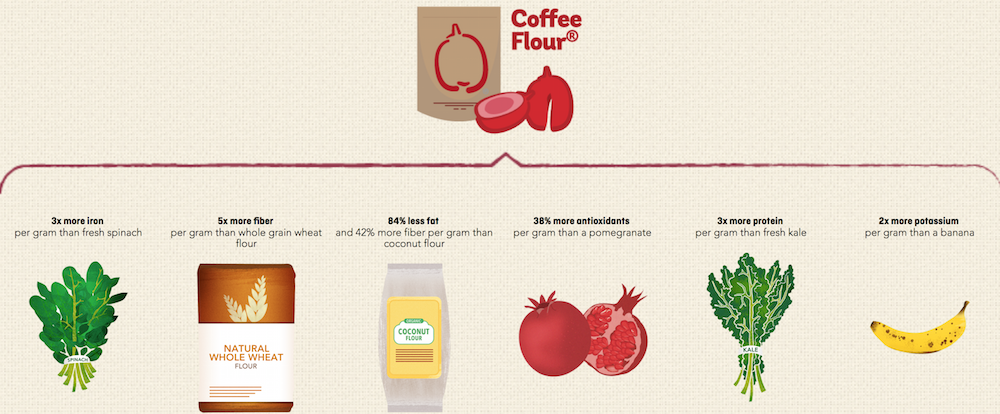 jcoco arabica cherry espresso in dark chocolate blends Rainforest Alliance Certified™ cocoa and the whole coffee cherry: CoffeeFlour® from the fruit pulp and fresh ground espresso from the bean. CoffeeFlour® converts coffee fruit pulp, a largely wasted by-product of green coffee production, into a nutrient-rich ingredient suitable for cooking and baking. With its smoky, citrus and roasted fruit notes, CoffeeFlour® adds a unique flavor when paired with chocolate – offering consumers a delectable chocolate experience, inspired by ingredients from around the globe.
"We are thrilled to be working with Seattle Chocolate Company to craft a wholesome chocolate bar that not only tastes great, but also helps to alleviate the environmental effects of coffee production and improve the lives of farmers," said Dan Belliveau, founder and CEO of CoffeeFlour®.
With more protein per gram than fresh kale, more potassium per gram than a banana, more iron per gram than fresh spinach, five times more fiber than whole grain wheat flour and 42 percent more fiber (and 84 percent less fat) than coconut flour, CoffeeFlour® enhances the robust nutrients in dark chocolate, which include antioxidants, flavonoids, fiber, zinc, iron and magnesium. The CoffeeFlour®-infused bar is all-natural, non-GMO, vegan, gluten-free and Kosher certified.
The new jcoco arabica cherry espresso in dark chocolate bar will be sold at the Seattle Chocolate Company headquarters in Tukwila, WA., and the company's Seattle-Tacoma International Airport kiosk, as well as at select retail stores where Seattle Chocolate Company chocolates are sold, and can also be purchased online at seattlechocolates.com and jcocochocolate.com.
About Seattle Chocolate Company
Creating our first chocolate in 1991, Seattle Chocolate Company now offers a full line of premium chocolates that includes Seattle Chocolates truffle bars, award-winning Seattle Chocolates truffles, jcoco bars, and a selection of seasonal and special occasion product offerings. Known for fresh, approachable flavor-combinations and using only the finest ingredients, our small and mighty company is owned and led by CEO Jean Thompson, a self-proclaimed chocoholic. All of our chocolate is all-natural and certified Kosher, and available at retailers nationwide. Coast to coast, we support neighborhood food banks and non-profit organizations focused on bettering the lives of women and their families, specifically in the fight against hunger. To learn more about our company, our chocolates and our giving philosophy, visit www.seattlechocolates.com and www.jcocochocolate.com.
About CoffeeFlour®
CoffeeFlour®, the new global impact food, is driving the "waste reuse" movement forward through partnerships with global thought leaders and environmentally­-conscious organizations. The brand transforms coffee fruit pulp, a former waste product, into a nutrient-­rich cooking ingredient. Poised to reinvent not only the coffee industry, but also inspire like-minded organizations to rethink their existing food production systems, CoffeeFlour® is a powerful new addition to the global menu.
CoffeeFlour® is an agricultural innovation structured as a for profit business generating for benefit results with bases in Vancouver, Seattle, San Francisco, Los Angeles and New York. Visit http://www.coffeeflour.com to learn more.