New Science Backed Neuro Coffee Boosts Brain Power With Your Morning Coffee
PHILADELPHIA, PA —Â Neuro Coffee(TM) announces the release of a monthly subscription service that delivers coffee infused with natural brain-boosting benefits.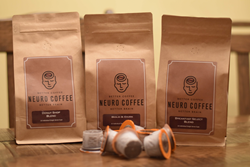 Artisan roasted in small batches, Neuro Coffee(TM) is enhanced with NeuroFactor(TM). This all-natural extract from the coffee cherry fruit is the only supplement clinically shown to increase levels of a protein called brain-derived neurotrophic factor (BDNF). BDNF is essential for the body to grow new neurons and fix old ones in need of repair.
"Neuroscience research has identified that maintaining levels of BDNF is key for a healthy aging brain," says Chief Science Officer Mike Roussell, Ph.D. "But as we age, our body produces less and less BDNF." Dr. Mike formulated Neuro Coffee(TM) to give people a simple and easy way to improve their brain health. "Behavior change is hard, and with Neuro Coffee(TM) you can improve your brain health without changing your behavior—just drink your morning cup of coffee as you always do," says Roussell, a nationally renowned nutritionist.
Neuro Coffee(TM) comes in single-serve coffee pods to ensure that each cup of coffee contains the clinically tested amount of Neuro Factor(TM) need to increase BDNF 143% after one dose and improve brain health. It is sold exclusively online as part of a monthly subscription or as a single 30-day supply. For more information on Neuro Coffee(TM), visit GetNeuroCoffee.com or http://instagram.com/NeuroCoffee