Homestat Farm Launches Maypo Maple Oatmeal with Modern-Day Superfood
Dublin, Ohio – Maypo, a maple-syrup flavored hot cereal, became an American favorite in the 1950's and still has a loyal customer base today. Sixty years ago, in September 1956, Marky Maypo became the face of the brand when he debuted in a classic commercial in which he screamed his now-famous plea, "I WANT MY MAYPO!" Homestat Farm, makers of Maypo, have heeded to a new generation of consumers pleading, "We want superfoods!," adding a new product to its hot cereal line that features nutrient-rich quinoa.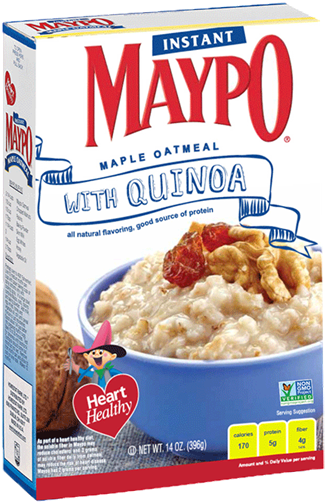 The new Maypo Instant Maple Oatmeal with Quinoa is Non-GMO Project verified and combines maple-flavored, whole grain oatmeal with protein-rich, golden quinoa flakes. Quinoa, commonly mistaken as a cereal grass, is an ancient grain as well as a member of the same food family that contains spinach and Swiss chard. In addition to being a complete protein source, quinoa is a valuable source of certain healthy fats and is also rich in antioxidants.
This nourishing cereal can be prepared with water or milk in the microwave or on the stovetop in under two minutes. Oatmeal is known to reduce cholesterol and the risk of heart disease, making Maypo Instant Maple Oatmeal with Quinoa a heart-healthy choice. With two-thirds less sugar than the leading brand of flavored hot cereal, each serving of Maypo contains 170 calories, 2.5g of fat, 5g of protein and 4g of fiber.
"We may be a brand born in the 50's, but that doesn't mean we aren't informed about the latest food trends," says Homestat Farm President & CEO Lance Archibald. "Adding quinoa to our classic Maypo Maple Oatmeal has been wildly successful. Not only does it taste great, but it also offers the superfood boost that our customers are craving."
Maypo Instant Maple Oatmeal with Quinoa is available for an MSRP of $3.49 at select retailers and club stores around the country. For more information, please visit http://www.homestatfarm.com/.
About Homestat Farm: With a rich American tradition dating back to 1879, Homestat Farm makes nutritious, all-natural hot cereals including Maypo, Wheatena, Maltex and Steel Cut Oats & Chia, as well as G. Washington's Seasoning & Broth. Focused on simplicity, quality and wholesomeness, Homestat Farm brands have been enjoyed for decades and the company plans to continue innovating for many generations to come. For more information, please visit http://www.homestatfarm.com/ or find the brand on Facebook.