Daiya Unveils New Look and Improved Flavor for Slices
VANCOUVER, British Columbia, June 1, 2016 /PRNewswire/ — Just in time for International Picnic Day (June 18), Daiya Foods, industry leader of dairy-free food favorites, today announced the company has improved the flavor of its Swiss and Provolone Style Slices, along with giving them a whole new look! Tasty atop your favorite burger and ideal for grilled cheeze, the new Slices offer a mild flavor with the same creamy consistency that Daiya fans love, and remain free of the three most common allergens – dairy, gluten, and soy.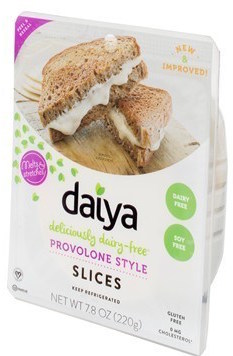 "We are always listening to our customers in order to keep Daiya's better-for-you products at the top of their shopping lists, so we didn't stop until we landed on this better-than-ever recipe for our Slices," said Michael Lynch, Daiya vice president of marketing. "Both varieties will hit the shelves in sleek, new packaging that features clear trays and updated graphics, better highlighting the creamy texture and deliciousness inside."
Perfect for picnics, lunchboxes and other seasonal recipes because they can be enjoyed both hot and cold,Daiya Swiss and Provolone Style Slices join the company's full line of dairy, gluten and soy-free plant-based offerings, including Farmhouse Blocks, Cheezy Macs, Cheezecakes, Greek Yogurt Alternatives, Dairy-Free Dressings and more.
"Although our slices have always been a fan favorite, we're excited to see consumers enjoying our new-and-improved version even more," added Lynch. "We're all about plant-forward living, and whenever we develop new foods, our goal is to enable people to enjoy a wonderful experience without sacrificing taste."
For more information about Daiya's plant-forward foods or to locate a store near you, visit www.DaiyaFoods.com.
About Daiya Foods: Daiya Foods was founded in 2008 out of a love for food and a commitment to healthy living. Today, as an industry leader, Daiya remains passionate about celebrating delicious food that is dairy, gluten and soy free. Its line of premium plant-based foods, like Greek Yogurt Alternatives, Pizzas, Cheezecakes, Cream Cheese Style Spreads, and wonderful cheese alternatives, including Blocks, Shreds and Slices, are available in the dairy case and freezer aisle. Daiya also recently expanded its offerings to include shelf-stable products like its Cheezy Macs and Dairy-Free Dressings. Daiya's selection of deliciously dairy-free foods can be found in more than 22,000 grocery stores in the U.S., including Whole Foods, Kroger's, Safeway and Publix, as well as most natural food retailers. For more information about Daiya, please visit www.daiyafoods.com, become a fan on Facebook or follow us on Twitter and Instagram.