Crio Bru Expands Durci Chocolate Product Line
SEATTLE, WA (PRWEB) NOVEMBER 10, 2016: Crio Bru today announced online availability of new products at the Northwest Chocolate Festival in Seattle. The Durci lineup of artisan chocolate bars is now expanded to include premier chocolate covered Nibs, Raisins, Almonds and Cocoa Beans, two Durci Drinking Chocolate Drinks complete the expanded line up.  These new products grow the highly popular Crio Bru brewed cocoa beverage roasted through the company's patent-pending process using cacao (cocoa) beans from Ecuador, Ghana, Dominican Republic, and Venezuela.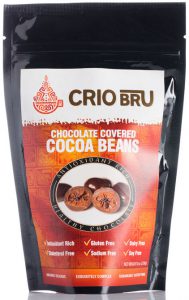 "Customers continue to ask us to expand our artisan brewed cocoa by adding new chocolate products," states Dr. Eric Durtschi, CEO and founder for Crio Bru. "We are so excited to bring our access to the world's finest cocoa to the connoisseur of fine chocolate."
Of note among these new artisan products, Madagascar Sea Salt Nibs have that unique salty sweet experience many love. A touch of olive oil rounds out a unique tasty treat. Ecuadorian beans create a milky chocolate taste for Esmeraldas drinking chocolate. Chuao drinking chocolate features the world-renowned Venezuelan bean known around the world by artisan chocolate lovers.
With headquarters in Utah, production soon goes online in Crio's new Santa Barbara, CA facility. Crio Bru's notoriety is growing rapidly with more distribution deals soon to be announced. Highlighted in Forbes and on Shark Tank, the company is a recent winner in the national Grow America startup competition. Crio Bru was included in Consumer Reports' "15 Healthy Snack Ideas" after its recent introduction at the Fancy Foods Show in New York City. See more about the company on YouTube.
About Crio Bru Crio Bru is a brewed drink made from 100% cacao beans (cocoa beans), roasted to perfection. It is distributed both online and through a rapidly growing network of more than 1500 locations in almost every state. Named after the most prized of cacao beans, the Criollo, Crio Bru astounds your taste buds with its complex chocolatey flavors and subtle aromas of the world's finest cacao beans. It is 100% natural and 100% pure.
Crio Bru is an ultimate superfood. It is low in calories and contains no sugar, no fat, no dairy, no sodium, no cholesterol and practically no caffeine, yet is extremely high in antioxidants, theobromine and a host of other vitamins and minerals.