Brothee Announces Nationwide Shipping Of Organic Bone & Vegan Broths
LOS ANGELES– Brothee, Southern California's leading purveyor of organic bone and vegan broths, has today announced nationwide home delivery for its flavorful, nutritious products. Consumers across the country can now order the growing company's artisanal, small-batch broths –crafted by hand using the highest quality organic and locally-sourced ingredients – delivered directly to their doorsteps. In addition to boasting nutrient-rich properties ideal for meal enhancements and snacks, each broth is designed to accommodate a host of dietary needs and preferences (including gluten-free, paleo, GAPS, and more) so that every body can savor Brothee products together, at one table.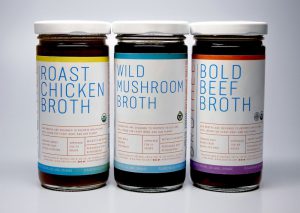 "I started making broth two years ago with the goal of providing people with a range of the highest quality, nutritious and delicious broths as an alternative to mass-produced, watered down broths," says Founder & CEO Rhys Cazenove. "It's been an incredible journey so far, and I have been stunned and humbled by the amazing feedback and support we've gotten from our community. People love our broth, whether they're using it to make their meals more tasty, or as part of a nutrition program to address health issues. We're thrilled to now be introducing our broths to a nationwide audience."
Cazenove's passion for broth began in 2014 after attending a nutritional program at Bauman College in Santa Cruz, CA, where he first learned about the history of broth and its powerful healing properties. A veteran of the computer software industry with a desire to reboot his life – and reinvest in his health – he seized the opportunity to shift career gears, and founded Brothee in 2015. Now, the company is one of the leading purveyors of USDA-certified organic bone broth in the country, and with its growth, Cazenove hopes to continue cultivating a fresh, modern approach to the industry and providing consumers with best in class products.
Versatile, nourishing, and rich in flavor, each of Brothee's core broths is handcrafted in the company's Los Angeles commercial kitchen using highest-grade ingredients, including organic, pastured-raised, grass-fed and grass-finished bones from ethically-run farms, and organic vegetables, herbs and spices sourced locally whenever possible. Bones are slow roasted to their peak before being added to a large stainless steel stockpot, where they are gently simmered with vegetables, herbs and spices for up to 48 hours to maximize nutrient content. The resulting bone-based broths are high in protein, amino acids, and gelatin. The vegan broth incorporates powerful mushrooms – chaga, morel, porcini, and shiitake – that are known for their anti-inflammatory and immune boosting benefits, among others. (Further nutritional data is available at http://www.brothee.com/collections.)
The Brothee product line includes:
– Organic Roast Chicken Bone Broth ($8 for 8oz; $15 for 16oz) – An all-around, wholesome blend of filtered water, organic and pasture-raised chicken bones, organic onion, organic carrots, organic celery, organic garlic, organic parsley, thyme, salt, and bay leaf.
– Organic Bold Beef Bone Broth ($10 for 8oz; $18 for 16oz) – A rich and slightly sweet blend of filtered water, organic grass-fed beef bones, organic onion, organic celery, organic carrot, organic leek, organic fennel, organic garlic, bay leaf, parsley, thyme, peppercorns, and apple cider vinegar.
– Organic Vegan Wild Mushroom Broth ($8 for 8oz; $16 for 16oz) – An earthy blend of filtered water, wild shitake, wild porcini, wild morel, wild chaga, organic onion, organic leek, organic garlic, parsley, black peppercorns, thyme, bay leaf and lemon peel.
– (seasonal) Turkey and Duck Bone Broth ($13.50 for 16oz) – A light and savory blend of filtered water, organic turkey bones, natural duck bones, filtered water, onion, carrots, celery, garlic, parsley, thyme, rosemary, and bay leaf available in November and December.
In addition to its core and seasonal broths, Brothee offers small-batch ghee (clarified butter) infusions that can be added to any broth (or meal) to create a unique, creamy beverage with an extra kick of flavor. These are also available for shipping nationwide, and currently include:
– Basil Pesto Ghee ($5 for 2oz) – A refreshing and savory blend of organic pasture-raised ghee, basil, pine nuts, shallots, and lemon zest.
– Harissa Ghee ($5 for 2oz) –A warming blend of organic and pasture-raised ghee, smoked paprika, roasted red pepper, poblano chili, caraway seed, and red chili pepper.
Products are available for purchase online (individually and in multi-packs) and at a growing number of farmers markets and gourmet retailers in Southern California. A subscription-based Broth of the Month Club is coming soon. (Broths are shipped via FedEx in 100% recycled and recyclable thermally-lined boxes to maintain maximum freshness.) For ordering information and a full list of locations, visit www.brothee.com.
ABOUT BROTHEE:
Brothee is an organic bone and vegan broth company devoted to providing broth-based food designed to promote health and well-being for every body and the planet. Based in Los Angeles, CA and available for shipping nationwide, Brothee's range of organic items are compliant with a range of diets – including vegan, gluten-free, paleo, GAPS, and more – so every body can enjoy the company's products together, at one table. Brothee is committed to running an environmentally conscious company, and strongly believes in respecting all animal and plant life. All ingredients are purchased from ethical farms and sourced locally, when possible. To learn more about Brothee, visit http://www.brothee.com.