Bakery On Main Introduces Certified Organic Products
EAST HARTFORD, Conn. –Bakery On Main, an independently-owned company and leading provider of gluten-free snacks and cereals, is expanding its range of audaciously premium offerings to include four new certified organic product lineups:Organic Happy Oats, Organic Happy Granola, Organic Happy Muesli, and Organic Creamy Hot Breakfast. In addition to being USDA certified organic, these new breakfast items are GFCO certified gluten free, made in Bakery On Main's dedicated gluten-free facility, and are Non-GMO Project Verified and OU Kosher.
Since its founding in 2003, Bakery On Main has remained committed to providing safe, quality foods that can be trusted by those suffering from Celiac Disease, gluten intolerance, or gluten sensitivity while still being enjoyed by everyone! The passion to that commitment continues to grow stronger every day. What started as a small bakery has evolved into a trusted leader in the gluten-free community and a leading player in the Non-GMO movement. Given the company's passion for creating unabashedly real products, moving into the organic category was the natural next step.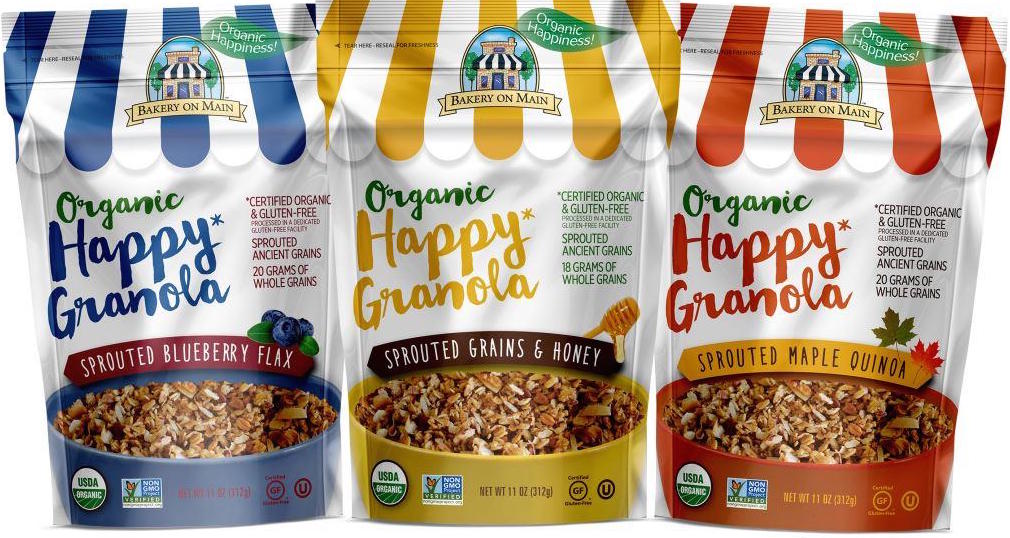 These new organic products developed by Bakery On Main include Organic Happy Rolled Oats and Organic Happy Quick Oats, both of which provide an excellent source of fiber and a good source of protein. Also new to Bakery On Main's Happy brand offerings are new Organic Happy Granola and Organic Happy Muesli. The muesli is a versatile cereal with Swiss roots that combines audaciously premium grains, seeds, and fruits while the new oat-based Happy Granola features 18g of whole grains per serving and provides the added benefits of sprouted ancient grains. In addition, Bakery On Main's new Organic Creamy Hot Breakfast is an oat-free hot cereal that is sure to bring you back to the comforting warm feeling you enjoyed at your breakfast table as a child but with an on-trend, ancient-grain twist!
Shared Michael Smulders, founder of Bakery On Main, "We're finding that more people are waking up to the dangers of the ever-increasing use of pesticides and herbicides in our food system and are looking for organic options. We're proud to be in a position to deliver bakeshop delicious and highly nutritious organic products to the natural food market."
Bakery On Main's new certified organic products are currently rolling out at natural food retailers across the country and online.
About Bakery On Main: Founded in 2003, independently-owned Bakery On Main began creating premium, gluten-free products with a clean ingredient list in the small bakery of a natural foods market on Main Street in Glastonbury, CT. Founder Michael Smulders made it his mission to create products for his celiac customers that were good for them and tasted good too. Today, the company continues to bake with the same loving care that was used at the original bakery, which is just a few miles away from their current location. State-of-the-art quality controls and in-house gluten-free testing are conducted on every made-to-order product batch. Bakery On Main is proud to be one of the largest Certified Gluten Free (GFCO) and Non-GMO Project Verified facilities in the country. For more information, visit BakeryOnMain.com and find the brand on Facebook, Twitter, and Instagram.