Annie's Hops into Expo East with New Organic Options for Everybunny
BERKLEY, Calif. (August 2016) – Annie's, Inc., pioneer of delicious, wholesome foods will showcase the newest additions to its growing organic portfolio at booth 225 at Expo East, with all scheduled Fiscal 2017 innovations and line extensions slotted to be Certified Organic. Annie's will showcase a variety of over 90 SKUs made up of existing products as well as recent and upcoming innovations, including cereal, new whole milk yogurt formats, chewy granola bars, dry baking mixes, refrigerated baking doughs, unreleased cookies, and more. This mission-driven company continues to offer consumers upgraded versions of conventional family favorites, carrying out its commitment to make organic more accessible to more people, in more places.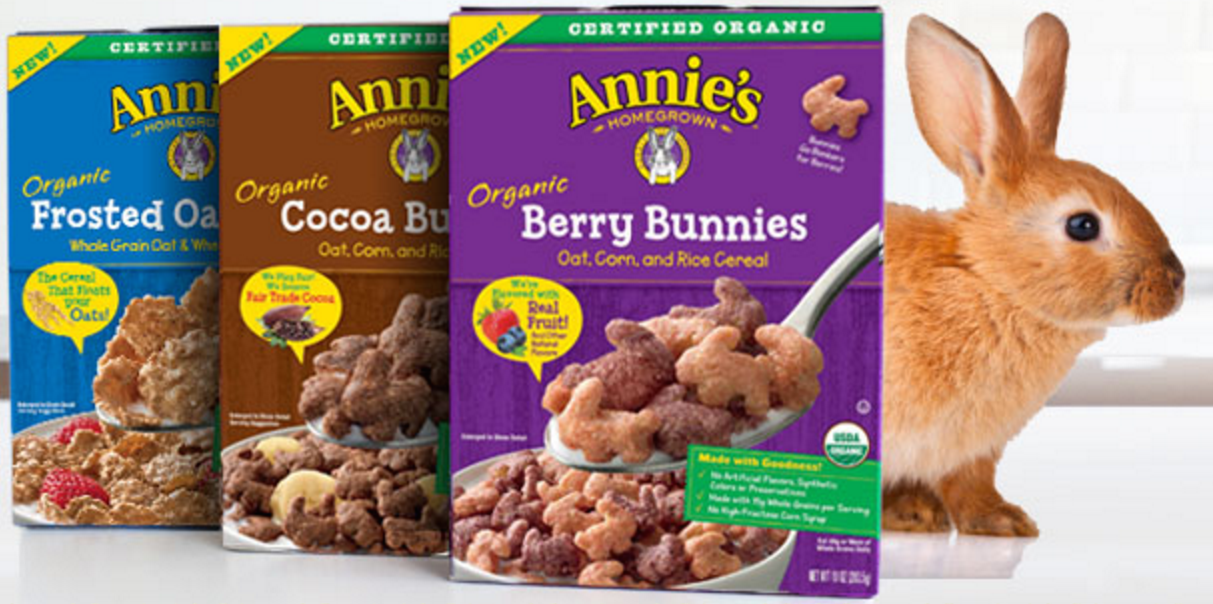 "With every new product we create, we strive to produce nourishing foods that families will love. Our latest innovations are no exception," said John Foraker, Annie's President. "From Annie's Organic Whole Milk Yogurt Tubes to our Organic Cookie Brownie Bar Baking Mix, we're filling the aisles with cleaned up classics that appeal to parents, kids, and every age in between."
Crafted with nothing but the good stuff, Annie's newest product launches includes:
Organic Cereal in three varieties, including Berry Bunnies, Frosted Oat Flakes, and Cocoa Bunnies, providing a sweet spot that parents and kids can agree on when it comes to ingredients and great taste.
Organic Chewy Granola Bars, rolling out flavors such as Chocolate Chip, Peanut Butter Chocolate Chip, and Oatmeal Raisin.
Organic Whole Milk Yogurt offerings are now available in two new formats, including tubes and tubs, with new flavors like Strawberry-Banana, Just Plain Good, and Very Vanilla.
Recently announced Annie's Organic Baking Mixes are available in Double Chocolate Brownie, Cookie Brownie Bar, Chocolate Chip Cookie, Sugar Cookie, and Pancake and Waffle Mix.
From quick fix dinners to delicious holiday treats, the new Refrigerated Baking Doughs has expanded to include six certified organic varieties, including Cinnamon Rolls with Icing, Crescent Rolls, Flaky Biscuits, Chocolate Chunk Cookie Dough, Oatmeal Raisin Cookie Dough, and Vanilla Sugar Cookie Dough.
In keeping with the brand's longstanding ingredient promise, its newest organic offerings are made using the highest-quality, sustainably-sourced, and non-GMO ingredients that are free from artificial flavors, synthetic colors, preservatives, growth hormones, and persistent pesticides.
Annie's is serving samples of its newest product innovations at Expo East booth 225 from
September 22-24 at the Baltimore Convention Center. For more information on the brand, its mission and delicious offerings, please visit www.annies.com.
About Annie's: Annie's, Inc. is a natural and organic food brand offering great-tasting products in large packaged food categories. Annie's products are made without artificial flavors, synthetic colors and preservatives common in many conventional packaged foods. Additionally, Annie's sources ingredients so as to avoid synthetic growth hormones and genetically modified ingredients. Today, Annie's offers over 300 products and is present in over 70,000 retail locations in the United States and Canada. Founded in 1989, Annie's is committed to operating in a socially responsible and environmentally sustainable manner. For more information on the brand or products, please visit www.annies.com.