The Laughing Cow Reinvents Snacking with New Influencer Campaign
PR Newswire – October 1, 2015 – Chicago, Ill. — As part of its ongoing campaign to encourage people to "Reinvent Snacking," The Laughing Cow® cheese invited culinary and social media stars from Seattle, Chicago and New York to bring a new perspective to snacking by sharing their innovative tips and techniques.
"Our 'Reinvent Snacking' campaign highlights The Laughing Cow's delicious taste and creamy texture while encouraging people to bring mindful satisfaction back to their snacking experiences," said Bel Brands USA Chief Marketing Officer Dan Waters. "We're excited to partner with innovative culinary and creative experts to encourage fans of The Laughing Cow cheese to reinvent snacking."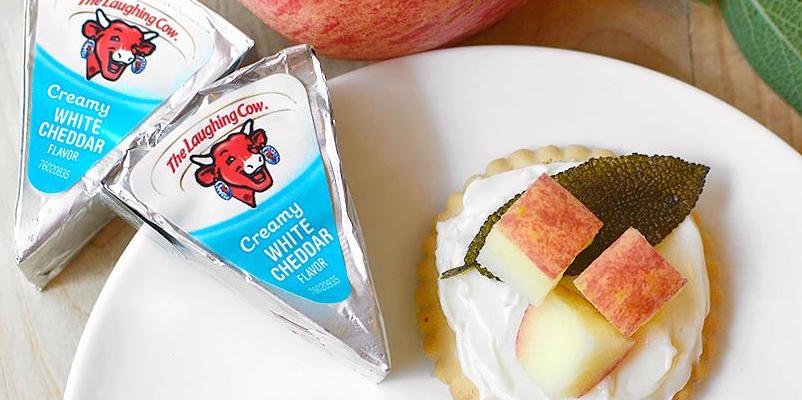 To explore unique flavor pairings, The Laughing Cow partnered with Chef Sarah Simmons of New York's Birds & Bubbles, where she artfully pairs fried chicken with champagne. Named one of the "50 Best Chefs in New York" by Food & Wine magazine, Simmons is admired for her delicious Southern fare and passion for unexpected yet simple pairings.
Simmons advises, "When creating a snack, remember to keep it simple – no more than three components. To make it fun and satisfying, try layering unexpected flavors and contrasting textures, such as pairing creamy cheese with a crunchy apple slice. Lately, I've been enjoying sliced melon with The Laughing Cow Creamy Original Creamy Spicy Pepper Jack cheese and shaved country ham."
For learning how to create visual appeal when sharing snack creations on social media, The Laughing Cow recruited Seattle food photographer Brittany Wright of Wright Kitchen, Kristen Hess, food stylist and photographer, as well as Chicago Food Authority Instagram star Samantha Roby. These experts recommend using a variety of shapes, colors and textures to make snack photos share worthy.
To show people how to bring snack pairings and styling techniques to life, Visual Country founder Meagan Cignoli brought her expertise of stop-motion videography to snack time. With the introduction of Vine and Instagram video, Cignoli has helped pioneer a new industry within social media and mobile advertising, creating short videos for more than 150 major brands.
"Creating stop-motion videography requires a measured and considerate approach as you craft snacks and assemble vignettes to be photographed," said Cignoli. "This is the same mindful approach you can take with snacking by enjoying a moment to sit and savor your food."
Along with Chef Simmons, Seattle-based Chef Paul Osher of Porkchop & Co. and James Beard Award nominated, Chicago-based Chef Tanya Baker of The Boarding House developed innovative snack pairings featuring The Laughing Cow cheese wedges, including:
For a reinvented Seattle Dog, try toast, The Laughing Cow Creamy Original Swiss cheese, mortadella and sauerkraut. – Chef Osher
A puff pastry spread with spiced apple compote, The Laughing Cow Creamy White Cheddar flavor cheese and a drizzle of caramel sauce creates a perfect balance of sweet flavors and textures. – Chef Baker
More tips, snack inspiration and flavor pairing ideas from these experts can be found by following #ReinventSnacking on Twitter and Instagram or by visiting Facebook.
About The Laughing Cow® and Bel Brands USA: Part of the Bel Brands USA family, The Laughing Cow® Spreadable Cheese Wedges are a deliciously rich and creamy snack. In addition to The Laughing Cow®, the Chicago-based Bel Brands USA also manufactures and markets Mini Babybel® Cheese along with a number of gourmet and cold pack cheeses including Boursin®, Kaukauna®, Merkts®, Owl's Nest®, Price's®, Wispride® and other private label cheese spreads. Bel Brands USA is the U.S. subsidiary of Fromageries Bel, a world leader in branded cheeses, based in Paris, France.