Overview
We make delicious chocolate with stevia -- with no added sugar! We are also certified Fairtrade, certified gluten-free & non-GMO. Some items are vegan! Our President, Cynthia Tice is a chocoholic. She is also a longtime advocate for natural foods. In 2011, she recognized an opportunity to offer chocolate with all the pleasures, but none of the added sugar. To make it happen, she teamed up with her friend and fellow chocoholic Chuck Genuardi, and together they developed a premium, mouthwatering, healthier alternative to the conventional chocolate treats they so loved. As long-time advocates of stevia, the pair knew the plant-based sweetener would be the key to their success – zero-calorie stevia could replace the high amounts of sugar traditionally present in chocolate, while still offering all the flavor. So, Cynthia and Chuck set to work, creating, tasting, testing, and revising – until finally, in 2011, their uniquely delicious stevia-sweetened chocolate bars were ready, and Lily's Sweets was born. Cynthia and Chuck named Lily's Sweets after Chuck's niece, Lily, an inspired – and inspiring — young lady and childhood brain cancer survivor. Since being diagnosed at age 7, Lily has been raising money for other kids battling cancer, and Cynthia and Chuck are proud to honor Lily's bravery and commitment to aiding others by contributing a percentage of profits each year to non-profit organizations that provide services to children with cancer and their families. As for Lily, she is now in her teenage years, has celebrated her 5-year anniversary of diagnosis and remains cancer-free and dedicated to helping others in need. In addition to supporting children's cancer causes, Lily's Sweets is further committed to operating ethically and sustainably. Its bars and baking chips are made with a smooth blend of decadent chocolate that is certified Fair Trade, and contain only ingredients that are non-GMO. They are also certified gluten free, and Lily's Sweets uses only the finest ingredients and sweeteners available today. With flavors meticulously chosen to create the most mouthwatering chocolates, Lily's Sweets' products offer 25% fewer calories than conventional chocolates (it's the Stevia), but 100% of the indulgence. Healthier chocolate from a company with a heartfelt mission – indulgence has never tasted this good.
---
Chocolate Bar 2017
Chocolate Bar 2018
Chocolate Bar 2019
Baking
Chocolate Crunch
Chocolate Chips
Peanut Butter Cups
Nuts
Request Access to Edit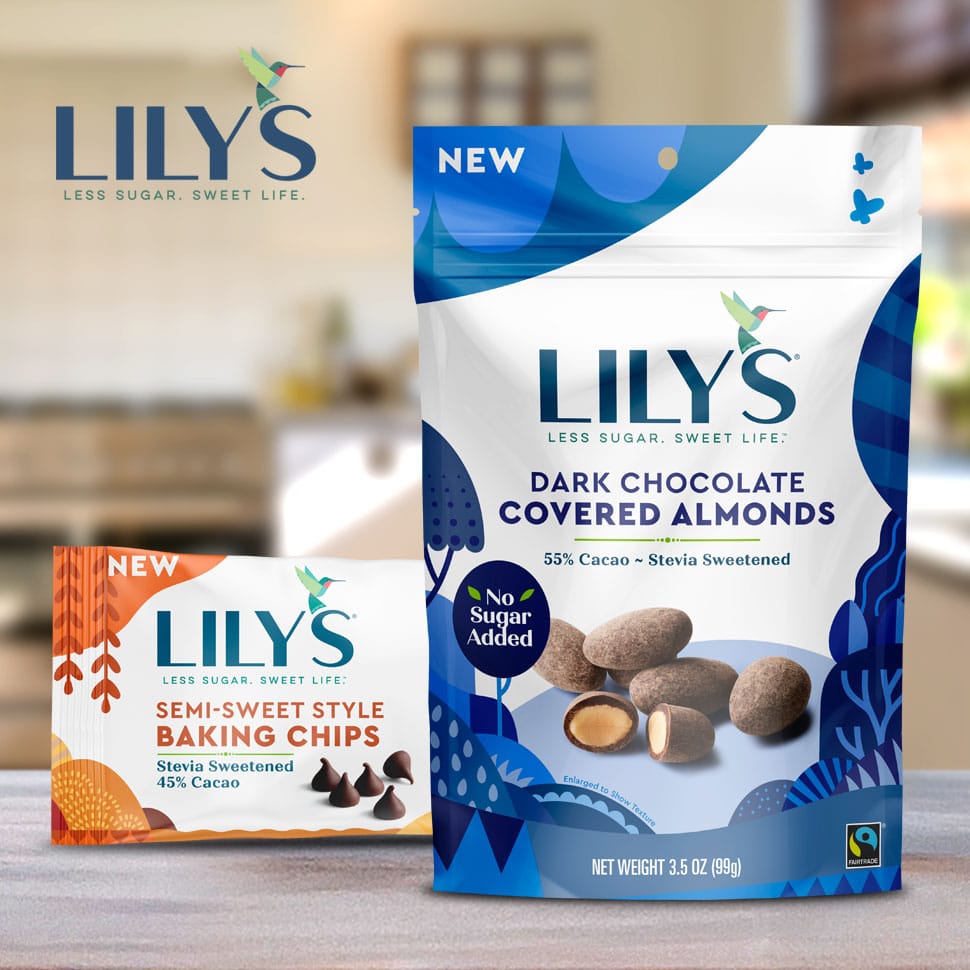 It's time for Lily's Sweets to blossom. So hopes the team of top industry investors and executives backing and working with the no- or low-sugar added line of chocolate. This week the confectionary brand announced the launch of new snacking products as well as a rebrand — both of which follow an investment last year by VMG and the addition of CPG veteran Jane Miller as CEO.
Submit News