Overview
Grateful Market is a family-run company that offers the next generation of burgers. We offer chef-crafted blends of meats and vegetables that are more delicious, nutritious and sustainable than traditional burgers. Grateful Market challenges the status quo by creating the most flavorful, 100% real blended foods that put the health of people and planet first. Our time-tested recipes use only the best All-Natural ingredients, including Grass-fed Beef, Antibiotic-free Chicken, and assorted fresh Vegetables. Our BLENDS are the best on the market because we've been doing it the longest and it's all we do. You don't sacrifice taste when Choosing Grateful Market. When you choose us, it means you care about better food, better health and a better tomorrow. Eat Grateful.
---
Burgers
Meatballs
Sliders
2oz patties in various flavors
Request Access to Edit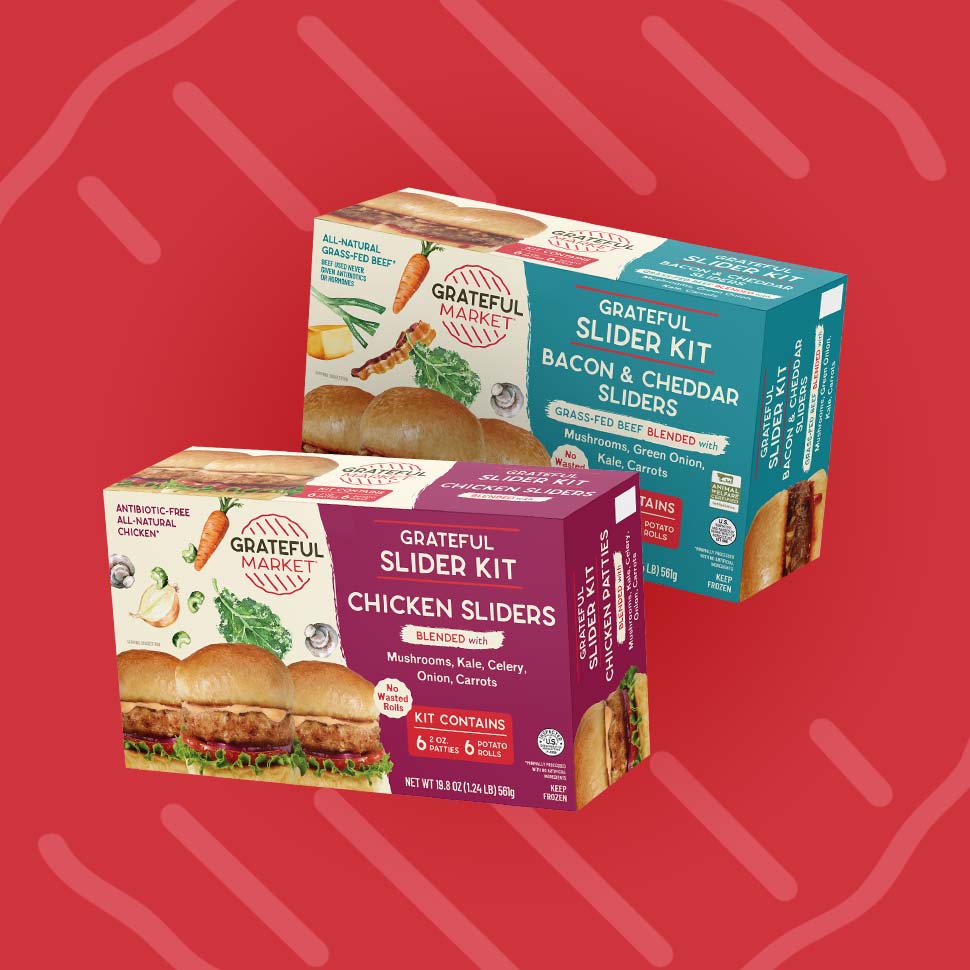 Massachusetts-based meat and vegetable burger blend maker Grateful Market has secured several retail placements in the Northeast, hitting the freezer section at Hannaford, Shaw's and Whole Foods, following a channel strategy pivot as a result of the pandemic.
Submit News
Retailers
Hannaford's Supermarkets
Hannaford is a supermarket chain based in Scarborough, Maine. Founded in Portland, Maine, in 1883, Hannaford operates stores in New England and New York. The chain is now part of the Ahold Delhaize group based in the Netherlands.
Roche Bros Supermarkets
Roche Bros. Supermarkets, Inc. is a chain of supermarkets based in Mansfield, Massachusetts. The company's stores are primarily located in the Boston Metro Area. Roche Bros. also operates the supermarket chain Sudbury Farms.
Big Y Foods
Big Y Foods, Inc. is an American, family-owned supermarket chain located in Massachusetts and Connecticut. It operates under the trade names "Big Y World Class Market" or "Big Y Supermarket."
McKinnon's Market
Branch of a small, family-owned grocery chain with a sizable selection of meats & fish, plus a deli.
Geissler's Supermarkets
Long-running grocery offering meats & seafood, produce, plus a bakery & a deli featuring a buffet.
Crosbys Supermarkets
With its six stores in Massachusetts and over 30 years of being in business, Crosby's is a well-respected grocery store in the area.
Highland Park Market
Located in Manchester, Connecticut, Highland Park Market's story begins in 1886 when William White opened a small general store in the hope to provide his neighbors with a carefully selected stock of dry and fancy goods. In 1958, Jack Devanney purchased this small home town market and took hold to those same traditions. In 1985, Jack's son Tim took over as president. Tim expanded to locations in Glastonbury, Farmington and Suffield. Today, five of Tim's six children are in the business and have taken over the day to day operations of the stores. Molly, Christine, John, Tim Jr. and Cathleen have been carrying on the dedication to quality product, quality service, and community service. From the beginning, Highland Park Markets has immersed ourselves into each community that we are located and have been blessed to be welcomed by a strong family base of customers in each area that we enter. Being a Connecticut business is something we are extremely proud of and we try to stock our shelves with items from the very place we call home from the freshest produce to a wide variety of gourmet grocery, bakery, deli and meat. Come into Highland Park Market and see why our customers say, "Nobody Does It Better Than Highland Park!"
Pemberton Farms Marketplace
From the time he opened his fruit and vegetable shop in 1930, Granddad Tofic Saidnawey packed every order with only premium-quality fruit. And, he gave his customers far better service than they were used to receiving. Today, more than 89 years and three generations later, we still maintain Granddad's unmatched levels of product quality and customer service. Granddad's fruit and vegetable shop has evolved into today's Pemberton Marketplace – a unique combination of specialty grocery store, garden center and premium gift business. Currently located just up the street from the original store, Pemberton Marketplace proudly serves the local community and maintains the standards of quality and service from generations past. And even though we have old-fashioned values about quality and service, we embrace progress and are mindful of the future. We are excited to offer natural, organic and locally sourced products as well as foods that help our customers with special diets – gluten-free, vegan, vegetarian, nut-free – and provide an array of products for people who are concerned about our planet – organic, sustainable, GMO-free, fair trade. Whether you stop in for some groceries, a bottle of wine or new plants for your garden, we're here to help and are proud to be your friends and neighbor. The Saidnawey Family
Cider Hill Farm
With three generations committed to keeping this farm headed in the right direction, we know these relationships are vital to our health and well-being. Cider Hill Farm is a place to come with family members to create and share memories. Walking through the orchards, or picking peaches, and then eating a hot cider donut is a wonderful time to just "be" with friends and family. When the veil lifts, we will be back out enjoying the farm with all of you. Many people are drawn to this experience every fall when temperatures cool and the leaves begin their change. Our fruit and vegetables are also very healthy for our families. We harvest at peak maturity, and often, our produce finds its way to your table the same day it was picked. We value each customer and hope to make them feel that Cider Hill is their farm, too.
Butcher Boy Market
Families, foodies, and home chefs come together at Butcher Boy Market to shop, talk food, and create traditions. We're a local staple in the Merrimack Valley, while many travel across New England to get Butcher Boy's meats, marinades, and know-how. Since we opened in 1955, Butcher Boy has been owned and operated by two generations of the Yameen and Maroun families, who work hard to uphold Butcher Boy's traditions of quality, service, and value.
Gorreti's Supermarket
At Goretti's we are known for our Meat Department. With a large variety of fresh cut self service Meat and also a full service butcher case. Fresh Baked Breads and Muffins. Freshly sliced Deli Meats. Farm fresh Produce and Fresh Seafood. We also carry Beer and wine. At Goretti's Supermarket we pay attention to the quality of our products and strive to meet the expectations of our customers. Goretti's prides itself in being a supportive part of the Millbury, Sutton And Grafton Communities.
Online/E-Commerce
We are very pleased to offer FREE SHIPPING for all customers that live within a two-day ground radius of our headquarters in Boston MA! Please reference our service area map below. However we know that we have fans that are spread far and wide, if you live outside of this area please contact us and we can arrange a custom order for you! Order placed after 2pm on Wednesday will be shipped the following Monday!