NOSH Live: Watch Main Stage Presentations and Livestream Studio Interviews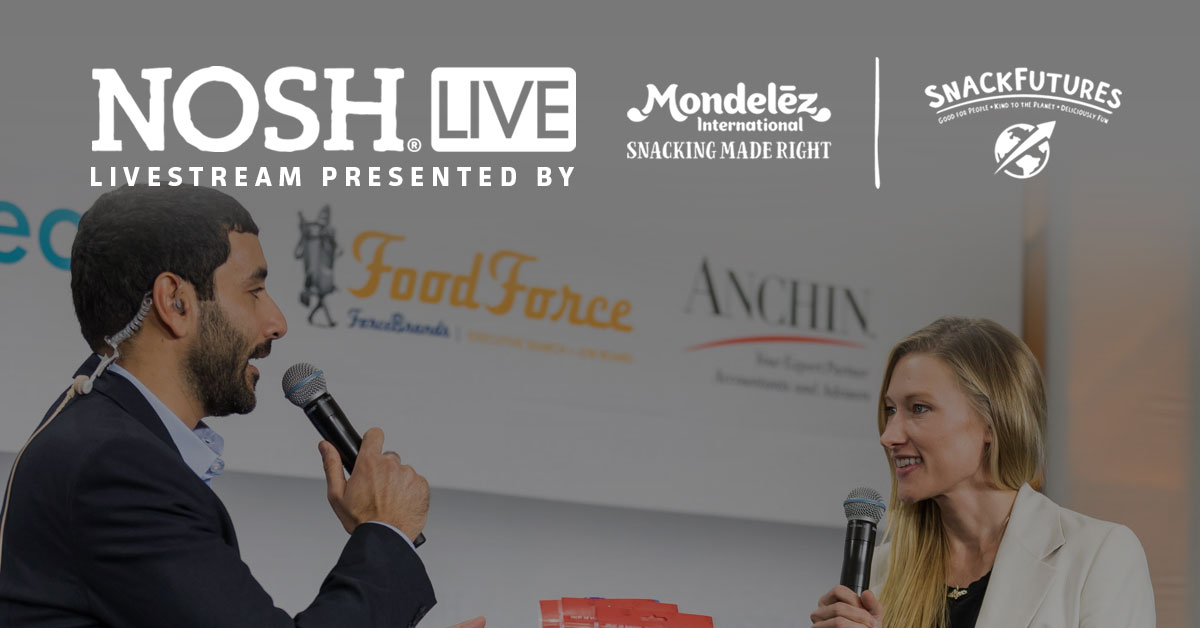 We have a cure for your FOMO. For those of you who can't make it to NOSH Live Winter 2021 this week in Santa Monica, we will be livestreaming the main stage presentations and Livestream Studio interviews this Thursday, Dec. 2nd and Friday, Dec. 3. The Livestream will be presented by Mondelēz International SnackFutures.
The free livestream runs from 8 a.m. to 4:30 p.m. PT on Thursday and from 9 a.m. ET to 3:15 p.m. PT on  Friday. The two-day NOSH Live agenda is filled with presentations and panels that explore growth opportunities for both emerging and established food brands, retail strategies, different perspectives within the M&A environment and what's next for the flourishing natural food industry.
The livestream will also feature the 11th edition of the NOSH Pitch Slam, with the semifinal round kicking off at 8 a.m. on Thursday and a two-part final round beginning at 11 a.m. on Friday.
Additionally, viewers will have access to every interview featured in the NOSH Live Winter 2021 Livestream Studio. Our conversations will include founders and executives from Perfect Snacks, Mid-Day Squares,  TCHO Chocolate, Harmless Harvest and more, along with the winner of NOSH Pitch Slam 11.
Here's the Livestream Studio agenda:
Day 1 – Thursday, December 2
9:35 AM – Alejandra Pedemonte, Senior Global Brand Manager, Mauna Loa
9:45 AM – Tapan Shah, Director of Venture Capital, SnackFutures
12:45 PM – Jake Karls, Co-Founder, Mid-Day Squares
12:55 PM – Elizabeth Carter, President, Perfect Snacks
1:05 PM – Jared Stein, Co-Founder & Partner, Monogram Capital
1:15 PM – Becky Nelson, Partner, Bex Brands
1:25 PM – Stu Davidoff, Founder, GIGANTIC!
1:35 PM – Christy Goldsby, Founder, Honey Mama's
Day 2 – Friday, December 3
10:35 AM -Brad Kintzer, Chief Chocolate Officer, TCHO Chocolate
10:45 AM – Jake Qian, Director of Innovation, Harmless Harvest
12:35 PM – Matt Weiss, Founder/CEO, RIND Snacks
12:45 PM – Pam Goldberg, CEO, DAH!
12:55 PM – Nicki Schroeder, CMO, High Road Craft Ice Cream
1:05 PM – Mike Fata, Chairman, Fata & Associates
1:15 PM – David Walsh, VP Membership & Communications, SNAC International
3:15 PM – Pitch Slam Winner Interview
To access the main stage presentations and Livestream Studio interviews, visit the livestream page starting at 8 a.m. PT on Thursday, Dec. 2.
---
About NOSH Live
NOSH Live is a two-day business conference for the natural food industry. The cutting-edge industry conference drives valuable industry connections and promotes the exchange of strategies and ideas. Specific to growing CPG food companies, the conference program explores growth strategy, sales, marketing, investment, and more through case-based presentations and panels by an all-star roster of speakers.