Zupa Noma Rebrands as Medlie in Effort to 'Broaden Opportunities'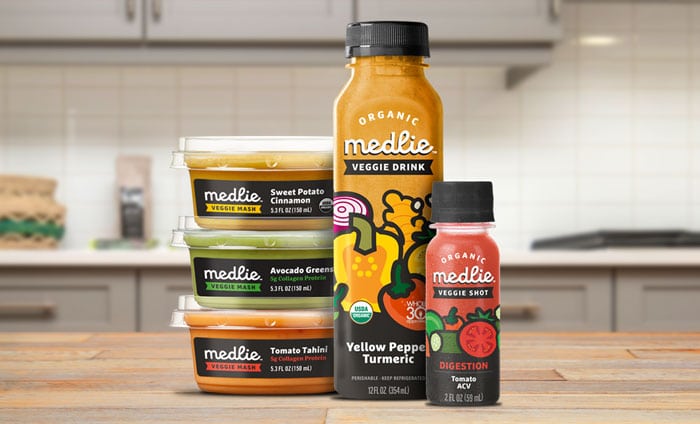 Since its launch in 2016, Sonoma Brands' Zupa Noma has refined its packaging, sales strategy and messaging. Still, something hasn't quite resonated with consumers of the cold drinkable soup brand.
Now they're trying for a new name and product approach, rebranding as Medlie and launching a line of vegetable "mashes" which are vegetable blends that can be eaten as a snack or used as a spread or dip.
The rebrand comes after the brand shifted to a largely direct-to-consumer model, a channel which now accounts for 85 percent of the company's sales.
The rebrand stemmed from the company's struggle with consumer messaging, noted CEO Jen Berliner.
"We wanted a brand name that could better communicate what we were hearing from our consumers about how they use the product," Medlie CEO Jen Berliner told NOSH. "What that came down to was our products offering four servings of organic vegetables in a convenient way."
Along with the overarching brand identity, Medlie also clarified its soup line as a beverage, calling it "drinkable veggies." Berliner said that research found consumers were sometimes confused by the concept of chilled soup and rather saw the line as a convenient way to get multiple servings of vegetables in a refreshing format.
"With our evolution to 'veggie drink' we're being much more literal about what our product is," Berliner said. "And most importantly, speaking the same language as our consumers."
The name Medlie also allows the company to enter other categories, Berlinger said, which it did so at Expo West, launching veggie mashes. Available in avocado green with collagen, tomato tahini with collagen and sweet potato cinnamon, the line will launch on Medlie's website this spring.
Berlinger said that the company had found its core base of keto-, paleo- and Whole30-diet adherent customers were pulling away from bean-based hummus or creamy dips and looking for other spread alternatives that could work on toast, in salads or veggie bowls.
Data supports the untapped potential of vegetable focused snacks. According a recent report by research firm Nielsen, produce snacking saw a 1.2 percent increase in dollar sales versus a year ago, and deli items with vegetables saw a 6.2 percent jump in dollar sales versus a year ago. Medlie itself saw sixty percent net revenue growth year over year in 2018.
Investors are paying attention to the trend as well. Medlie was initially capitalized with an investment from Sonoma Brands itself, but raised a second round that included an outside strategic investor at the end of 2018. While an SEC filing notes the raise was $1.5 million, the brand declined to confirm the exact total. Berliner told NOSH the strategic partner brings a "depth of experience" and a strong belief in the potential for fresh vegetable based snacks.
Despite all the changes, Berliner maintains that the potential is there, it's just about refining the messaging
"We're thinking of this as a broadening and opening up of opportunities for the brand rather than a pivot. The original thesis behind Zupa Noma still holds true," Berliner said. "While the name on the label and the statement of identity is changing, the core is staying true to who we've always been."