NOSH Live Day One Recap: Building Brands with Purpose
From using Pinterest to guide brand development to the growing pains of starting a business, growth was the key theme throughout day one of NOSH Live Summer 2019, held today in New York City.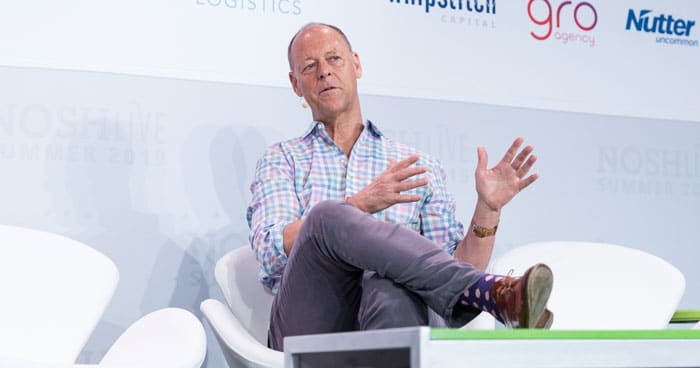 The day kicked off with Walter Robb, former co-CEO of Whole Foods Market and current principal for Stonewall Robb Advisors. As he recounted building the Whole Foods chain from its first store, which was about 1,000 square feet, to its flagship, which is 80,000, he noted that digital models are becoming part of the larger retail ecosystem. Digital tools can help provide consumers with information to enhance the shopping experience, such as real-time information as they shop. By enhancing the in-store experience, retailers can also gain more info on their customers, thus making the customer experience better.
"The line between digital and physical is going to collapse, and it's going to be all about the customer," Robb said.
The customer wants to do what they want, when they want, he noted, adding that brands should take that to heart as part of their core strategy, while prioritizing "authenticity, vulnerability and humility," he said.
Despite diet trends like keto and gluten-free, some of which "have legs" and others that don't, he said, there tends to be confusion about what's healthy as people follow "food tribes." Still, he noted, the large demand for whole foods remains strong, citing Hu Kitchen as a great example of clean label chocolate and baked goods.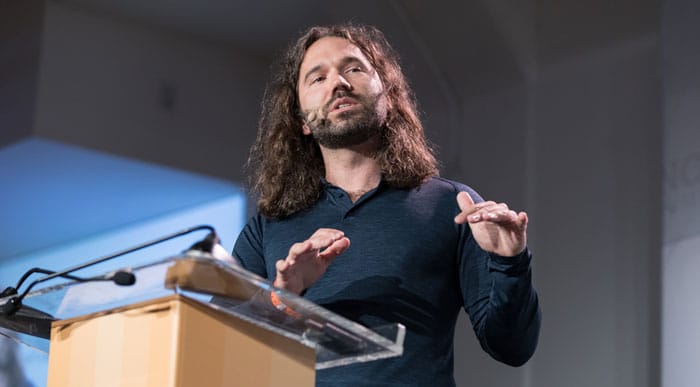 Another speaker noted the power of diet trends: John Durant, founder of Wild Ventures, discussed influencers, tribes and brand building, noting that the word "influencer" has become overused.
"Generic distribution is not influence — just because something has followers doesn't mean they influence followers," he said.
According to Durant, a true influencer motivates their tribe to take action and combines established or mainstream authority with forward thinking and awareness of science-based research. Taking the position that A-list celebrities are "massively overrated" as influencers, he said brands should start by expecting zero from those types of relationships, which can come with or without a financial transaction, he added.
When it comes to dietary trends, the power of community shouldn't be undervalued, Durant said, noting Weight Watchers as an early example of exploring a new diet backed by a community of supporters.
"You can build a multibillion dollar brand by getting people in a room together," he said.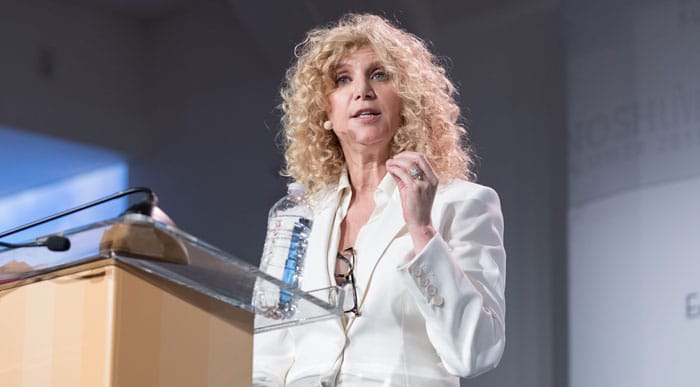 Staying on the subject of diet trends and influencers, next on stage was Gail Becker, founder and CEO of frozen pizza brand Caulipower, which is expected to exceed $100 million in sales this year, she said. The brand has reached many milestones in the past 28 months to become the eighth best selling frozen pizza in the U.S., she said, adding that celebrity chef Antoni Porowski of "Queer Eye" visited #CAULIPOWERhouse for its opening last month in New York City. Despite growth, the brand has stuck to its core mission of making "nutritious foods accessible to all."
Becker noted that breaking common rules actually helped her success: the brand launched in the frozen section, entered multiple categories and started in Walmart. Its packaging and unique value contributed to its success, she said.
"That's one of the best things about being a young brand– you can take risks," she said.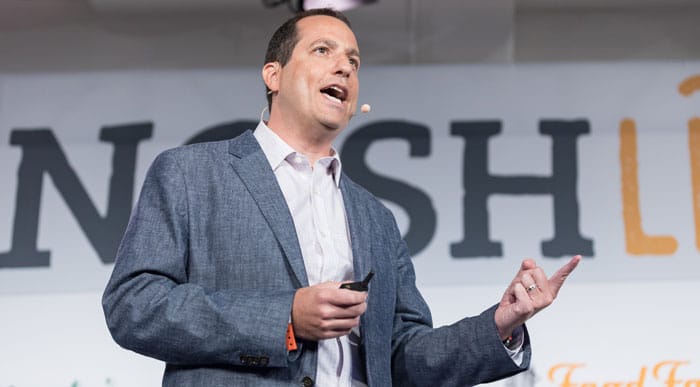 From blossoming startups to legacy brands, a variety of strategies for success were presented. Nestle, for example, is seeking to further utilize its team of 22,000 people and "make sure everyone understands they're an entrepreneur in their company and they have the platform to put their ideas forward," said Doug Munk, director of new business ventures for Nestle.
The company debuted a new product at NOSH Live: Jacked Rabbit, a Nesquik-inspired protein drink, and Munk added that the company is investing $2 billion in R&D through its new accelerator, which it announced in April.
"It's exciting to see employees get into it and get engaged by it," he said. "It comes from a place of passion for a problem they're trying to solve in their lives. We're seeing more and more of that in the marketplace: food as medicine [with] functional benefits."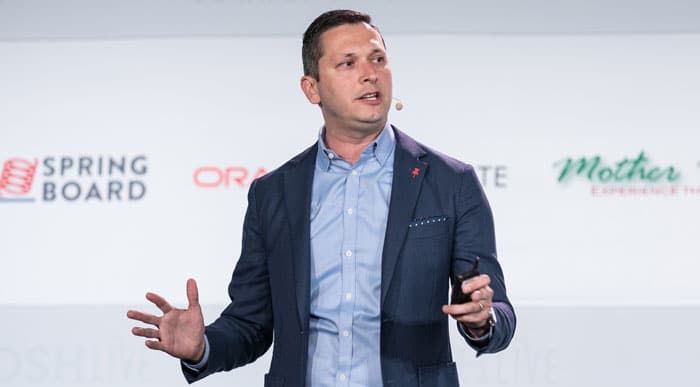 According to Arthur Sevilla, Pinterest's head of CPG strategy, the digital shopping journey starts with a simple equation: "Relevance + receptivity = impact." Pinterest uses a proprietary algorithm, what it calls a "taste graph" to make Pinterest feel like a personalized experience that provides inspiration, he said. Popular food trends include foil pack dinners, oat milk, ginger water, pegan (paleo & vegan) and mushrooms, he noted.
"Pinterest is about yourself, not your selfie," he said. "Pinners are in a future mindset. Think about your brands and when consumers are receptive to your message."
With that in mind, brands should think about ROI from Pinterest as "return on inspiration."
"Consumers are seeking inspiration, and they are full of intent," he said.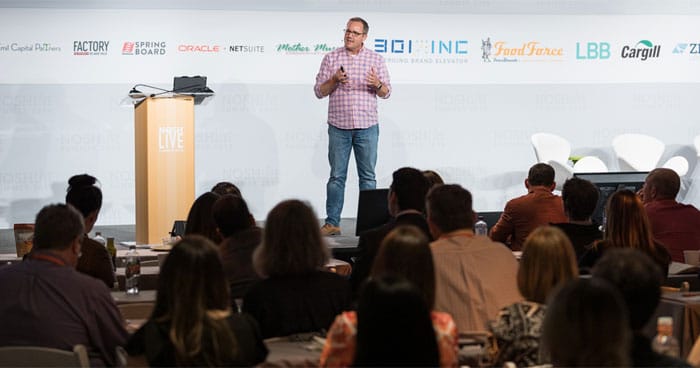 While growing up on Pinterest is the norm for some, growing up as your business booms can be a tough reality to face. Robert Craven, former CEO of MegaFood and Garden of Life, touched on key points in his session, 'The Adolescent Company: Managing Growing Pains and Staying on Track.' He advised entrepreneurs to hire the right team, create clear purpose driven strategies and build a structure with a culture that's in tune with the company's goals.
"You don't have to destroy the culture to get to adolescence and grow the business," he said.
In terms of growing with assistance from specialized VCs, Megan Bent, founder and managing partner of Harbinger Ventures, noted that specialization should add value to the partnership and product. Business owners should ask VCs what they do differently that can enhance what the brand does, she said.
Harbinger was founded to support women in leadership positions; after Bent spent 10 years as lead investor on a variety of boards, she realized she was often the only woman in the room, she said.
"Our belief is that investing in women has the ability to enhance returns; we see it in business, ensuring that diverse thinking across boards in leadership teams has the ability to enhance innovation, risk management and governance — and there is data that supports it," said Bent.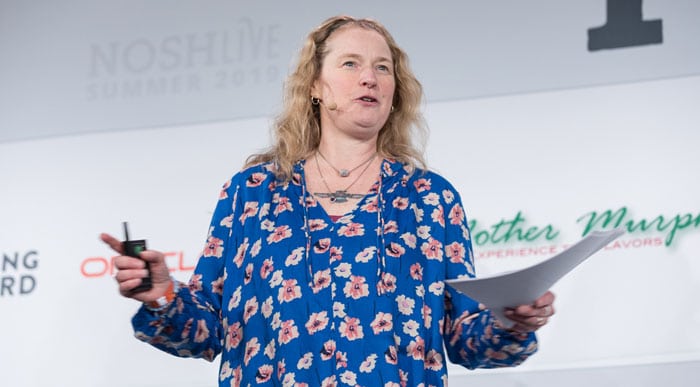 When brands are considering retail placement, they might overlook co-ops, but Heidi Traore, business development manager for National Co+op Grocers noted that they have "some of the most committed natural food shoppers in the industry." Co-ops will likely help brands launch intros and create attractive promotions, along with having great everyday pricing, she added, and they often operate on behalf of the brands they sell, allowing brands an easy way to further their story to the customers who want to hear it most.
"Folks that shop at co-ops, they want to know you," she said.
Additionally, co-ops can feature products before they hit the mainstream, noting kombucha and CBD as two examples of forward-thinking offerings that co-ops sold years before they hit major markets.
"If it's trend forward, people will see that. They want to see what the next cool, unique, funky item at the co-op is."