Hope Foods Sets Sights On Expanding the Dip Set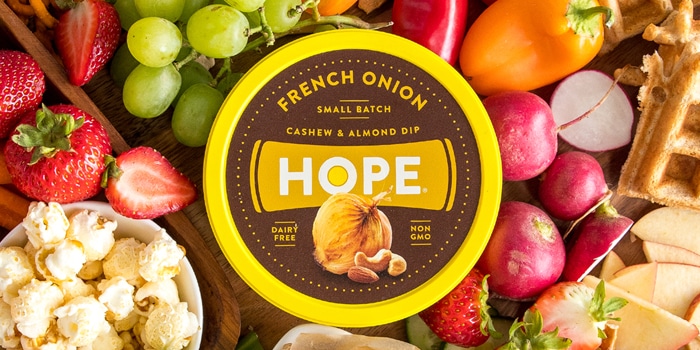 Guacamole and hummus producer Hope Foods believes American consumers are ready for a new kind of dip.The Colorado-based brand announced today the launch of a line of Cashew and Almond Dips, designed to offer shoppers new plant-based snacking options.
Available in six flavors (French Onion, Avocado Ranch, Roasted Garlic, Roasted Red Pepper, Chipotle and Chocolate), the dips will launch in Hannaford and Sprouts stores.
Hope co-founder and CEO Robbie Rech told NOSH that the company plans to have the dips in 4,300 stores by the end of 2019. Hope offers the dips in two sizes, an 8 oz. tub with an MSRP of $5.99 and a 26 oz. tub, targeted to the club market, with an MSRP of $8.49.
The new line complements Hope's existing product assortment of 10 hummus dips and three guacamole offerings, which are sold in 6,200 stores nationwide. Similar to its guacamole and hummus offerings, Hope's Cashew and Almond Dip will be high pressure processed (HPP), with an 84-day shelf life.
According to Rech, the company has wanted to launch the nut dips for several years but was waiting to build a solid distribution base for its flagship hummus line and perfect its formula.
"We're not putting products out just to put them out. We really want to add value and see a unique and exciting possibility," Rech said. "This takes us in a different direction, in that this is really true whitespace. This doesn't exist as a known product that consumers would be familiar with. But we think the time is right to bring more creative choices to consumers as they're looking for elevated health snack choices."
Other nut-based dips are already on the market from Oasis Naturals and Bitchin' Sauce, as well as private label options from Trader Joe's. However, Rech told NOSH Hope's offering will bring a richer and thicker option to store shelves that can be used as a sauce, spread or dip.
Other dairy-alternatives, such as Kite Hill, have also launched cream cheese or yogurt dips using nuts as a base ingredient. Rech said Hope's nut dip differs in that it isn't trying to mimic the taste of dairy, but rather offer a new flavor profile. That doesn't mean Rech didn't take some flavor cues from dairy-based dips — the French Onion and Ranch flavors were inspired by two of the highest performing options in the dip category.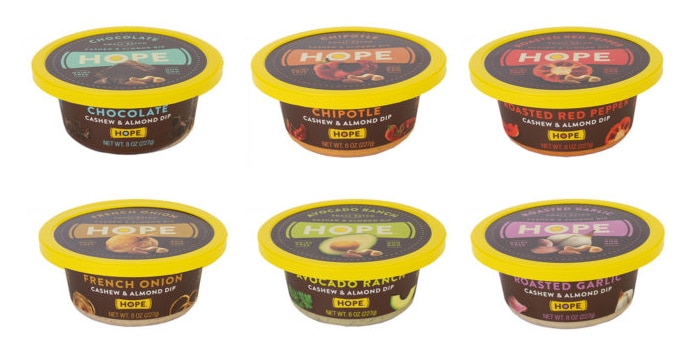 Hope Foods attempted to avoid being too constrained, looking to other flavors that simply "played well" with the nut base. Rech added that Hope has established itself as a non-traditional hummus player, with flavors such as Thai Coconut Curry, Kale Pesto and Buffalo Bleu.
"Hummus has grown so far beyond a traditional Mediterrian or Middle Eastern appetizer," he said. "But it's really pigeonholed people into chickpeas or beans and this gets us outside of that into another whole healthy, but full flavored and satisfied dip area."
An area Hope will revisit with the launch is the concept of sweet dips. The brand previously had a chocolate hummus, but discontinued it in favor of other savory options. Rech believes that there is still plenty of opportunity for sweet dip varieties, with nationally distributed chocolate hummuses accounting for roughly $10 million in annual sales and a grow rate of roughly 7% year-over-year. The Chocolate Almond Cashew Dip, Rech added, will offer shoppers a cleaner, lower-sugar alternative to shelf-stable chocolate nut spreads such as Nutella.
"We just felt like we couldn't ignore the possibility for chocolate in this launch," he said. "It's also a little easier to [understand combining] chocolate, cashews and almonds versus chocolate and garbanzo beans."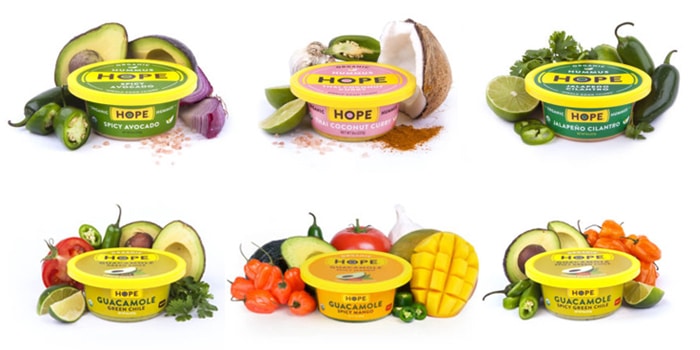 Hope Foods is also in the process of closing a round of funding. According to SEC forms, the company has raised $4 million since December 2018, which Rech said represents investment from existing investors. The larger round is expected to close later this year.
In 2016, Hope Foods closed a $5 million round of funding led by VC firm BIGR.
Meanwhile, in more mission-focused acitivities, the brand is also adding messaging on how to seek assistance for mental health needs to its packaging and has made several donations to Hope For the Day, non-profit organization that focuses on suicide prevention.
"As we steward with such a powerful mission of hope," Rech said, "this is how we think we can contribute in a small way to our world."