Epic Co-founders to 'Reclaim the Legacy of Meat' Under New Brand
Seven years ago, Taylor Collins and Katie Forrest helped steward a snacking revolution, introducing consumers to better-for-you, more sustainably raised meat snacks through their brand Epic Provisions. In 2016, the company was sold to General Mills for a reported $100 million. Now the husband and wife duo, joined by former Epic CFO/COO Robert Sansom, are ready to bring transparency and sustainability to what they say is one of the last frontiers of the grocery store, the meat counter, with the launch of their new brand Force of Nature.
Formerly vegan, Collins and Forrest are now stretching their belief in animal protein as a key link in the regenerative agriculture cycle. The company is launching in retail with pasture raised ground meat "bricks" including bison, a bison blend, wild boar, and beef and pre-shaped burgers (in a bison/bacon blend and a venison/wagyu beef blend). Online and in foodservice, the company offers even more cuts, such as tenderloin and short ribs.
Although it officially debuted to the trade at Natural Products Expo East, the brand was already in several regional grocery chains, most notably Central Market in Texas. The patties are sold frozen, but other cuts and grinds can be sold frozen or fresh, with the latter offering a 21 day shelf life.
At $9.99 to $12.99 for the ground product, which comes in a 14 oz. pack, Force of Nature is at the high end of ground meat price per pound. The founders hope that with scale, they can drop the price, but Collins added that consumers are clearly willing to pay more for a transparent, sustainably raised product — even in commodity categories such as dairy and eggs — and the team believes these shoppers will "vote at the registers" with their dollars.
"The way you grow and scale a supply chain around regenerative is via the consumer," Sansom added. "When the consumer demands a better product, a regenerative protein product, they are going to get it."
Shoppers also, he added, are currently unaware that while they may save now buying conventional meat, they will "pay" later on as climate change issues continue to emerge, driving up the cost to the planet and to food supplies. Through marketing efforts, the company hopes to expose these costs.
The company grew out of Forrest's and Collin's side project, Roam Ranch — a 450 acre ranch on the outskirts of Fredericksburg, Texas where bison, turkeys, ducks, chickens, pigs, geese and other wildlife such as honeybees and white tail deer. The ranch is farmed using regenerative agriculture, a conservationist approach to food and farming systems that focuses on regenerative topsoil, increasing biodiversity of species and improving the water supply in order to reduce the ongoing effects of climate change while rehabilitating land that may have been damaged over time.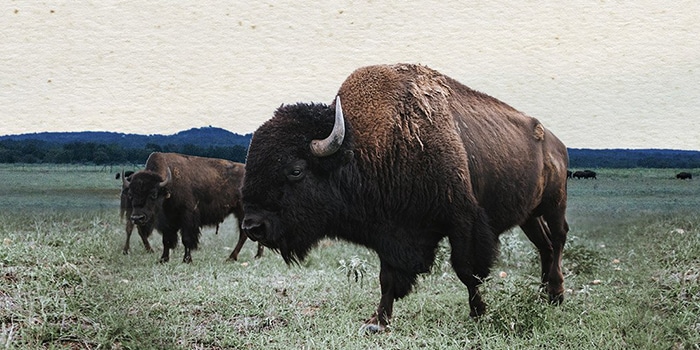 They purchased Roam in late 2016, and over time the trio began to believe that, although there were other like minded farmers using regenerative agriculture practices, individually each was too small to achieve significant scale and launch into retailers nationwide. Force of Nature, which is currently backed by Forrest, Collins, Sansom and a handful of previous Epic angel investors, is trying to create that scale, purchasing meat from regenerative farmers around the country.
"Many [regenerative producers] just want to be on the land, helping their animals, being ranchers, being producers, being farmers," Sansom said. "Right now the system is punitive to those people that want to evolve their practices because they can't command the premium price that they deserve.. without becoming experts in sales and marketing, and that's what we are."
Sansom and Collins told NOSH that they feel the meat industry is "under attack" both from plant-based meat companies, who spin all meat products as detrimental to the earth, as well as large meat producers who spin negatives (such as animals being raised in confined areas) as marketing claims (a la "vegetarian fed" pork). Collins added that the team is as "opposed to conventional feedlot" meat as vegans, but getting rid of all meat is not the solution.
"I think [plant-based meat producers] are false prophets getting credit for being the solution for so many things that they truly are not," Sansom told NOSH. "The reality is nature got it right…Instead of fighting her, let's work with her in order to support the restoration of our ecosystems."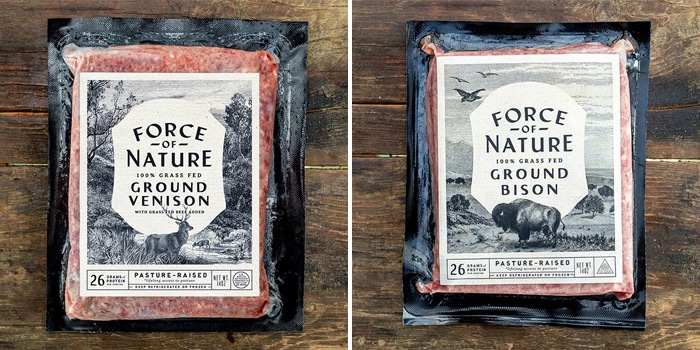 The goal is to eventually claim one percent of the meat category, a move that Sansom and Collins say would result in massive change, and transition a billion acres of farmland to regenerative agricultural practices. At Epic the goal was to impact a million acres, a move that the trio said six years ago seemed "insane." Under the stewardship of General Mills, that dream became a reality — with the CPG behemoth promising to advance regenerative agriculture practices on 1 million acres of farmland by 2030.
Collins, Forrest and Sansom still maintain limited roles at Epic and General Mills — largely around marketing, press and product innovations — but day-to-day their focus has transitioned to Force of Nature. It's a move that Collins says simply has occurred naturally as the brand has "grown up" and "become more independent." Collins and Sansom credit General Mills with being forward thinking, both in letting them simultaneously pursue this new brand as well as in making such drastic changes to their own supply chain.
That said, the long-range goal for Force of Nature is milles beyond the markers set at Epic, Collins added.
"Force of Nature is a way for us to scale this bigger and better than what we have ever fathomed doing because [in the] fresh/frozen meat space we're selling pounds at a time, where with Epic, we're selling ounces at a time," Collins said. "[The U.S.] has the existing land mass to scale this beyond our wildest imagination. If we could increase the productivity of American farmland by just 30%, we could grass finish every cow in the U.S. That's getting rid of feedlots altogether."