Egglife Launches with Rose Acre Farm Support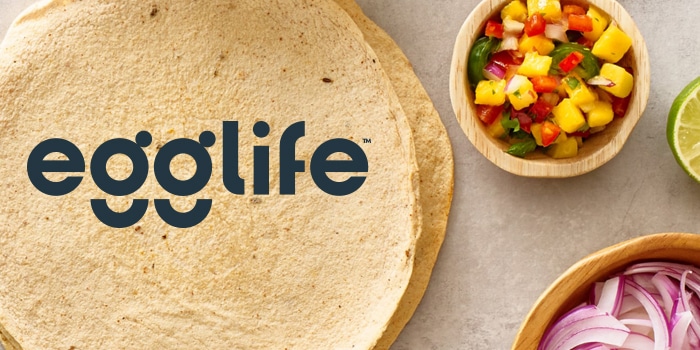 Hatching a new brand can take time. Such was the case for emerging brand Egglife, which entered stores this month after a three-year path to market. Backed by the family behind the country's second largest egg producer, the company hopes to disrupt a tired category — wraps — and "snackify" the humble egg.
Invented in 2016 by Peggy Johns, then an executive assistant at egg producer Rose Acre Farms, Egglife debuted at Expo West 2018. Now, almost two years later, the company is finally making its formal launch into retail with four flavors of wraps (Original, Italian, Rye, Southwest) that will roll out to Chicago-area Jewel Osco and Mariano stores.
To support the next phase of growth, the company has built an experienced executive team around Johns (who is now director of innovation), including CEO David Kroll, the former CMO of MillerCoors. Also on the Egglife executive team are Christine Mahoney (former director from Merrick Pet Care) and Cindy Waggoner (former VP at Mondelez International).
Kroll told NOSH that he joined Egglife from his previous role as CEO of beverage brand COCO5 because of the opportunity.
"It's very rare in my career to see this authentic a backstory, and more importantly, a product that solves such a major issue in the world," Kroll said. "Between the obesity epidemic, the rise in diabetes and just the overall wellness trend of people desperate to find a better way to eat, we believe Egglife will have a long-standing role in helping solve those problems."
But it's perhaps Egglife's supply chain and investment partner that really helped the concept hatch.
For the first few years, Egglife operated under the auspices of Johns' employer, Rose Acre Farms, the country's second-largest egg producer. The company helped Egglife secure its trademarks and patents, as well as purchase and build what will eventually be a $30 million, 60,000-sq, ft. facility. With proof of concept established, Rose Acre has now spun Egglife into its own company. The Rust family, which also owns Rose Acre, remains Egglife's main investor and most of the product's eggs come from Rose Acre.
Marcus Rust, CEO of Rose Acre Farms, told NOSH that the company always intended to keep Egglife in-house while the concept was being tested. Although it might not be traditional to test a product at numerous trade shows before bringing it to market, Rust added that the booths served as informal market research. "That kind of money, for the family, we wanted to make sure this was really a 'wow' product to the industry," he said.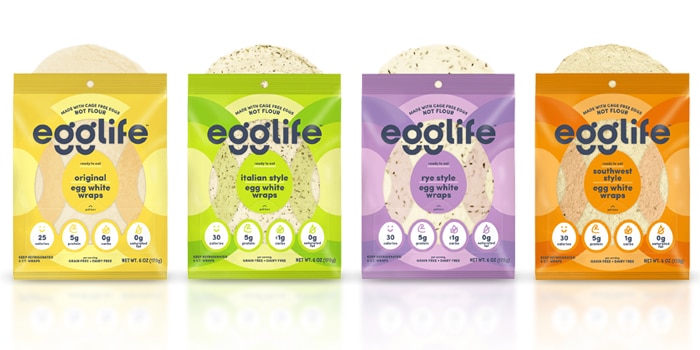 Although Rust admits there has been a lack of innovation in the egg category, he said that investing in the brand is more about supporting a good business venture then it being specifically about eggs.
"You had an employee that the company wanted to back," Kroll added. "But Rose Acre has recognized that competing in the consumer packaged goods branded marketplace is not their core competency."
Despite that, it could be a huge opportunity for the Rust family. Egglife plans initially to disrupt the wrap and tortilla set (which Kroll values at $12 billion in sales) before moving into other parts of the store's perimeter. The team is considering all "flour-based segments" which, Kroll said, "takes them into some really lazy, tired sections of food." For the immediate future, the company plans to focus on perishable and refrigerated products. Egglife's current wraps have a 60-day shelf life.
The perishable nature of Egglife products is providing some difficulty in retail; in some stores Egglife is sold in the egg set, while in others it's sold in refrigerated tortillas. Like other "fresh-focused" products, Egglife can't always be sold right next to the products it seeks to directly replace.
While consumers may have once viewed eggs as "unhealthy," Rust said he also sees new interest from shoppers about the role of healthy fats, pointing out recent consumer interest in butter and ghee. What's holding eggs back, he said, is not their nutritional profile but rather the fact that they require preparation and aren't "snack friendly."
"Eggs are in the early innings of really being recognized as the next major superfood. We're on the forefront of that," Kroll said. "We're basically letting [consumers] keep their same behaviors and improve their diets at the same time. And that's all driven because of the beauty of the egg."