Yai's Thai Goes National with Whole Foods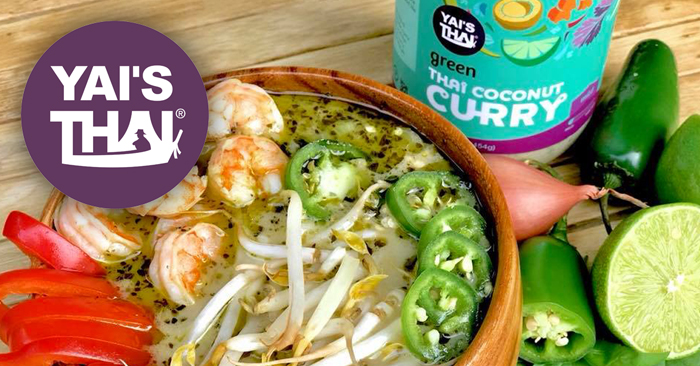 From a Thai sauce brand gaining nationwide distribution, to a vegan puff maker adding new doors, here is the distribution news you need to know.
Yai's Thai Goes National with Whole Foods
Clean label sauce maker Yai's Thai is hoping to spice up its sales with an expanded retail presence. The Denver-based company announced this week that four of its leading SKUs will be rolled out into Whole Foods Market stores nationwide this summer. The brand was previously only in two Whole Foods regions.
The natural retailer is bringing on the brand's Green, Yellow, and Red Thai Coconut Curries, along with their Chili Garlic Hot Sauce, which has already started to hit shelves. The curries are expected to be available by late August. Prior to this national launch with Whole Foods, Yai's Thai products were sold in about 2,700 stores with retailers, including Sprouts, The Fresh Market, Fresh Thyme, Harris Teeter, and some regions of Safeway-Albertsons.
"Having achieved a national footprint with acceptance from large natural and conventional chains, as well as independent retailers, we're able to reach more consumers and open the door for long-term growth," Aaron Barnholt, vice president of sales at Yai's Thai, said in a statement.
The distribution expansion comes shortly after the company closed an $850,000 investment round led by Atlas Venture Capital. The funds will be used to provide resources needed to support Yai's Thai' ongoing expansion, according to co-founder and COO Sarah Hughes.
"Our recent partnership with Atlas Capital Ventures has provided us the resources needed to handle this significant increase in distribution," Hughes said. "Having the capital and experience of the Atlas team behind us is crucial in ensuring a successful national launch, and supporting the stores for ongoing success."
The increased interest in Yai's Thai by investors and retailers is, in part, thanks to its rebrand and launch of the Coconut Curries line in 2017. Yai's Thai has experienced more than 4,000 percent growth in the past 12 months, according to data from market research group SPINS.
After Portfolio Review, SuperEats Launches in Sprouts
Vegan snack maker SuperEats won over natural retailer Sprouts this month. The brand's line of puffs has been added to the retailer's 280 stores.
The company, which was founded in 2013 as a healthy snacks brand, initially had a line of superfood kale and chia seed crisps. However, while the product line saw modest growth, SuperEats co-founder Aaron Gailmor felt the brand wasn't achieving its full potential with the existing portfolio. So in April 2016, Gailmor decided to go back to the drawing board.
"We took a hard look at our brand mission and we went back to why we started SuperEats, which was to help people by making it easier for them to eat healthier," Gailmor said. "We made the decision to focus on making snacks that were functional and had a strong macronutrient profile, but also satisfied a 'junk food palate.'"
The result, a new line of puffs made using a combination of pea protein and the Sachi Inchi seed, has quickly been picked up by retailers, growing to 1,250 doors since its April 2017 launch. Gailmor told NOSH that the new puff form has allowed the brand to be embraced not only by natural retailers, such as Sprouts, but also cross over into more conventional players such as Safeway, Albertsons, Big Y, 7 Eleven, Speedway and Rouses.
Chobani Rolls Out Low-Sugar Line Nationwide
Greek yogurt leader Chobani is bringing its new low-sugar, high-protein line, Chobani Hint, nationwide this August. The line was initially tested in select stores in the Pacific, Northeast and Florida markets.
Chobani said, via a statement, that each cup contains six grams less sugar than its traditional line in an effort to target consumers who want a less sweet, high-protein yogurt option. This is the same group of consumers who have helped to drive the sales of Icelandic-style yogurt makers like Siggi's and who have prompted new innovations from legacy companies such as Yoplait.
Currently, Hint Of is available in seven flavors — Madagascar Vanilla and Cinnamon, Wild Blueberry, Monterey Strawberry, Gili Cherry, Alphonso Mango, Clingstone Peach and Willamette Raspberry — but the company said new SKUs are expected to hit store shelves sometime early next year.
KEEN Growth Capital Portfolio Companies See Distribution Gains
Two KEEN Growth Capital portfolio companies – O'DANG Hummus, the maker of premium hummus and hummus dressings, and The Jersey Tomato Company, maker of premium New Jersey tomato sauces and salsas — both saw major distribution wins this month.
O'DANG Hummus announced that its line of hummus dressings can now be found in select at Kroger, Fred Meyer, Ralphs and King Soopers, which expands its retail footprint to 49 states. For The Jersey Tomato company, the brand deepened its East Coast presence with the addition of all 169 Giant Food stores. The retailer will carry three of the brands tomato sauce SKUs: Marinara, Tomato Basil and Spicy.
The distribution wins come just a year after KEEN Growth Capital, a venture fund that invests in early-stage food and wellness companies with social impact, acquired a "significant" stake in both O'Dang and The Jersey Tomato Co. KEEN's portfolio also includes Brownie Brittle, Cookie Pop, Sensible Portions, Pure Spoon and Thrive ice cream.
10th Avenue Tea Shakes Up Instant Offerings at Target
10th Avenue Tea, which produces instant tea powders in all-natural blends, is hoping to shake up Target's tea aisle. The company has partnered with the big box retailer to launch its newest product, instant matcha tea bottle shakers, in five flavors: Green Tea, Chai, Tropical, Black Tea and Herbal Berry.
10th Avenue co-founder and CEO Ann Foley told NOSH that the line launched in about 20 Chicago stores earlier this month, and will enter select San Francisco and L.A. stores late this summer. Prior to the Target partnership, the instant tea brand was sold in about 275 stores. Target chose to work with the brand as part of its efforts to focus on localization and supplier diversity strategies, according to Foley.
"We were selected to be able to pitch to them at a meeting at Expo West," she said. "We met with a great buyer who truly understood our eco-friendly mission and loved the convenience and innovation of our tea."
Other notable distribution news includes:
TrailFork Added to REI: Boulder-based outdoor meal kit TrailFork announced that it will launch its retail line of nine recipes in REI's 15 stores nationwide this September. The company appeals to REI's outdoor enthusiast shoppers because the line is customizable, offers gluten-free, vegan and paleo options, and uses 100 percent compostable packaging.
KUMANA'S Sees Green In Expanded Retail: Last month, KUMANA'S Avocado Sauces announced that its sauces have been added to 430 Albertsons and Safeway stores. The growth comes less than a year after the company first launched at Natural Products Expo West 2018.
Urban Remedy Grows Beyond Northern California: In the last six months, the fresh food and juice brand has grown from distribution solely in Northern California to major urban markets statewide thanks to its data-driven kiosk strategy.
Wine RayZyn Goes Club: Wine RayZyn, the company that has turned dried premium wine grapes into a superfood snack, entered the club channel for the first time this month. The value package of CabernayZyns debuted at the newest Northern California Costco store in Ukiah, California.
Marlo's Bakeshop's Makes MidWest Debut: The soft-baked biscotti brand has been added to all Meijer store locations starting this August. This is the company's first major retail partner in the Midwest.
Impossible Foods Brings Burgers to New Heights: Air New Zealand announced this month that it will be the first airline to sell the Impossible Burger via its Business Premier menu. The burger will be an option for all flights from Los Angeles to Auckland, New Zealand, and it will not replace meat on the menu.