As U.S. Sales Sink, Hain Celestial Outlines Adapted Game Plan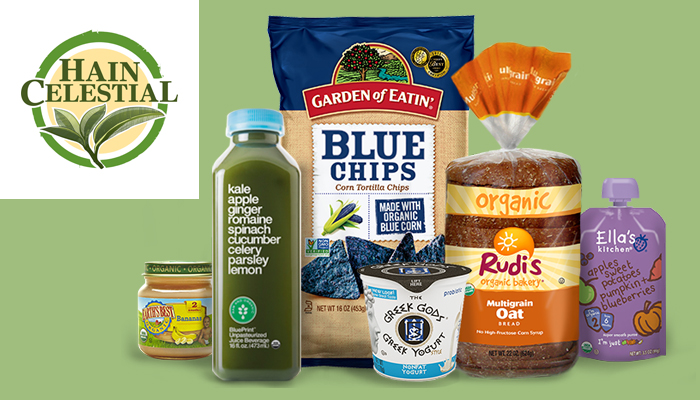 Organic and natural products company Hain Celestial Group saw its stock hit a five-year low yesterday after the company announced it had disappointing U.S. sales this quarter.
"While we're not pleased with the rate of our improvement, we have made incremental progress in key areas of our business," Co-CEO Gary Tickle said on the call.
The natural products maker said its earnings were compressed this quarter by higher freight and commodity inflation, as well as increased competition on shelf. But part of the drop can also be traced back to Project Terra — the manufacturer's internal cost saving program.
Project Terra was announced in 2016 as a three part process to simplify Hain's portfolio, reduce cost and complexity to better deal with marketplace "headwinds," and focus on its core 11 brands and top 500 SKUs.
Hain has so far completed the discontinuation of more than 700 SKUs and announced that it has added roughly 430 additional SKUs to the chopping block. It's also in the process of selling Hain Pure Protein, its organic and antibiotic-free meat business.
But losing the revenue from cut SKUs without yet seeing increased revenue from its core brands has hurt the company more than expected. Four major core food brands — Sensible Portions, Spectrum, The Greek Gods and Rudi's Organic Bakery — saw net sales decline from $2 million to upwards of $4 million. Executives noted that for these products they'll ramp up promotional, trial-boosting efforts even more.
"If you don't invest in your brands, they won't be around in the future," Irwin Simon, founder and CEO of the company, said on the call. "We believe that brands still and will matter, and so does the connection of our brands with our consumers."
Last June, the company announced it would invest $40 million to $50 million on brand building to drive growth — a plan that executives said the company has stuck to thus far. And it's paying off with brands such as Celestial Seasonings, which saw sales grow more than seven percent this quarter.
Though Hain's brands hold the top spot in many categories, the natural food giant is looking to be lean and flexible in order to better adapt as emerging brands enter the space and vye for shelf space. On a previous earnings call, Simon noted how part of the strategies around the brand's core brands involve a recognition of the evolving retail landscape.
"I think everybody out there is focused on two things: data and content," Simon said. "It's not [just] about price, price, price anymore…I think on commodity items, it is, but organic products, natural products, I think it's important that you get out there and you bring awareness to your brands."