Emmy's Releases New Line, Partners with MatchaBar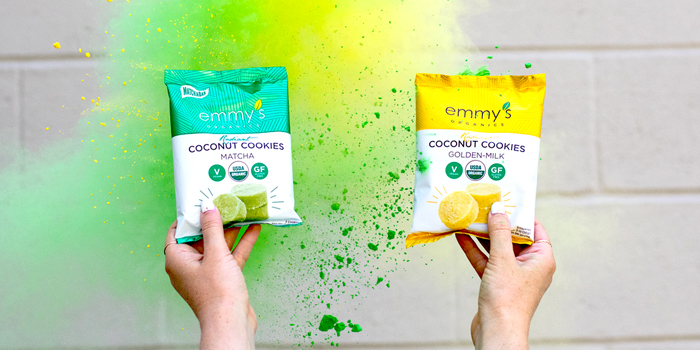 Emmy's Organics co-founder Samantha Abrams has always believed healthy ingredients and indulgent treats don't have to be mutually exclusive. Now, the coconut-based cookie company is doubling down on that mission with the launch of its Radiant line last week.
The new cookies will come in two flavors inspired by Abram's favorite "functional lattes" — matcha and golden milk. Each 2oz pouch of cookies will retail for between $2.50 to $3 and will initially rollout on the company's own e-commerce site. The concept of the Radiant line, Abrams said, is to utilize ingredients that have an "ancient history" for "various healing purposes" and more unique flavors.
Emmy's partnered with popular beverage company and cafe, MatchaBar — which recently closed an $8 million round of funding led by a pool of celebrity investors — on the matcha Radiant cookie. To further support the co-branded product, the cookie will be featured in MatchaBar cafe locations in New York and California.
Emmy's initially developed the Radiant concept two years ago, Abrams said. However, the company delayed releasing them due to concerns that the flavors might not appeal to mainstream consumers who were used to Emmy's more traditional, indulgent flavors such as peanut butter and chocolate chip. The brand's cookies are currently sold in 20,000 retail locations, including Whole Foods Market, Starbucks, Wegmans, Hannaford, HEB, CVS, Rite Aid, Shaws and Costco.
But after growing the company's online presence, Abrams decided to use the company's e-commerce platform to test new flavors that might not work in traditional retail and to respond to the company's most loyal fans. Matcha, she added, was the most requested flavor from fans via Instagram.
"We just have such a direct connection to our customers through [social media]," Abrams said. "We were looking at pictures that were tagged of us and found that a lot of people are pairing our products with some kind of latte. That's really how we knew that our customers — specifically online — were ready for flavors like this."
The company's growth in operations and manufacturing also contributed to the ability to launch the new product line. Abrams's told NOSH that she is purchasing land to build a new 14,000-square-foot facility that will house the company's manufacturing and headquarters. In January Abrams also brought on Bill Kelly — who had been consulting for the brand — as CEO and, in September, Juliana Calvalcante will join the Emmy's team as VP of manufacturing.
The goal, Abrams said, is to continue to see growth even after its strongest year of sales to date — a 150 percent increase in 2017.
"I'm so happy with how the industry has grown since we have been in business," Abrams said. "Even the fact that we are in a CVS just shows how far the industry has come."