The Checkout: Lean Cuisine Grows Plant-Based Portfolio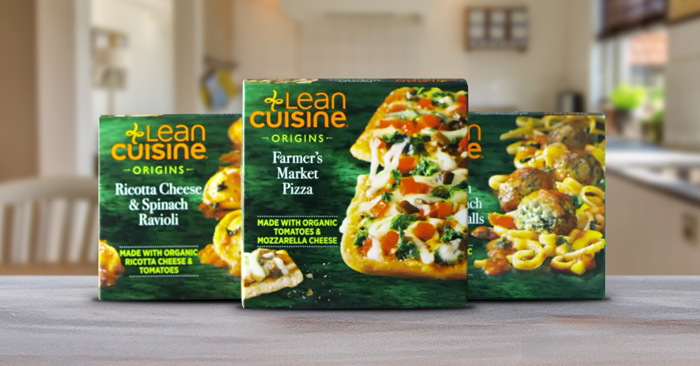 Welcome to The Checkout: an express lane for weekly news you need to know, always 10 items or less.
In the 1960s TV cartoon series The Jetsons, the future was filled with flying cars, robotic maids, floating houses and automatic meal prep machines. In terms of food, the sitcom may not have been that far off.
The news this week was filled with brands, retailers and government agencies modernizing practices and offerings to better meet adapting consumer desires and future innovation. From a major frozen meal brand launching a line of veggie-forward food, to the Food and Drug Administration's (FDA) new stance on the standard of identity for dairy alternative products, here are some of the top stories you need to know.
Lean Cuisine Beefs Up Plant-Based Offerings
Legacy brand Lean Cuisine announced earlier this week that it's expanding its product portfolio with the launch of Origins, a new meatless line of frozen meals.
The 14 new meals include seven new recipes and seven updates to existing meals within the brand's Marketplace line. Two of the new products — coconut chickpea curry and Sicilian-style pesto with lentil pasta — mark the brand's first foray into the vegan sector. The company also tried to modernize its offerings by embracing food trends such as pulse-based pasta and mashed cauliflower.
"The new Origins sub-line offers even more of what our consumers are after, from gluten-free foods to meatless offerings to options made with organic ingredients and now, vegan dishes," Julie Lehman, Lean Cuisine marketing director, said via a release. "The Lean Cuisine team of chefs and nutritionists work hand in hand to create new ways to meet women's evolving needs."
Though frozen food has seen sales struggles in recent years, there was a 1.9 percent national increase in frozen food units sold in March, with 2.2 percent increase in revenue, according to the National Frozen & Refrigerated Foods Association Inc. Millennials, who are eating more plant-based diets, are thought to be one of the most influential factors of this categorical growth. According to a 2017 NFRA report compiled by Acosta and Nielson, 43 percent of millennials are likely to buy frozen products more frequently than in years past.
FDA Commissioner: 'An Almond Doesn't Lactate'
Dairy alternative brands may need to rethink the way they describe their products. In an interview this week, FDA Commissioner Scott Gottlieb alluded that there are plans to start enforcing a federal standard that defines "milk" as coming from the "milking of one or more healthy cows."
"If you look at our standards of identity, there is a reference … to a lactating animal," Gottlieb said during an interview at the POLITICO Pro Summit. "An almond doesn't lactate, I will confess. So the question becomes, 'Have we been enforcing the standard of identity?' And the answer is probably not."
Gottlieb told Politico that he expects pushback and lawsuits will occur during this process, noting that he understands the dictionary definitions of milk or dairy are broader than what is produced by a lactating animal.
Conversations about the standards of identity have led to legal and FDA disputes in the past, for categories such as mayonnaise and yogurt. In a strategic policy roadmap published earlier this year, the FDA noted that it would prioritize clarifying standards of identities, in an effort by the agency to catch up to innovation within the food industry.
Still, coconut yogurt brands and vegan cheese makers need not fret quite yet. Before any changes can be officially implemented, the FDA will develop a guidance that notifies companies of the change and asks for public comment.
Mosa Meat Raises $8.8M in Funding
Dutch startup Mosa Meat announced earlier this week that it closed an $8.8 million round of funding. This is the first investment for the "clean" meat company, which created its first cell-grown beef patty in 2013.
The round was co-led by M Ventures, a corporate venture capital arm of Merck, and Bell Food Group, a leading meat processor in Switzerland. Mosa will use the funds to create a production process that significantly reduces the current cost of making the patties in order to bring them to market in 2021.
"Meat demand is soaring and in future won't be met by livestock agriculture alone," Lorenz Wyss, CEO of Bell Food Group, said in a statement. "We believe this technology can become a true alternative for environment-conscious consumers."
With new funding, Mosa now has the financial means to compete in the race to bring the first lab-grown meat product to market at a reasonable price for consumers. Companies like Just (formerly Hampton Creek), Memphis Meat and Future Meat Technologies have all been making progress — and gaining funding — on the clean meat front, but none yet have cracked the code to make lab grown meat affordable.
Kroger Plays to Personalization With Launch of New App
Kroger wants to help its consumers build a healthier basket. The leading grocer launched a new app this week, OptUp, which scores groceries by nutritional data to help consumers make more informed decisions. The app is part of the company's Wellness Your Way platform in support of Restock Kroger.
The product scores, which range between one (unhealthy) to 100 (healthy), are based on a nationally-recognized dietary standard and influenced by Kroger's registered dietitian team, and uses a color-coded system to visually show consumers the breakdown of their carriage items.
Retailers large and small have been trying to figure out the best ways to engage customers both in-store and through their handheld smart devices. The app is a move to not only redefine what customer experience means for shoppers, but it also plays to consumers desires for personalization.
PopChips Sells Off U.K. and European Businesses
Better-for-you snack maker Popchips Inc. announced this week that it has sold its UK and European business to potato chip and snack brand KP Snacks. Terms of the deal were not disclosed but Popchips Inc. will continue to operate separately in North America and other markets.
KP Snacks — which is the British division of Intersnack Group — makes KP nuts, Hula Hoops, Butterkist popcorn and Tyrrells crisps. According to the company, the acquisition will give PopChips the ability to focus growing its U.S. presence, while also having the bandwidth to expand into other international markets.