Natural Brands Cotton To Easter Sales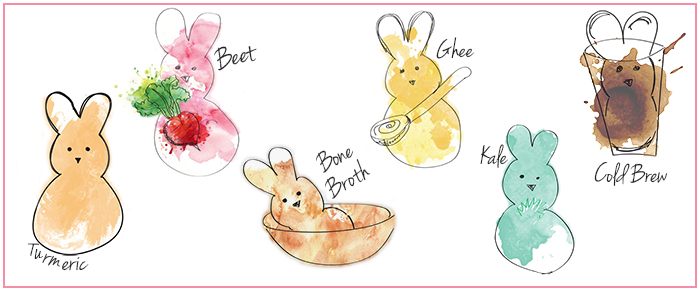 Natural brands are on the hunt to replace the mainstream confectionary in consumers' Easter baskets this year.
Easter, a key holiday for any sweet-toothed consumer looking to indulge in marshmallow bunnies, jelly bean eggs and chocolate bunnies, has been dominated for years by traditional candy brands. Their natural competitors have, until lately, neglected the opportunity.
But as the desire for cleaner, better-for-you products has become more mainstream and gained traditional retailer support, natural candy companies have hopped to capitalize on seasonal holidays.
It's not hard to see why: the National Retail Federation expects that Americans will spend a record amount of cash on Easter treats this year, Easter is the third largest holiday for candy, behind Christmas and Halloween but ahead of Valentine's Day. IRI data from 2015 shows that the holiday contributed to $3.5 billion in total U.S. candy sales thanks to consumers sweet on these festive treats.
Because of this business opportunity, some brands have developed entire business models around Easter, like Just Born, the maker of Marshmallow Peeps. Within the natural products world, many brands, such as Ocho chocolate, have come out with seasonal offerings while still others, such as new-to-the-market snackable marshmallow, Smashmallow, have positioned their core product as an Easter offering through creative merchandising.
"This being our first year and getting our feet wet, there's a lot of room for us to lean into our core packaging to tell that story and then use merchandising to bring seasonality to life in store," Chelsea Bialla, VP of Marketing for Sonoma Brands — Smashmallow's parent company. "But, there is no doubt we are dreaming all sorts of creative plans for playing with form, playing with flavor and playing with packaging format."
While confections such as jelly beans and marshmallows have their role on Easter, chocolate plays a strong role in retail.
Seasonal items accounted for 39 percent of chocolate new product launches in 2016, according to Mintel Global New Products Database, and it proved to be the largest area of chocolate new product development in 2016. Specifically, about 17 percent of seasonal chocolate launches in the U.S. were for Easter.
Though some of the largest players in the conventional chocolate market, like Cadbury and Reese's, play to consumers' taste preferences and nostalgia, many of these brands conflict with rising trends toward clean labels and organic and natural sourcing. So as consumers ready themselves to indulge in chocolate-filled Easter baskets this Sunday, they're also searching for other options with better-for-you or conscious auras.
This year Ocho aimed to fill this hole in the market with a new peanut butter-filled Easter eggs, the brand's first venture into the seasonal candy sector. The molded peanut butter eggs are a direct take on Reese's ever-popular chocolate eggs but made with higher quality ingredients like real chocolate natural peanut butter. Smashmallow also emphasized its cleaner ingredient list through a marketing campaign this year called "The Real Peep Show" that emphasizes the myriad of artificial ingredients in Peeps.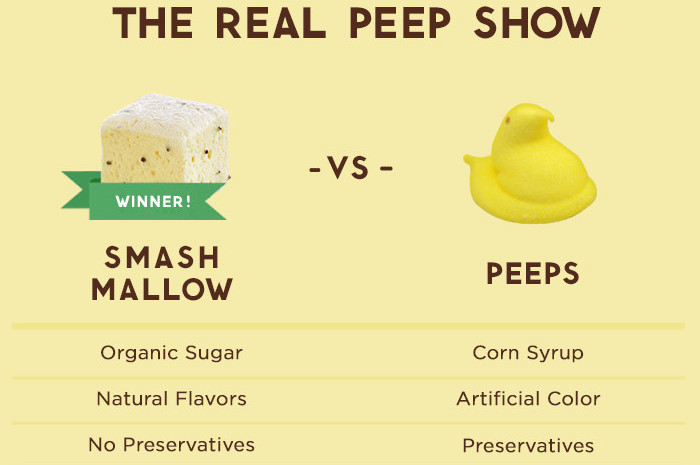 Natural products with their slightly higher prices, also benefit retailer's bottom line. Retailers are thrilled that natural products can add to basket size more than their conventional counterparts, Jon Sebastiani, Smashmallow and Sonoma Brands CEO and Founder, told NOSH. Ocho's Easter bag retails for $3.99 where Reese's eggs comes in at roughly half that. Smashmallow retails for $3.99 versus Peeps at $1.99.
"We're not trying to say that we are elitist and expensive. What we're trying to say is that this is a carefully considered, thoughtful product," Ocho CEO Dennis Ring said. "We want to stand on shelf proudly with integrity and with tasteful visual appeal."
Retailers, both natural and conventional, have picked up both lines. Ocho's easter eggs are sold in select Whole Foods Markets and Cost Plus locations. Smashmallow has been picked up by roughly three to four thousand retailers including Kroger banners, Whole Foods Markets, Stop and Shops, Fairway and even REI. During Easter, Sebastiani told NOSH that Smashmallow's sales are as much as 300 units per week in top performing Kroger locations and 100 units per week in an average Kroger location.
Though Ring said Ocho is not looking to "just be an alternative to the existing brands," he said that he recognizes the importance of staying true to the shapes, textures and tastes that consumers have come to know and love, especially around the holidays. "The closer we get to an existing profile of a widely recognized product in terms of form and structure and intellectual accessibility, the better off we are," he said.
Sebastiani, however, is content for consumers to initially connect with his brand through the association with other marshmallow treats. "We're going to ride in [Peep's] wake, they are a multi-decade brand," he said. "We get to immediately participate in that existing demand and be very competitive because we have a better product."
But both brands believe they're toeing a fine line by seeking to both appease traditionalists and cater to changing dietary trends. Ring told NOSH he specifically picked a classic look and flavor profile — and avoided newly trendy ingredients not typically associated with the holiday. Instead, to separate his product, he focused on packaging and unique chocolate molds.
Bialla believes that in the quest to appeal to natural consumers, many brands have lost the whimsy that makes the holiday so special. At the same time, conventional brands have missed consumer trends for cleaner options. Smashmallow, she believes, bridges the gap between the two.
"[Conventional Candy has] done a great job at tapping into the the delightfulness of the holiday, the nostalgia, the whimsy, the cute factor. But they really fall short in terms of ingredients. And then you see these natural products come out, but they've pushed it too far. So they lose the magic and having that iconic, holiday feel," Bialla noted. "Smashmallow is igniting the emotional connection but delivers in terms of having a cleaner product. We would put a stake in the ground that we believe you can have both of those things: the sensation of true indulgence in the holiday while not compromising."